PARK CITY 2000 BUZZ:Blockbuster deal for Love And Sex,
Tao goes to Europe,
Songcatcher catching heat,
Another great indieWIRE party,
Magic happens, and
Heart Of Love.
by Anne Hubble and Eugene Hernandez / indieWIRE
---
(indieWIRE/1.27.2000) —
Blockbuster deal for Love And Sex…In a deal similar to the one struck with Shadow Hours earlier in the week, Blockbuster Video will sink about $2 million into Love And Sex by Valerie Breiman. Blockbuster offers the advance against revenues from the picture.
In addition, they will pay $1.5 million towards Prints and Advertising, making domestic distribution of the film very attractive to a number of companies still considering a buy. International deals are already in place with TriPics, CLT/Ufa, and Taurus. Love And Sex stars Famke Janssen, Jon Favreau and Noah Emmerich.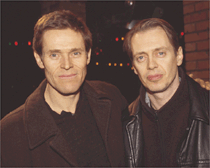 'American Psycho"s Willem Defoe and 'Animal
Factory"s Steve Buscemi

Credit: Sundancepix.com
Tao goes to Europe…Jenniphr Goodman's "Tao of Steve" will be distributed by Canal Plus in France, Benelux in Germany. Domestic interest is also high for Jenniphr
Goodman's refreshing romantic comedy, with a deal expected by the end of the festival.
Songcatcher catching heat…Several companies are reportedly circling Maggie Greenwald's period drama Songcatcher. All showings of the film thus far have received standing o's. The dramatic comp feature stars Aidan Quinn and Golden Globe winner Janet McTeer in a period piece about a musicologist who discovers Appalacian folk songs.
Another great indieWIRE party!…A chill time was had by all at Wednesday's indieWIRE soiree at Lakota. Plenty of food and drink kept party goers satiated into the wee hours.
Roving photographers snapped souvenir polaroids of friendly guests. Dancers got down to the post-ambient techno lounge tunes spun by Philter and Liquid Todd. Although last call came at 1am, revelers stayed until the joint closed down just after 2am. All departed happy with goody bags full of excellent swag.
Magic happens…indieWIRE has confirmed that Ann Hu's Shadow Magic is very near a deal with a major indie distributor. The American Spectrum film tells the story of China's first crude movie theater.
'Two Family House"s Kelly McDonald and
Michael Stipe

Credit: Sundancepix.com
Quotable
"People say, 'Gonzo made a rave flick!?'"
– Greg Harrison, director of Groove on often being mistaken on paper for the
Trapper John star.
"On the waning end of the "Blair Witch" European press tour, Dan Myrick and Ed Sanchez found themselves in the historic Coombe Abbey in Binley, Coventry in England. This is where in October of 1999 the event that would change their lives took place. Some call it a hallucination. Others say it was some sort of mutual hypnosis, but here at Haxan Films we call it what it truly was: a vision. Dan and Ed were visited in the night by a messenger who had tidings for them: "The Heart of Love is what you are looking for." Shortly after this, the two filmmakers became passionate crusaders for their new belief. They shared their experience with everyone they met, including us here at Haxan Films. Despite our early doubts, the clarity and importance of their message won our hearts. As we continue to research this growing phenomenon, we constantly meet other who have heard the message of the "Heart of Love." Though each person we meet interprets the meaning of HOL differently, all share the same passion for its ultimate purpose: come join our crusade to spread the word about "Heart of Love" and to ultimately find its true meaning."
– Haxan Films on the launch of the website for their next project
www.holthemovie.com