CANNES 2001: Moretti's "La Stanza Del Figlio" Takes the Palme d'Or, While "La Pianiste" Wins Three; Coen and Lynch Tie for Best Director
by Eugene Hernandez
---

Nanni Moretti, director of "La Stanza del Figlio," backstage with his Palme d'Or.

Photo by: Eugene Hernandez/indieWIRE
(indieWIRE/05.21.01) — Nanni Moretti's "La Stanza del Figlio" won the Palme d'Or, the top prize at the 54th Festival International du Film,
while Michael Haneke's "La Pianiste" took three top awards at the 2001
Cannes Film Festival. Jury prizes were presented during a ceremony at the
Palais des Festivals here in France, Sunday night.
Haneke's "La Pianiste" was clearly also a favorite of the jury, winning
not only the Grand Prize, but also the Best Actress award for Isabelle
Huppert and the Best Actor award for Benoît Magimel.
Two American filmmakers were chosen to receive the Best Director prize, with
the award going to Joel Coen for "The Man Who Wasn't There" and David Lynch for "Mulholland Drive."

David Lynch ("Mulholland Drive") , pictured backstage, shared the Best Director award with Joel Coen.

Photo by: Eugene Hernandez/indieWIRE
"I really like Joel and Ethan Coen," offered David Lynch during a post-
ceremony press conference, "So it is a great thing to share this with them."
Lynch won the Palme d'Or here in 1990 for "Wild at Heart," while the Coens
won the Golden Palm for "Barton Fink" the following year. "I feel that it's
a great honor and a thrill to show a film here at Cannes, obviously if you
win something, it's even more beautiful."
The Camera d'Or, the prize honoring a best first film, was presented to
Zacharias Kunuk from Igloolik, Canada. "I am very happy for my people," the
filmmaker told the press.
Bosnian Danis Tanovic was the recipient of the Best Screenplay prize for "No
Man's Land," a film which was well received here at the festival and acquired
late in the week by United Artists. "I frankly hope that this is a film that
is going to change some things," Tanovic told the crowded press gathering.
Other directors also talked with the media about their prizes.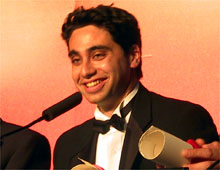 Pictured backstage, David Greenspan, winner of the Palme d'Or for Best Short Film.

Photo by: Eugene Hernandez/indieWIRE
"This is the best day of my life so far," commented David Greenspan, winner of
the Palme d'Or for Best Short Film, smiling broadly backstage. Greenspan's
"Bean Cake" was inspired by Japanese cinema, the director explained. Born in
New York, Greenspan studied in Japan and admitted that he was trying to
emulate Ozu in his own movie. "I was hoping that you might believe it was a
Japanese film from the 30's or 40's."
Filmmakers, celebrities and VIP's gathered at the Palais for a glitzy ceremony
that was preceded by a star-studded red carpet scene. Fans mobbed the area
around the Palais — some staking spots early in the afternoon — to catch a
glimpse of arriving notables. The A-list made their way up the steps as a
giant video screen broadcast the images to the assembled, while music,
including songs from the opening night film, "Moulin Rouge," offered a
soundtrack.
Screaming hit a high note shortly prior to the ceremony as Jodie Foster —
initially announced as jury president before she was forced to decline for
a film role — stepped out of a car and made her way up the red steps.
The Festival closed last night with a screening of Raoul Ruiz' "Les Ames
Fortes." [Eugene Hernandez]
The complete list of winners follows:
Palme d'Or (Golden Palm) — "La Stanza Del Figlio" by Nanni Moretti
Grand Prix (Grand Prize) — "La Pianiste" by Michael Haneke
Prix de la Mise en Scene (Best Director) (tie) — Joel Coen, "The Man Who Wasn't There"
David Lynch, "Mullholland Drive"
Prix de la Camera d'or (Award for first time director) — Zacharias Kunuk, "Atanarjuat The Fast Runner" (Un Certain Regard).
Prix du Scenario (Best Screenplay Award) — "No Man's Land," written by Danis Tanovic
Prix d'interpretation feminine (Best Actress) — Isabelle Huppert, "The Pianiste"
Prix d'interpretation masculine (Best Actor) — Benoît Magimel, "The Pianiste"
Grand Prix du Jury a Un Technicien (Jury Prize for a Technician) — Tu Duu-Chih, "Millennium Mambo," and "Ni Nei Pien Chi Tien"
Court-Metrage (Short Film) — "Bean Cake" by David Greenspan
Prix du Jury Fiction (Jury Prize for a Fiction Short) — "Daddy's Girl" by Irvine Allan
Prix du Jury Animation (Jury Prize for Animation Short) — "Pizza Passionata" by Kari Juusonen
OTHER AWARDS:
Un Certain Regard — "Amour d'Enfance" by Yves Caumon
Semaine International de la Critique (International Critics Week) — "Zire Noure Mah" by Reza Mir-Karimi (Grand prize, long film); "Eat" by Bill Plympton (short film).
Prix du Jury Cinefondation (Cinefondation Jury – student films) — "Portrait" by Sergei Luchishin, Ukraine (First Prize); "Reparation" by Jens Jonsson, Sweden (Second Prize); "Dai Bi" by Chao Yang, China and "Crow Stone" by Alicia Duffy, Great Britain (Third Prizes)
Fipresci Critics Awards — "La Stanza del Figlio" by Nanni Moretti (competition); "Kairo" by Kiyoshi Kurosawa (Un Certain Regard); "Martha…Martha" by Sandrine Veysset (Director's Fortnight); "Le Pornographe" by Betrand Bonello (International Critics Week);
Prix du Jury Oecumenique (Ecumenical Jury Prize) — "Safar Ganir" by Moshen Makhmalbaf
Mention Speciale au Film du Jury Oecumenique (Ecumenical Jury Prize, Special Mention) — "Pauline et Paulette" by Lieven Debrauwer
Prix de la Jeunesse, Film Francais (Youth Jury Prize, French) — "Clement" by Emmanuelle Bercot
Prix de la Jeunesse, Film Etranger (Youth Jury Prize, non-French) — "Slogans" by Gjergj Xhuvani