Bangkok Inaugurates "Golden Kinnaree" Award for 2003 Festival
by Brian Brooks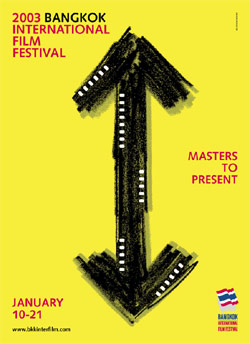 (indieWIRE: 12.13.02) — Seventy films from 35 countries are slated for the
2003 Bangkok International Film Festival, which opens January 10 with the
theme of "Masters to Present." This year's festival, which continues through
January 21, will feature the inaugural Golden Kinnaree Competition. The
awards, named after a revered Thai mythological figure, will be given to
best director, best screenplay, best actor, best actress, and best film (The
Golden Kinnaree). Films competing will begin January 17th with the Asian
premiere of Julie Taymor's "Frida," on the life of the Mexican surrealist.
Zhang Yimau's "Hero" will close the event, which includes eight other films
from around the world.
Other festival highlights include screenings of Martin Scorsese's
anticipated "Gangs of New York" and Rob Marshall's "Chicago." Pedro Almodovar's "Hable con Ella" (Talk to Her) will join Denzel Washington's directorial debut of "Antwone Fisher" along with five other films featured as gala screenings. The festival's other events will include Jerry Goldsmith
conducting the Bangkok Symphony Orchestra followed by a charity gala dinner
on January 18.
"Bangkok is at the crossroads of Asia which makes it the logical place for
an event of such growing significance to the world's motion picture
community," commented Juthamas Siriwan, Thailand's governor of tourism and
festival president, in an event release. "This year's festival will stake
its position as the prime pan-Asian launching platform for quality
international filmmaking." [Brian Brooks]