Sixty-four feature films will screen in competition at the 2006 Sundance Film Festival, in four sections, festival organizers have announced. The competition is the heart of the United States' leading film festival, which this year will screen 120 features from January 19 – 29, 2006. Organizers selected the highly anticipated roster from a total of 3,148 feature film submissions this year (with more than 1,700 from the U.S. and more than 1,300 from outside the country). Forty-eight of this year's 120 films are from first-time feature filmmakers.
New this year is an out-of-competition section dubbed simply, Spectrum. It replaces the former American Spectrum and Special Screenings sections and will include international dramatic and documentary films. Also new this year, Sundance will present a closing night film on Friday, January 27, 2006, the final Premiere section title of the event. Launched last year, this year's International Competition will include a full program of 16 titles in both dramatic and documentary categories.
[EDITORS NOTE: The complete list of competition titles is published below. Spectrum, Park City at Midnight, and Frontier lineups will be announced Wednesday, November 30th at 1:00 a.m. ET and the Premiere's section lineup will be announced on Thursday, December 1st at 1:00 a.m. ET. The festival's short film lineup will be released on Monday, December 5th.]
A total of 84 features will have a world premiere at the event. All but 3 feature films this year will be having a World, North American, or U.S. premiere at Sundance '06. The fest will again be anchored in Park City, UT, with additional screenings in Salt Lake City, and other Utah cities. Sundance's Geoff Gilmore and John Cooper spoke with indieWIRE in a separate article published today.
In other news, a new award has been added to the annual awards night, recognizing excellence in Documentary Film Editing. It will go to a film in the Independent Feature Film Competition: Documentary section.
Complete competition lineups follow below. Lineup information was provided by the Sundance Film Festival, please direct any corrections to us at: office (at) indiewire (dot) com.
Independent Feature Film Competition: Documentary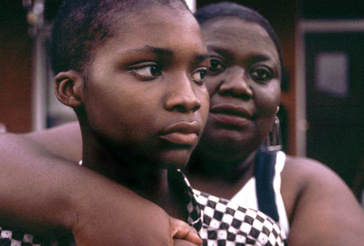 "A Lion In The House," directed by Steven Bognar & Julia Reichert
Five diverse families — each with a child fighting cancer — navigate the ups and downs of treatment over six years, while maintaining hope in this complex portrait of human resilience. [World Premiere]
"American Blackout," directed by Ian Inaba
A stylish hard hitting documentary that recounts the fascinating career of Representative Cynthia McKinney (D-GA) and the suppression of the black vote historically and during the recent Presidential elections in Florida and Ohio. [World Premiere]
"An Unreasonable Man," directed by Henriette Mantel and Stephen Skrovan
Using rarely seen archival footage and over forty recently conducted on-camera interviews, this documentary traces the career of Ralph Nader from quixotic consumer advocate to upstart presidential candidate to public pariah. [World Premiere]
"Crossing Arizona," directed by Joseph Mathew
A balanced, far-reaching look at a range of human stories unfolding in the midst of Arizona's illegal immigration crisis. [World Premiere]
"God Grew Tired Of Us," directed by Christopher Quinn
Four boys from Sudan embark on a journey to America after years of wandering Sub-Saharan Africa in search of safety. [World Premiere]
"The Ground Truth: After The Killing Ends," directed by Patricia Foulkrod
Reveals how the military trains our soldiers for war, the reality of combat in Iraw and the effects of this war on our soldiers coming home. [World Premiere]
"Iraq In Fragments," directed by James Longley
Contemporary Iraq is illuminated in three chapters that follow the diverse stories of Iraqis against a backdrop of war, occupation and ethnic tension. [World Premiere]
"Small Town Gay Bar," directed by Malcolm Ingram
A voyage to the deep South to tell a tale of the struggle for community and expression in the face of ignorance, hypocrisy and oppression. [World Premiere]
"So Much So Fast," directed by Steven Ascher and Jeanne Jordan
A black-humored cliffhanger of romance, guerrilla science and the redefinition of time. When Stephen Heywood finds out he has ALS (Lou Gehrig's disease), his brother Jamie becomes obsesses with finding a cure and the woman who's falling in love with Stephen has a decision to make. [World Premiere]
"Thin," directed by Lauren Greenfield
With unprecented access and an unflinching eye, "Thin" documents 4 women struggling with anorexia and bulimia at a residential facility for the treatment of eating disorders in South Florida. [World Premiere]
"'Tis Autumn — The Search for Jackie Paris," directed by Raymond De Felitta
Explores the legendary jazz vocalist Jackie Paris' meteoric rise, enigmatic career and mysterious life while probing the question of how much we need to know of an artist's personal story to appreciate their art. [World Premiere]
"The Trials of Darryl Hunt," directed by Ricki Stern and Annie Sundberg
The wrongful conviction of a black man for a white woman's rape and murder offers a provocative, haunting examination of a fear-based racially-biased community and criminal justice system. [World Premiere]
"TV Junkie," directed by Michael Cain
From the time he was born Rick knew he had a special purpose. If he could only record it he might be able to figure out what it is. 46 years, 5000 hours of video and over 3000 photos later he may have figured it out. [World Premiere]
"Wide Awake," directed by Alan Berliner
A first-person account of filmmaker Alan Berliner's struggle with sleeplessness, as both a blessing and a curse. Portrait of an artist as an insomniac. [World Premiere]
"Wordplay," directed by Patrick Creadon An in-depth look at 'The New York Times' crossword puzzle and its editor Will Shortz, and the wonderfully unique and loyal fan base he has built and nurtured during his 12-year tenure at the paper. [World Premiere]
"The World According to Sesame Street," directed by Linda Goldstein Knowlton and Linda Hawkins Costigan
A behind-the-scenes look at the unexpected dynamics of adapting the most-watched children's television show for audiences in some of the world's political hotspots and incorporating locally relevant themes. [World Premiere]
Independent Feature Film Competition: Dramatic
"A Guide to Recognizing Your Saints," directed and written by Dito Montiel
A writer recounts his teenage experiences in tough 1980s Astoria, New York — where all his friends ended up dead, as junkies, or in prison — exploring how he managed to emerge unscathed. [World Premiere]
CAST: Robert Downey, Jr., Rosario Dawson, Chazz Palminteri, Diane Wiest, Shia La Boeuf, Channing Tatum, Eric Roberts
"Come Early Morning," directed and written by Joey Lauren Adams
The story of a southern woman trying to escape her addictions and self-destructive behavior to find true love. [World Premiere]
CAST: Ashley Judd, Jeffrey Donovan, Tim Blake Nelson, Diane Ladd, Stacey Keach
"Flannel Pajamas," directed and written by Jeff Lipsky
A magical evening in a local diner sparks an intense courtship and an emotionally mercurial marriage that challenges two New Yorkers to the core. [World Premiere]
CAST: Julianne Nicholson, Justin Kirk, Rebecca Schull, Tom Bower, Jamie Harrold, Michele Federer, Jamie Harris, Chelsea Altman, George Riddle, Lauren Bittner, Stephanie March, Kirby Mitchell, Stephanie Roth Haberle
"Forgiven," directed and written by Paul Fitzgerald On the eve of his campaign launch for a seat in the U.S. Senate, a small town District Attorney receives word that the governor has exonerated a death row inmate whom he'd prosecuted five years earlier. [World Premiere]
CAST: Paul Fitzgerald, Susan Floyd, Russell Hornsby, Kate Jennings Grant
"Half Nelson," directed by Ryan Fleck; written by Anna Boden and Ryan Fleck
An inner-city junior high school teacher with a drug habit forms an unlikely friendship with one of his students after she discovers his secret. [World Premiere]
CAST: Ryan Gosling, Shareeka Epps, Anthony Mackie, Tina Holmes, Jay O. Sanders, Denis O'Hare, Deborah Rush
"Hawk Is Dying," directed by Julian Goldberger; written by Harry Crews (novel) and Julian Goldberger
A Gainesville, Florida auto upolsterer attempts to subvert his mundane life by training a wild, red-tailed hawk. [World Premiere]
CAST: Michael Pitt, Paul Giamatti, Michelle Williams
"In Between Days," directed by So Yung Kim; written by So Yong Kim and Bradley Rust
When a recent Korean immigrant falls in love with her best and only friend, their misunderstood affection for each other creates a delicate relationship that is challenged by the demands of living in a new country. [World Premiere]
CAST: Jiseoa Kim, Taegu Andy Kang, Bok-ja Kin, Gina Kim, Mike Park
"Puccini For Beginners," directed and written by Maria Maggenti
On the rebound from her latest lesbian relationship, a New York writer finds herself in two surprising complicated love affairs in this only-in-New-York screwball comedy. [World Premiere]
CAST: Justin Kirk, Gretchen Mol, Elizabeth Reaser
"Quinceanera," directed and written by Richard Glatzer & Wash Westmoreland Disaffected Latino teenagers come of age in a gentrifying community in the Echo Park district of Los Angeles. [World Premiere]
"Right At Your Door," directed and written by Chris Gorak
Multiple dirty bombs are detonated and spread deadly toxic ash and mass panic throughout Los Angeles. With limited information, time and supplies, and in the midst of city-wide chaos, a married couple struggles to survive. [World Premiere]
CAST: Mary McCormack, Rory Cochrane
"Sherrybaby," directed and written by Laurie Collyer
After serving a three-year prison sentence, a young woman quickly discovers that coming back to the world she left behind is far more difficult than she had planned.
CAST: Maggie Gyllenhaal, Brad Henke, Bridget Barkan, Ryan Simpkins, Giancarlo Esposito, Danny Trejo, Sam Bottoms, Rio Hackford
"Somebodies," directed and written by Hadjii
Surrounded by eccentric relatives, prankster classmates, and more-or-less rehabilitated ex-cons, a Black college student stumbles along the path to responsible adulthood.
CAST: Hadjii, Kaira Whitehead, Pat Brown, Tyler Craig, Carlos Davis, Nard Houston, Nick Lewis, Iron E Singleton
"Stay," directed and written by Bob Goldthwait
A youthful, impulsive sexual encounter opens the door to a dark comedy about the complexities of honesty. [World Premiere]
CAST: Melinda Paige Hamilton, Bryce Johnson, Geoff Pierson, Bonita Friedericy, Jack Plotnick, Brian Posehn
"Steel City," directed and written by Brian Jun
In a small Midwest town, two irresponsible brothers must come to terms with the lives they live after their father is incarcerated for killing a woman. [World Premiere]
"Stephanie Daley," directed and written by Hilary Brougher
A forensic psychologist, seven months pregnant, is hired to learn the truth behind a teenager's denial of accusations that she concealed her pregnancy and committed infanticide.
CAST: Tilda Swinton, Amber Tamblyn, Timothy Hutton, Denis O'Hare, Melissa Leo, Jim Gaffigan, Kel O'Neill, Neal Huff
"Wristcutters — A Love Story," directed by Goran Dukic; written by Goran Dukic and Etgar Kerrett
An Offbeat Comedy, A Love Story, A Road Movie – But Everybody's Dead! [World Premiere]
CAST: Patrick Fugit, Shannon Sossamon, Shea Whigham, Tom Waits, John Hawkes, Will Arnett, Leslie Bibb, Mikal P. Lazarev, Mark Boone Jr., Jake Busey, Abraham Benrubi, Mary Pat Gleason, Julie Carmen, Clayne Crawford, Azura Skye
World Cinema Competition: Documentary
"5 Days," directed by Yoav Shamir (Israel)
On August 15, 2005, Israel began to evacuate 8,000 Jewish settlers from the Gaza Strip. In a unilateral move by the Israeli government, they were removed from their homes to make way for 250,000 Palestinians. With exclusive access to the Israeli Defense Forces and the General in charge, seven film crews simultaneously follow key characters during this historic five-day event. [North American Premiere]
"Angry Monk – Reflections on Tibet," directed by Luc Schaedler(Switzerland)
A portrait of the rebellious Tibetan monk Gendun Choephel, this film reveals a face of old and present-day Tibet that runs against popular cliches. [North American Premiere]
"Black Gold," directed by Marc Francis and Nick Francis
A cinematic journey that uncovers the world of coffee and trade from the struggling Ethiopian bean grower to your coffee cup. [World Premiere]
"By the Ways, A Journey with William Eggleston," directed by Cedric Laty and Vincent Gerard (France)
A journey through the southern United States home of William Eggleston considered "the father of color photography." Eggleston's persistent silence defies each truth revealed about his character. [North American Premiere]
"Dear Pyongyang," directed by Yang Yonghi (Japan)
A Korean-Japanese daughter explores her father's fierce political loyalty to North Korea – costly to the point of breaking up his family. [North American Premiere]
"The Giant Buddhas," directed by Christian Frei (Switzerland)
A film about the destruction of the famous Buddha statues in Afghanistan. An essay on fanaticism and faith, terror and tolerance, ignorance and identity. [U.S. Premiere]
"Glastonbury," directed by Julian Temple (U.K.)
A staggering range of music presented at England's annual Glastonbury Festival, captures the spirit of important social changes over the last 30 years. [World Premiere]
"I Is For India," directed by Sandhya Suri (England, Germany, Italy)
A tale of migration and belonging, told primarily through Super 8 films and audio letters sent between India and England over a period of 40 years. [World Premiere]
"In the Pit," directed by Juan Carlos Rulfo (Mexico)
According to Mexican legend, whenever a bridge is built the devil asks for one soul, in exchange for keeping the bridge standing. This film chronicles the daily lives of the workers building a second deck to Mexico City's Periferico freeway – their hopes, dreams and struggle for survival. [World Premiere]
"Into the Great Silence," directed by Philip Groening (Germany)
The first film ever to examine life inside the Grande Chartreuse, the mother house of legendary Carthusian Order. An austere, next to silent meditation on monastic life in a very pure form. [U.S. Premiere]
"KZ," directed by Rex Bloomstein (U.K.)
A look at the way thee town of Mauthausen, formerly the site of a German concentration camp, faces the ultimate demons of its dark past. [North American Premiere]
"No One," directed by Tin Dirdamal (Mexico)
The story of Maria, a Central American immigrant forced to leave her family in search of a better life. On her way to the United States, she crosses Mexico where she encounters a nightmare. [U.S. Premiere]
"The Short Life of Jose Antonio Gutierrez," directed by Heidi Specogna (Germany)
Behind the heroic tale of the first U.S. soldier to die in the war in Iraq, there unfolds the story of a Guatemalan street child drawn into war by the promise of a green card in a foreign country. [World Premiere]
"Songbirds," directed by Brian Hill (U.K.)
Downview Prison in England is host to 250 women who have committed crimes ranging from drug trafficking to manslaughter, but these women are also mothers and caretakers. In a musical set in the prison, the women sing about their lives and the crimes that led to their imprisonment. [North American Premiere]
"Unfolding Florence: The Many Lives of Florence Broadhurst," directed by Gillian Armstrong (Australia)
Flamboyant design pioneer Florence Broadhust lived a colorful life, but it is only now that her time has truly come, with her bold, exotic wallpaper prints in huge demand internationally. [World Premiere]
"Viva Zapatero," directed by Sabina Guzzanti (Italy)
A critical and playful look at censorship in Italy under Berlusconi contrasted with other European nations. [North American Premiere]
World Cinema Competition: Dramatic
"13 Tzameti," directed and written by Gela Babluani" (France) Sebastien has decided to follow instructions intended for someone else. When he reaches his destination, he falls into a degenerate, clandestine world of mental chaos. [North American Premiere] CAST: Georges Babluani, Augustin Legrand, Aurelien Recoing
"Allegro," directed by Christoffer Boe; written by Christoffer Boe and Mikael Wulff (Denmark)
After a long absence, a famous amnesiac pianist returns to his native Copenhagen where he is contacted by a mysterious messenger who leads him back into his forgotten past. [North American Premiere]
CAST: Ulrich Thomsen, Helena Christensen, Henning Moritzen
"The Aura," directed by Fabian Bielinsky (Argentina)
Epinoza is an introverted taxidermist who secretly dreams of executing the perfect robbery. On his first-ever hunting trip, in the calm of the Patagonian forest, his dreams are unexpectedly made reality with one squeeze of the trigger. [North American Premiere]
CAST: Ricardo Darin, Dolores Fonzi, Alejandro Awada, Pablo Lester
"The Blossoming of Maximo Oliveros," directed by Auraeus Solito, written by Michiko Yamamoto (Philippines)
Young Maxi's unquestioned devotion to his family of small-time criminals in a Manila slum is undermined when he is befriended by a principled young policeman. [U.S. Premiere]
"Eve & the Fire Horse," directed and written by Julia Kwan (Canada)
Eve is a precocious nine-year-old growing up in a Vancouver Chinese immigrant family where Confucian doctrines, superstitious obsessions and divine visions abound. When Buddhism and Catholicism are thrown into the mix, life for Eve and prim authoritative sister, Karena, escalates into a fantasia of catastrophe, sainthood and cultural confusion. [U.S. Premiere]
CAST: Vivian Wu, Phoebe Jojo Kut, Hollie Lo, Chan Chit Man Lester
"Grbavica," directed and written by Jasmila Zbanic (Bosnia-Herzegovina)
A chilling story of a woman and her daughter as they fight to survive in the painful aftermath of the recent Balkan war. [World Premiere]
CAST: Mirjana Karanovic, Leon Lucev, Luna Mijovic, Dejan Acimovic, Bogdan Diklic, Semka Sokolovic, Jasna Zalaica
"The House of Sand," directed by Andrucha Waddington, written by Elena Soarez (Brazil)
The story of a woman across three generations. In the remote dunes of Brazil, Maria spends her life while an entire century passes by her, her house and sand. [U.S. Premiere]
CAST: Fernanda Montenegro, Fernanda Torres
"Kiss Me Not on the Eyes," directed and written by Jocelyne Saab [Lebanon]
An educated young Egyptian woman defends her artistic integrity as a dancer and her social independence in the midst of modern Cairo's culture wars. [U.S. Premiere]
CAST: Mohamed Mounir, Hanane Turk, Fathi Abelwahab, Aida Ryad, Sawsan Badr, Walid Aooni
"Little Red Flowers," directed by Zhang Yuan, written by Ning Dai and Zhang Yuan (China)
A parable about the nature and complexities of being compelled to "fit in" to a regimented society set in a post-revolutionary Chinese orphanage. [World Premiere]
CAST: Dong Bowen, Ning Yuanyuan, Chen Manyuan, Zhao Rui, Li Xiaofeng
"Madeinusa," directed and written by Claudia Llosa (Peru)
Madeinusa is a sweet girl who lives in an isolated religiously zealous village in mountainous Peru. Everything changes when a geologist from Lima arrives and unknowingly reshapes Madeinusa's destiny. [World Premiere]
CAST: – not provided –
"No. 2," directed and written by Toa Fraser (New Zealand)
Nanna Maria's family has forgotten how to party. She's going to change all that, make them come alive with the heat and passion of the South Pacific. [World Premiere]
CAST: Ruby Dee, Tuva Novotny, Mia Blake, Taungaroa Emile
"One Last Dance," directed and written by Max Makowski (Singapore) An assassin is hired to kill the men responsible for kidnapping an important man's son. With every death, the killer gets closer to the last kidnapper's name… his own. [World Premiere]
CAST: Francis Ng, Vivian Hsu, Ti Lung, Harvey Keitel, Joseph Quek
"The Peter Pan Formula," directed and written by Cho Chang-Ho (South Korea)
An adolescent boy confronts premature independence as his mother lies in a coma and he experiences the first tugs of sexual desires with an older woman. [North American Premiere]
CAST: On Ju-Wan, Kim Ho-Jeong, Ok Ji-Yeong
"Princesas," directed and written by Fernando Leon de Aranoa (Spain)
The story of two women who form an unbreakable friendship despite their differences as they fight to make ends meet in the big city. [U.S. Premiere]
CAST: Candela Pena, Michaela Nevarez, Mariana Cordero, Luis Callejo Llum Barrera
"Solo Dios Sabe," directed by Carlos Bolado, written by Carlos Bolado and Diane Weipert (Brazil/Mexico)
On a lark in Tijuana, a young Brazilian art student crosses paths with a roguish Mexican journalist, sparking a cascade of events across both Mexico and Brazil. [World Premiere]
CAST: Diego Luna, Alice Braga, Cecilia Suarez, Jose Maria Yazpik, Renata Zhaneta, Damian Alcazar, Jesus Ochoa, Maria Dealves, Dagoberto Gilb
"Son of Man," directed by Mark Dornford-May, written by Mark Dornford-May, Andiswa Kedama and Pauline Malefane (South Africa)
A gripping journey of love, deception and betrayal, "Son of Man" translates Jesus' life to modern-day South Africa, where a new politics of compassion incites revolution during a military dictatorship. The next collaboration from Dimpho di Kopane, a South African lyric theatre ensemble whose "U-Carmen" garnered last year's Berlin Golden Bear. [World Premiere]