Before any of you get all optimistic about this year's awards race, I decided to utilize this week's column to remind you of how horribly wrong things can turn out. As the end of this decade approaches, and you start considering your favorite films and performances, you may or may not be surprised (though I'm guessing "may not") to find that many of them – if not the majority – failed to receive any recognition from ye ol' Academy. From "Eternal Sunshine of the Spotless Mind" to Uma Thurman's work in the "Kill Bill,"'s to a seemingly endless batch of foreign language favorites, it's a frustratingly long list. Attempting to narrow it down to 50 was no small feat, and I'd expect there's going to be some disagreement. But let me first explain where I was coming from.
Essentially, I focused on only nine of the most often discussed categories: best picture, best director, best actor, best actress, best supporting actor, best supporting actress, best original screenplay, best adapted screenplay, and best foreign language film. I realize that the remaining categories offer a plethora of angering exclusions – from "Far From Heaven"'s costume design to "Requiem For A Dream"'s original score to the truly obscene absence of original song, "America, Fuck Yeah" from "Team America, World Police," not to mention the list-in-itself that is the best documentary feature category ("Grizzly Man," "The Gleaners and I," "The King of Kong," etc, etc, etc) – but one can only take on so much.
I also figured there should at least be some theoretical chance that the "snub" could have been nominated. One might argue that including the likes of John Cameron Mitchell's work in "Hedwig and the Angry Inch" or Christian Bale's in "American Psycho" goes against this idea, but I beg to differ. Mitchell – if you can believe it – got a Golden Globe nomination for "Hedwig" (it seems Ricky Gervais ain't the only thing the HFPA has on the Oscars). I mean more along the lines of suggesting Michael Haneke's "The Piano Teacher" as a snub for a best picture nomination or Tony Leung and Maggie Cheung as snubs in the acting categories for "In The Mood For Love." Ridiculously deserving as they were, those weren't snubs. They were complete impossibilities. I can however, bitch about how both those films were shut out of the foreign language film category. And speaking of which, another "rule" – I didn't include foreign films that weren't submitted by their countries, as that wasn't totally the Academy's fault (though their pesky rules are somewhat to blame).
I'm sure I missed loads, and I encourage thoughtful use of the comments section to offer your own choices, and to make predictions about some potential 2009 non-nominees that might warrant a slot on an updated list some day in the future… Paul Schneider in "Bright Star," anyone? Or how about Michael Stuhlbarg in "A Serious Man"?
So for what it's worth, here are my picks for the 50 most despicable Oscar snubs of the 2000s (though it's actually more like 70 given some of the "grouped" snubs), in descending order for your anticipatory pleasure. It's meant mostly as a fun exercise for both myself and (hopefully) you, and as a little reminder as we begin to enter the depths of Oscar season: Only a small percentage of the truly great performances, scripts and films actually end up participating in it.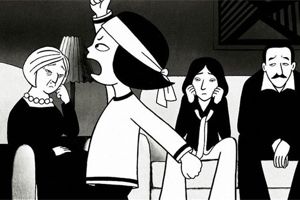 50: Tina Fey for best adapted screenplay (Mean Girls, 2004)
49: Persepolis for best foreign language film (Vincent Paronnaud and Marjane Satrapi, 2007)
48: Hugh Grant and Toni Collette for best actor and supporting actress (About a Boy, 2002)
47: Emily Blunt for best supporting actress (The Devil Wears Prada, 2006)
46: Naomi Watts for best actress (Mulholland Drive and King Kong, 2001 & 2005)
45: Hope Davis for best supporting actress (American Splendor, 2003)
44: Gomorrah for best foreign language film (Matteo Garrone, 2008)
43: Andy Serkis for best supporting actor (The Lord of the Rings: The Two Towers, 2002)
42: Adaptation for best picture (Spike Jonze, 2002)
41: Christian Bale for best actor (American Psycho, 2000)
40: Evan Rachel Wood for best actress (Thirteen, 2003)
39: Woody Allen for best original screenplay (Vicky Cristina Barcelona, 2008)
38: Rosemarie deWitt for best supporting actress (Rachel Getting Married, 2008)
37: Cache and The Piano Teacher for best foreign language film (Michael Haneke, 2001 & 2005)
36: Peter Sarsgaard for best supporting actor (Shattered Glass, 2003)
35: Michelle Williams for best actress (Wendy & Lucy, 2008)
34: Shareeka Epps for best supporting actress (Half Nelson, 2006)
33: Kristin Scott Thomas for best actress (I've Loved You So Long, 2008)
32: L'Enfant and Le Fils for best foreign language film (Jean-Pierre and Luc Dardenne, 2002 & 2005)
31: Marlon Wayans and Jennifer Connelly for best supporting actor and actress (Requiem For a Dream, 2000)
30: Mulholland Drive for best picture (David Lynch, 2001)
29: Gillian Anderson for best actress (The House of Mirth, 2000)
28: David O. Russell for best original screenplay (I Heart Huckabees, 2004)
27: United 93 for best picture (Paul Greengrass, 2006)
26: Volver for best foreign language film (Pedro Almodovar, 2006)
-This article continues on the next page–
25: Steve Buscemi and Scarlett Johansson for best supporting actor and actress (Ghost World, 2000)
24: Alexander Payne for best adapted screenplay (About Schmidt, 2002)
23: John Cameron Mitchell for best actor and director (Hedwig and the Angry Inch, 2001)
22: City of God for best foreign language film (Fernando Meirelles, 2002)
21: David Fincher and Robert Downey Jr for best director and supporting actor (Zodiac, 2006)
20: Sacha Baron Cohen for best actor (Borat, 2006)
19: Ewan McGregor and Baz Luhrmann for best actor and director (Moulin Rouge!, 2001)
18: Julie Delpy for best actress (Before Sunset, 2004)
17: Alfonso Cuarón for best director (Y Tu Mama Tambien and Children of Men, 2002 & 2006)
16: The Dark Knight for best picture (Christopher Nolan, 2008)
15: Jim Carrey for best actor (Eternal Sunshine of the Spotless Mind, 2004)
14: Catherine O'Hara for best supporting actress (Best In Show, A Mighty Wind, and For Your Consideration, 2000-2006)
13: Patricia Clarkson, Dennis Quaid and Dennis Haysbert for supporting actor and actress (Far From Heaven, 2002)
12: Almost Famous for best picture (Cameron Crowe, 2000)
11: Charlie Kaufman for best original screenplay (Synecdoche, New York, 2008)
10: David Cronenberg, Viggo Mortensen and Maria Bello for best director, actor and supporting actress (A History of Violence, 2005)
9: 4 Months, 3 Weeks and 2 Days for best foreign language film (Cristian Mungiu, 2007)
8: Sally Hawkins and Eddie Marsan for best actress and supporting actor (Happy-Go-Lucky, 2009)
7: Bjork for best actress (Dancer in the Dark, 2000)
6: Paul Giamatti for best actor (American Splendor, 2003, and Sideways, 2004)
5: In The Mood For Love for best foreign language film (Wong Kar-Wai, 2001)
4: Eternal Sunshine of the Spotless Mind for best picture (Michel Gondry, 2004)
3: Uma Thurman for best actress (Kill Bill, Vol. 1 & 2, 2003 & 2004)
2: Todd Haynes for best director (Far From Heaven and I'm Not There, 2002 & 2007)
1: Finding Nemo, The Incredibles, Ratatouille and WALL-E for best picture (Andrew Stanton or Brad Bird, 2003-2008)
"For Your Consideration" is a weekly column by indieWIRE Associate Editor Peter Knegt. Check out his previous editions:
For Your Consideration: Assessing The Major Oscar Categories
For Your Consideration: Oscar's Gay Tendencies
For Your Consideration: 11 Underdog Performances
For Your Consideration: History Repeats as Major Foreign Films Left Off Academy List
For Your Consideration: 10 Things The Fall Fests Told Us About Awards Season