At one hundred and one years old, the National Board of Review is the oldest of the annual organizations that honor their favorite films, filmmakers and performances each year. Known for their sometimes quirky taste, and apparent fondness for Clint Eastwood, the group is nevertheless a champion of movies and moviemakers, established and emerging alike.
"I can't believe I'm here, this is crazy," beamed young actress Carey Mulligan, who brokethrough nearly a year ago at the Sundance Film Festival where her lead role in Lone Scherfig's "An Education" stirred buzz. Even then, insiders predicted it was a performance that would be recognized come awards season. On Tuesday night, at Cipriani 42nd St. in Midtown Manhattan, Mulligan accepted the best actress award for her work. And so did another Sundance '09 discovery.
"Precious" star Gabourey Sidibe is gaining even more attenion for her role in Lee Daniels' film. The movie has had a charmed life since Sundance, screening in Cannes, Toronto, New York and other fests, before opening this fall. Along the way Gaby Sidibe has come into her own.
"There are four elements to being a star," proclaimed Ellen Burstyn, presenting the breakthrough acting prize to Sidibe on Tuesday: "Talent, intelligence, sensitivity and confidence." She told the young actress, from the stage, "If you want to set your sights high, then those four gifts are just the beginning. They are the tools by which you will work your way towards mastery."
"It's really hard to get used to this room," Gaby Sidibe said while accepting her breakthrough actress award after a warm acceptance speech. "But I think I'm going to like it here." With the crowd cheering her on she then added, "And George Clooney, let's get a drink!"
That was just one of many shot-outs for the star actor. Presenters and winners love to point out Clooney and he doesn't seem to mind, peppering his own acceptance speech for best actor in "Up in the Air" with warmth and humor.
"Up in the Air" co-star Vera Farmiga called him, "her own personal Bogart." He responded by joking about his role as Batman. "You give me a rubber suit with nipples on it and I can rock that thing," he said, after taking his shoes off on stage. And then he teased the film's director, Jason Reitman with, "He's 32, so fuck him."
Like "Precious," and perhaps even "An Education," Reitman's "Up in the Air" is seen as a contender for a best picture Oscar nomination in a few weeks, so in closing his speech, Clooney spoke to the heavy subject matter of the movie.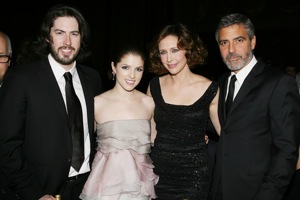 "Here's hoping that this film is a time capsule," he said, "Here's hoping that in the near future, this film becomes less and less of a tragedy and more of a comedy."
Another expected best picture contender, Kathryn Bigelow's "The Hurt Locker," and Oren Moverman's "The Messenger" explore a topic that stirred some tough talk among some at the NBR Awards. The wars in the Middle East were a hot button issue that lead to some outspoken moments on stage.
Calling President Obama "incapable," Moverman — while accepting his directorial debut prize — spoke out about, "Getting "our boys and girls back from these fucking wars." And later, while accepting his best supporting actor award, "Messenger" actor Woody Harrelson said, "Obama could be a truly great President if he is lead by his heart and not the forces of industry."
Full list of the awards given by the National Board of Review:
Best Film:
"Up In The Air"
Best Director:
Clint Eastwood, "Invictus"
Best Actor:
Morgan Freeman, "Invictus" and George Clooney, "Up In The Air" (tie)
Best Actress:
Carey Mulligan, "An Education"
Best Supporting Actor:
Woody Harrelson, "The Messenger"
Best Supporting Actress:
Anna Kendrick, "Up In The Air"
Best Foreign Film:
"A Prophet"
Best Documentary:
"The Cove"
Best Animated Feature:
"Up"
Best Ensemble Cast:
"It's Complicated"
Breakthrough Performance by an Actor:
Jeremy Renner, "The Hurt Locker"
Breakthrough Performance by an Actress:
Gabourey Sidibe, "Precious"
Spotlight Award for Best Directorial Debut:
Duncan Jones, "Moon"
Oren Moverman, "The Messenger"
Marc Webb, "500 Days of Summer" (tie)
Best Original Screenplay:
Joel & Ethan Coen, "A Serious Man"
Best Adapted Screenplay:
Jason Reitman and Sheldon Turner, "Up In The Air"
Special Filmmaking Achievement Award:
Wes Anderson, "The Fantastic Mr. Fox"
William K. Everson Film History Award:
Jean Picker Firstenberg
NBR Freedom of Expression:
"Burma Vj: Reporting From A Closed Country"
"Invictus,"
"The Most Dangerous Man In America: Daniel Ellseberg And The Pentagon Papers"
Top Eleven Films (In alphabetical order):
"An Education"
"(500) Days Of Summer"
"The Hurt Locker"
"Inglourious Basterds"
"Invictus"
"The Messenger"
"A Serious Man"
"Star Trek"
"Up"
"Up In The Air"
"Where The Wild Things Are"
Top Ten Independent Films (In alphabetical order):
"Amreeka"
"District 9"
"Goodbye Solo"
"Humpday"
"In The Loop"
"Julia"
"Me And Orson Welles"
"Moon"
"Sugar"
"Two Lovers"
Top Six Foreign Films (In alphabetical order):
"The Maid"
"A Prophet"
"Revanche"
"Song Of Sparrows"
"Three Monkeys"
"The White Ribbon"
Top Six Documentary Films (In alphabetical order):
"Burma Vj: Reporting From A Closed Country"
"The Cove"
"Crude"
"Food, Inc."
"Good Hair"
"The Most Dangerous Man In America: Daniel Ellsberg And The Pentagon Papers"