While Terrence Malick's "The Tree of Life" took the top spot in Indiewire's's recent 2011 poll of over 160 critics, journalists and other tastemakers of the film world, this much smaller grouping of industry folks – from distributors to publiclists to filmmakers themselves – highlighted a number of other movies large and small (but mostly small) from this year's release calendar.
"The Tree of Life" did quite well here as well, as did "Melancholia," "Nostalgia For The Light," "The Interrupters," "Take Shelter" and "Uncle Boonmee Who Can Recall His Past Lives."
Indiewire thanks those who took part and were brave enough to share their choices. Participants were invited to include films released theatrically this year, but each person devised his or her own criteria.
Please share your Top 10 list for 2011 in the comments section at the end of this article (and don't forget to include your name).
Michael Barker,
Sony Pictures Classics
* – Films made by friends (no Pedro, Terry, Wim, Agniezska, David, or Bennett here) and films released by Sony Pictures Classics are exempt as they would comprise my entire list this year.
1. Histoir(es) du Cinema: JLG's finest film finally reaches these shores
2. A Brighter Summer Day: Ditto for this masterwork
3. Mysteries of Lisbon
4. Breaking Bad, Season 4 Episode 11 "Crawl Space": Best American independent
film of the year
5. Hugo
6. Tinker, Tailor, Soldier, Spy
7. The Clock: film exhibition seen at the M F A in Boston
8. Army of Phantoms: Book by J. Hoberman – A seminal work covering the
blacklist in Hollywood and so much more
9. Extremely Loud and Incredibly Close
10. All the battle related scenes
in War Horse
11. All the scenes with the kids
in Super 8
Matt Dentler,
Head of Content, FilmBuff/Cinetic Rights Management
1. The Tree of Life
2. We Need To Talk About Kevin
3. Moneyball
4. Drive
5. A Separation
6. The Interrupters
7. Bridesmaids
8. Senna
9. Tinker, Tailor, Soldier, Spy
10. Shame
Jeff Deutchman,
IFC Films/Sundance Selects
*- I am excluding our own films this year, which could form a top 10 unto itself!
1. Nostalgia For The Light
2. Take Shelter
3. Meek's Cutoff
4. Melancholia
5. The Tree of Life
6. Margaret
7. A Separation
8. Rebirth
9. Caterpillar
10. The Interrupters
Britta Erickson,
Denver Film Society/Starz Denver Film Festival
1. Martha Marcy May Marlene
2. Melancholia
3. The Descendants
4. Drive
5. We Need To Talk About Kevin
6. Senna
7. Beginners
8. The Artist
9. Moneyball
10. Hanna
Christian Gaines,
Festival Specialist, Withoutabox, a division of IMDb
1. The Artist
2. The Descendants
3. We Need To Talk About Kevin
4. Your Sister's Sister
5. The Lie
6. Albatross
7. Monsieur Lazhar
8. Phase 7
9. Perfect Sense
10. Rise of the Planet of The Apes
Susan Gerhard,
Fandor/SF360
1. Poetry
2. Certified Copy
3. The Arbor
4. Cedar Rapids
5. Into Eternity
6. Cave of Forgotten Dreams
7. Young Adult
8. The Trip
9. The Mill and the Cross
10. Project Nim
Howard Gertler,
Producer
1. Beginners
2. Rise of the Planet of the Apes
3. Weekend
4. 3 Backyards
5. Heartbeats
6. Bridesmaids
7. Myth of the American Sleepover
8. Super 8
9. Bellflower
10. Martha Marcy May Marlene
Sophie Gluck,
Sophie Gluck & Associates
The Artist
The Descendants
Hugo
Incendies
J. Edgar
Melancholia
Midnight in Pairs
Mysteries of Lisbon
Of Gods and Men
A Separation
Marie Therese Guirgis,
Producer
1. The Tree of Life
2. Margaret
3. Senna
4. Tinker, Tailor Soldier, Spy
5. The Skin I Live In
6. Jane Eyre
7. Like Crazy
8. Potiche
9. My Joy
10. House of Pleasures
Chris Horton,
Artist Services, Sundance Institute
1. The Interrupters
2. Cave of Forgotten Dreams
3. The Tree of Life
4. The Skin I Live In
5. Margin Call
6. Senna
7. Moneyball
8. Dragonslayer
9. Armadillo
10. Like Crazy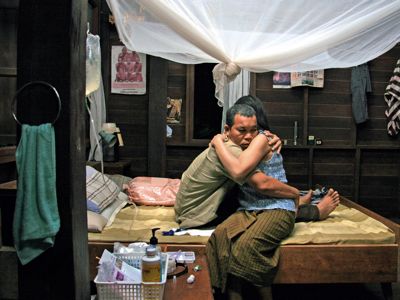 Marcus Hu,
Strand Releasing
1. Uncle Boonmee Who Can Recall His Past Lives
2. The Tree of Life
3. Beginners
4. The Arbor
5. Hugo
6. Rise of the Planet of the Apes
7. A Very Harold and Kumar Christmas
8. Shame
9. The Kid With The Bike
10. The Skin I Live In
Jason Janego,
New Label, The Weinstein Company
1. Tinker, Tailor, Soldier, Spy
2. Shame
3. Bill Cunningham New York
4. Drive
5. The Artist
6. Moneyball
7. The Trip
8. Bridesmaids
9. Beats, Rhymes & Life: The Travels of a Tribe Called Quest
10. Midnight in Paris
Keaton Kail,
IFC Films
1. The Tree of Life
2. Mysteries of Lisbon
3. Melancholia
4. Certified Copy
5. Incendies
6. Weekend
7. The Time That Remains
8. Pina
9. Martha Marcy May Marlene
10. Drive
Adam Kersh,
Brigade Marketing
1. The Muppets
2. Martha Marcy May Marlene
3. Weekend
4. Cold Weather
5. The Descendants
6. Le Havre
7. Bridesmaids
8. Bellflower
9. Heartbeats
10. Septien
Michael Lerman,
The Philadelphia Film Society/The Film Sales Company
1. A Separation
2. Incendies
3. The Time That Remains
4. Margaret
5. Certified Copy
6. Le Quattro Volte
7. Leap Year
8. Red State
9. If I Want to Whistle, I Whistle
10. Drive
Jennie Livingston,
Filmmaker
1. Connected
2. Letters from the Big Man
3. Tomboy
4. Meek's Cutoff
5. Uncle Boonmee Who Can Recall His Past Lives
6. Putty Hill
7. We Were Here
8. Gun Hill Road
9. Attenberg
10. Into The Abyss
Jared Moshe,
Director of "Dead Man's Burden"; Producer of "Corman's World" and "Silver Tongues"
1. Take Shelter
2. Warrior
3. The Tree of Life
4. Uncle Boonmee Who Can Recall His Past Lives
5. Mission Impossible: Ghost Protocol
6. Hugo
7. The Artist
8. Moneyball
9. Tabloid
10. Drive
Andrew Murphy,
Atlantic Film Festival
1. Melancholia
2. Take Shelter
3. The Artist
4. Weekend
5. Higher Ground
6. Hobo With a Shotgun
7. The Future
8. Le Havre
9. Harry Potter and the Deathly Hallows, Part II
10. The Tree of Life
Susan Norget,
Susan Norget Film Promotion
1. Uncle Boonmee Who Can Recall His Past Lives
2. Melancholia
3. Certified Copy
4. Poetry
5. Mysteries of Lisbon
6. Pina
7. The Future
8. Aurora
9. The Interrupters
10. Cave of Forgotten Dreams
David Nugent,
Hamptons International Film Festival & Perugia International Film Festival
1. Nostalgia For The Light
2. The Artist
3. Drive
4. The Descendants
5. Melancholia
6. Le Quattro Volte
7. The Tree of Life
8. Moneyball
9. Beginners
10. Buck
Jenni Olsen,
Q Movie Blog.com
1. Tomboy
2. Happy Happy
3. Beginners
4. Circumstance
5. Pariah
6. Making the Boys
7. 3
8. We Were Here
9. J. Edgar
10. Rise of the Planet of the Apes
Mark Elijah Rosenberg,
Rooftop Films
1. Septian
2. St. Nick
3. Martha Marcy May Marlene
4. Strongman
5. Bad Posture
6. Cold Weather
7. Battle For Brooklyn
8. The Imperialists Are Still Alive!
9. Where Soldiers Come From
10. Pariah
Rob Scheer,
Brigade Marketing
1. The Tree of Life
2. Martha Marcy May Marlene
3. Shame
4. Moneyball
5. Take Shelter
6. Weekend
7. Warrior
8. Rango
9. Melancholia
10. We Need To Talk About Kevin
Richard Sheehan,
HSBC Bank Entertainment & Media Group
1. The Descendants
2. Shame
3. My Week With Marilyn
4. The Artist
5. Moneyball
6. The Skin I Live In
7. Pariah
8. Win Win
9. The Help
10. Hugo
Bryan Stamp,
Outfest
1. The Tree of Life/Uncle Boonmee Who Can Recall His Past Lives
2. Nostalgia For The Light
3. Weekend
4. The Arbor
5. My Perestroika
6. Certified Copy
7. Le Havre
8. Drive
9. Melancholia/Take Shelter
10. The Future
Basil Tsiokos,
Consultant/Programming Associate, Sundance Film Festival
1. The Interrupters
2. Resurrect Dead
3. Martha Marcy May Marlene
4. The Black Power Mixtape 1967-1975
5. The Arbor
6. The Autobiography of Nicolae Ceausescu
7. Weekend
8. Summer Pasture
9. We Need To Talk About Kevin
10. Melancholia
John Von Thaden,
Magnolia Pictures
1. Melancholia
2. Certified Copy
3. Take Shelter
4. Margaret
5. Mysteries of Lisbon
6. Nostalgia For The Light
7. Drive
8. Moneyball
9. A Separation
10. House of Pleasures