Tomorrow morning, Oscar prognosticators will see months of buzz-tracking and guesswork culminate in the nominations for the 84th Annual Academy Awards.
There's a lot of obvious suspects – from the dominance of "The Artist" and "Hugo" to gridlocked acting nominees like George Clooney, Brad Pitt, Jean Dujardin, Meryl Streep, Viola Davis, Michelle Williams, Christopher Plummer and Octavia Spencer. But the Academy still has room to surprise, most notably in its best picture category, where for the first time there could be anywhere from five to 10 nominees. There's various theories as to how that's going to go down, but no one really knows. This is uncharted territory, which is part of what will make tomorrow morning interesting.
Nonetheless, Indiewire is running down our predictions in 21 different categories, including full lists of all reasonable contenders in the six major categories.
Best Picture: This will by far be the most interesting part of Oscar nomination morning. As we all know, the best picture category had a major rule shakeup this year. Depending on how many #1 votes each film receives on voters' ballots, anywhere from five to 10 nominees could be announced. That makes it nearly impossible to predict — and therefore good fun for anyone bored by awards season so far.
Had there only been five, it seems pretty clear: Michel Hazanavicius's "The Artist," Alexander Payne's "The Descendants," Martin Scorsese's "Hugo," Woody Allen's "Midnight in Paris" and Tate Taylor's "The Help." All five have done exceptionally well across all the precursors and make total sense as surefire nominees (and interestingly, four of them screened either in festivals or in theaters by September — a rarity with Oscar).
Who knows; it could be just those five. But that's doubtful, and that's where the fun comes in. There's roughly eight films that stand something of a chance at joining them. The most likely are Bennett Miller's "Moneyball" and David Fincher's "The Girl With The Dragon Tattoo," both of which got PGA nominations. But how many people are really going to place either as their #1 film? It seems the new system might really allow for some serious surprises.
Could "Bridesmaids" rally after a surprisingly potent batch of precursor mentions? Is "War Horse" less dead than we think? Will the British block of voters rise "Tinker Tailor Soldier Spy" from a once-assumed grave? Will the hardcore fans of "Drive" and "The Tree of Life" push them into the race, thanks to the #1 rule?
That said, the final predictions below play it pretty safe. They suggest eight nominees, with "Dragon Tattoo" and "Moneyball" joining the assumed five and "Tinker Tailor" riding the British vote and some very strong U.S. box office to the category's biggest surprise nomination. As we noted, the category is extraordinarily up in the air, so do enjoy the suspense contained in the multitude of possibilities.
Final Predictions
The Artist
The Descendants
The Girl With The Dragon Tattoo
The Help
Hugo
Midnight in Paris
Moneyball
Tinker Tailor Soldier Spy
If There's 9
Bridesmaids
If There's 10
War Horse
Possible Spoilers
The Tree of Life
Drive
The Ides of March
Best Director: The men (and sadly, this race is entirely about men) behind the frontrunners for best picture — Michel Hazanavicius, Alexander Payne and Martin Scorsese — are locked, though after that it's a tight race between an impressive group of filmmakers: David Fincher, Nicolas Winding Refn, Steven Spielberg, Woody Allen and Terrence Malick.
The director's branch has always thought outside the box a bit more than the Academy, so it's possible folks like Refn or Malick could show up here, even their films aren't best-picture nominees. Our best guess is Allen (a DGA nominee) and Malick (who many in the branch are sure to strongly admire) make the cut, though don't count out Fincher, Spielberg or Refn — or even newcomer Tate Taylor, who would raise a few eyebrows if he makes it over the remarkably respected likes of his competitors.
Final Predictions
Woody Allen, Midnight in Paris
Michel Hazanavicius, The Artist
Terrence Malick, The Tree of Life
Alexander Payne, The Descendants
Martin Scorsese, Hugo
Possible Spoilers
David Fincher, The Girl With The Dragon Tattoo
Nicolas Winding Refn, Drive
Steven Spielberg, War Horse
Tate Taylor, The Help
Best Actress: This is a race that, for a long time, seemed to consist of three women: Viola Davis ("The Help"), Meryl Streep ("The Iron Lady") and Michelle Williams ("My Week With Marilyn"). And it's a near-certainty one of them will end up winning come February.
But in December, Tilda Swinton emerged as a strong potential fourth contender after nabbing the holy nomination trinity of SAG, Golden Globe and Critics Choice for her work in "We Need To Talk About Kevin." It would be Swinton's first lead actress nomination after winning a supporting trophy for "Michael Clayton" five years ago.
The fifth slot seems likely to go to "Albert Nobbs" star (and writer and producer) Glenn Close. It would be her sixth career nomination and she's never won, so she certainly has the sentimental vote. But "Albert Nobbs" is not a film many seem to like, which means a last-minute surge of "The Girl With The Dragon Tattoo" support could push Rooney Mara in over Close the end. It's perhaps our shakiest prediction, but that's how we see it going down.
Final Predictions
Viola Davis, The Help
Rooney Mara, The Girl With The Dragon Tattoo
Meryl Streep, The Iron Lady
Tilda Swinton, We Need To Talk About Kevin
Michelle Williams, My Week With Marilyn
Possible Spoilers
Glenn Close, Albert Nobbs
Charlize Theron, Young Adult
Kirsten Dunst, Melancholia
Best Actor: This is a heated, glamorous race that pits some of the biggest movie stars on the planet – Leonardo diCaprio ("J. Edgar"), George Clooney ("The Descendants") and Brad Pitt ("Moneyball") – against a relatively unknown Frenchman (Jean Dujardin for "The Artist"), a quickly rising star and sex symbol (Michael Fassbender for "Shame") and a well respected Brit who (shockingly) never been nominated (Gary Oldman in "Tinker Tailor Soldier Spy").
Pitt and Clooney are both locked in, as is Dujardin. Clooney's surely the frontrunner, but any of them could win — even Dujardin, perhaps poised to upset Roberto Benigni-style if "The Artist" sweeps the night. As for Fassbender, the dark content and NC-17 rating for "Shame" could hurt him. He didn't get a SAG nomination, as they surprisingly went for Demian Bichir instead (a slightly possibility here). But the Globes gave him a nice boost, and Academy voters can hopefully also see through the scarlet number of "Shame" and include him as well.
But Fassbender is fighting for one of those last two slots alongside DiCaprio, Oldman, Bichir and perhaps Michael Shannon — who received a lot of critical support for "Take Shelter." Our bet is he makes it in alongside Oldman, which would be seen a bit of an upset with regard to DiCaprio, who was once seen as a full-on frontrunner before "J.Edgar' was met with weak critical and public response.
Final Predictions
George Clooney, The Descendants
Jean Dujardin, The Artist
Michael Fassbender, Shame
Gary Oldman, Tinker Tailor Soldier Spy
Brad Pitt, Moneyball
Possible Spoilers
Leonardo diCaprio, J.Edgar
Michael Shannon, Take Shelter
Demian Bichir, A Better Life
Best Supporting Actress: This race is very much down to six women: Octavia Spencer ("The Help"), Berenice Bejo ("The Artist"), Jessica Chastain ("The Help"), Janet McTeer ("Albert Nobbs"), Shailene Woodley ("The Descendants") and, yep, Melissa McCarthy ("Bridesmaids"). Spencer is the only lock; arguments for any combination of the remaining four women are quite reasonable.
On the outside are Carey Mulligan ("Shame") and Vanessa Redgrave ("Corionalus"), both of whom failed to get a mention from the major precursors (Redgrave even got shut out of BAFTA, which was pretty much the final nail in the coffin). If anyone surprises, it's going to be one of them. But that's very doubtful.
Our bet is that it's McTeer that loses out, with Bejo, Chastain, McCarthy, Spencer and Woodley making up a lineup entirely filled with breakout performances.
Final Predictions
Berenice Bejo, The Artist
Jessica Chastain, The Help
Melissa McCarthy, Bridesmaids
Octavia Spencer, The Help
Shailene Woodley, The Descendants
Possible Spoilers
Janet McTeer, Albert Nobbs
Carey Mulligan, Shame
Bryce Dallas Howard, The Help
Best Supporting Actor: This is definitely the toughest of all the acting races to call. One thing is for sure: Christopher Plummer is getting a nomination for "Beginners," and almost certainly will win. It would be the 82-year-old's first Oscar.
Beyond that? Totally murky. There's really no 100%-locked nominees, though Kenneth Branagh ("My Week With Marilyn") and Albert Brooks ("Drive") seem very safe, even though Brooks missed out on a SAG nomination. It could very well end up being a race full of seasoned, Oscarless veterans if Nick Nolte ("Warrior") and Max von Sydow ("Extremely Loud and Incredibly Close") join them. But both of those films haven't been met with passionate support and there's a lot of competition beyond them. Viggo Mortensen, Armie Hammer, Jonah Hill, Brad Pitt, Ben Kingsley and Patton Oswalt are all possibilites in a category where's the most room for surprise.
Our guess is two comic actors taking on dramatic roles — Hill and Oswalt — make the final cut. Hill wouldn't be much of a shocker, as he got SAG and Golden Globe noms. But Oswalt — if it happens, of course — would be one of the bigger surprises of the announcement. It's a very risky bet, but it seems his likeability and charming presence on the precursor circuit might give him an unlikely edge.
Final Predictions
Kenneth Branagh, My Week With Marilyn
Albert Brooks, Drive
Jonah Hill, Moneyball
Patton Oswalt, Young Adult
Christopher Plummer, Beginners
Possible Spoilers
Nick Nolte, Warrior
Max Von Sydow, Extremely Loud and Incredibly Close
Armie Hammer, J.Edgar
Brad Pitt, The Tree of Life
Ben Kingsley, Hugo
Viggo Mortensen, A Dangerous Method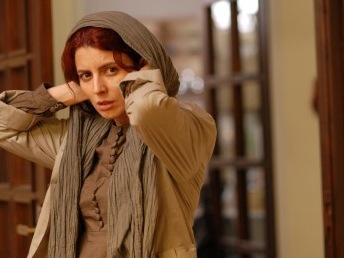 Best Original Screenplay:
Final Predictions:
Woody Allen, Midnight in Paris
Asghar Farhadi, A Separation
Michel Hazanavicius, The Artist
Will Reiser, 50/50
Kristen Wiig & Annie Mumulo, Bridesmaids
Possible Spoilers:
Tom McCarthy and Joe Tibani, Win Win
Mike Mills, Beginners
Diablo Cody, Young Adult

Best Adapted Screenplay:
Final Predictions:
Nat Faxon, Alexander Payne & Jim Rash, The Descendants
John Logan, Hugo
Bridget O'Connor & Peter Straughan, Tinker, Tailor Soldier Spy
Aaron Sorkin & Steven Zaillian, Moneyball
Tate Taylor, The Help
Possible Spoilers:
Steven Zaillian, The Girl With The Dragon Tattoo
George Clooney & Grant Heslov, The Ides of March
Hossein Amini, Drive
Best Animated Feature:
Final Predictions:
The Adventures of Tintin
Arthur Christmas
Chico & Rita
Puss in Boots
Rango
Possible Spoilers:
Cars 2
Kung Fu Panda 2
Winnie The Pooh
Best Foreign Language Film
Final Predictions:
Footnote (Israel)
In Darkness (Poland)
Monsieur Lazhar (Canada)
Pina (Germany)
A Separation (Iran)
Possible Spoilers:
Superclasico (Denmark)
Bullhead (Belgium)
Omar Killed Me (Morocco)
Best Documentary Feature:
Final Predictions:
Hell and Back Again
Paradise Lost 3
Pina
Project Nim
We Were Here
Possible Spoilers:
Buck
Undefeated
Bill Cunningham, New York

Best Cinematography:
Final Predictions:
The Artist
Hugo
Tinker Tailor Soldier Spy
The Tree of Life
War Horse
Possible Spoilers:
The Girl With The Dragon Tattoo
Moneyball
Melancholia
Best Film Editing:
Final Predictions:
The Artist
The Girl With The Dragon Tattoo
Hugo
Moneyball
Tinker Tailor Soldier Spy
Possible Spoilers:
War Horse
The Descendants
Contagion
Best Art Direction:
Final Predictions:
The Artist
Harry Potter and the Deathly Hallows, Part 2
Hugo
Tinker Tailor Soldier Spy
War Horse
Possible Spoilers:
Jane Eyre
The Tree of Life
Sherlock Holmes: A Game of Shadows
Best Costume Design
Final Predictions:
The Artist
The Help
Hugo
Jane Eyre
W.E.
Possible Spoilers:
My Week With Marilyn
Tinker Tailor Soldier Spy
A Dangerous Method
Best Original Score
Final Predictions:
The Adventures of Tintin
The Artist
The Girl With The Dragon Tattoo
Hugo
Jane Eyre
Possible Spoilers:
War Horse
Moneyball
Tinker Tailor Soldier Spy
Best Original Song:
Final Predictions:
"Coeur Volant" (Hugo)
"Lay Your Head Down" (Albert Nobbs)
"The Living Proof" (The Help)
"Life's a Happy Song" (The Muppets)
"Pictures in My Head" (The Muppets)
Possible Spoilers:
"Star Spangled Man" (Captain America)
"Hello Hello" (Gnomeo and Juliet)
"Man or Muppet" (The Muppets)
Best Sound Mixing:
Final Predictions:
The Adventures of Tintin
Hugo
Super 8
Transfomers: Dark of the Moon
War Horse
Possible Spoilers:
Pirates of the Caribbean: On Stranger Tides
Rise of the Planet of the Apes
Mission Impossible – Ghost Protocol
Best Sound Editing:
Final Predictions:
The Adventures of Tintin
Drive
Super 8
Transfomers: Dark of the Moon
War Horse
Possible Spoilers:
Rise of the Planet of the Apes
Hugo
Mission Impossible – Ghost Protocol

Best Visual Effects:
Final Predictions:
Harry Potter and the Deathly Hallows, Part 2
Hugo
Rise of the Planet of the Apes
Transformers: Dark of the Moon
The Tree of Life
Possible Spoilers:
Captain America: The First Avenger
Pirates of the Caribbean: On Stranger Tides
Mission Impossible – Ghost Protocol

Best Makeup:
Final Predictions:
The Artist
Hugo
The Iron Lady
Possible Spoilers:
Harry Potter and the Deathly Hallows, Part 2
Gainsbourg: A Heroic Life
Albert Nobbs