Michel Hazanavicius's "The Artist" swept the 27th Film Independent's Spirit Awards this afternoon, taking prizes for best feature, best director, best actor and best cinematography in what is surely foreshadowing for tomorrow's Oscars.
Other major winners included "Margin Call" — which took best first feature and the Robert Altman Award, and "The Descendants," which won best screenplay best supporting female.
The complete list of Spirit Award winners is below. Also check out our minute by minute rundown from the ceremony.
BEST FEATURE (Award given to the Producer)
"The Artist"
BEST DIRECTOR
Michel Hazanavicius, "The Artist"
BEST FIRST FEATURE (Award given to the director and producer)
"Margin Call"
JOHN CASSAVETES AWARD
(Given to the best feature made for under $500,000; award given to the writer, director, and producer)
"Pariah"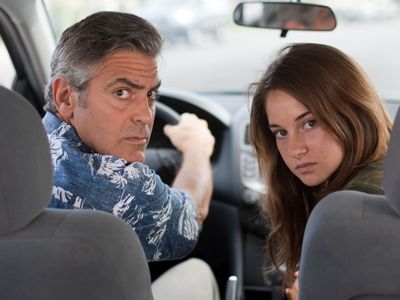 BEST SCREENPLAY
"The Descendants"
BEST FIRST SCREENPLAY
"50/50"
BEST FEMALE LEAD
Michelle Williams, "My Week With Marilyn"
BEST MALE LEAD
Jean Dujardin, "The Artist"
BEST SUPPORTING FEMALE
Shailene Woodley, "The Descendants"
BEST SUPPORTING MALE
Christopher Plummer, "Beginners"
BEST CINEMATOGRAPHY
"The Artist"
BEST DOCUMENTARY (Award given to the director)
"The Interrupters"
BEST FOREIGN FILM (Award given to the director)
"A Separation"
MROBERT ALTMAN AWARD
(Given to one film's director, casting director, and its ensemble cast)
"Margin Call"
PIAGET PRODUCERS AWARD
Sophia Linn – "Take Shelter"
SOMEONE TO WATCH AWARD
Mark Jackson – "Without"
TRUER THAN FICTION AWARD
Heather Courtney – "Where Soldiers Come From"
The Predictions | The Nominees | The Indiewire Poll | Twitter