Fifty world premieres, with a sharp focus on first-time feature filmmakers, are set for the 63rd Locarno Film Festival, taking place in the picturesque Swiss lake-side town August 4 - 14. The festival is divided into a half-dozen sections, including its gala group in the Piazza Grande, the International Competition and its "Filmmakers of the Present" section, spotlighting first and second-time feature filmmakers. The festival will open with the world premiere of Benoît Jacquot's "Au Fond Des Bois" and close with the world debut of Paul Riniker's "Little Paradise."
Debuts from established international directors include Christophe Honoré ("Homme au bain," France), Bruce LaBruce ("LA. Zombie,"
Germany/USA/France), and the Duplass Brothers' "Cyrus" will have its European premiere at the event. Locarno's "Excellence Award Moët & Chandon" will be presented to actress Chiara Mastroianni. Swiss director Alain Tanner ("Dans la ville blanche") and Chinese filmmaker Jia Zhang-ke ("Cry Me a River") will also receive festival accolades. The Raimondo Rezzonico Prize, which distinguishes an independent producer, will be awarded to Israeli producer Menahem Golan who co-founded, along with his cousin Yoram Globus, the Cannon company.
"This year, there is one characteristic that is common to all the various Festival sections: the youthfulness of the filmmakers, whether they belong to the new generation of international cinema auteurs or are making their directorial debut, proof of the vitality of creative production, and the festival's curiosity about all genres and forms of independent production," commented Locarno Artistic Director Olivier Père in a prepared fest introduction. "This ebullience is manifest in about twenty first films, across all the sections, from the crime film to experimental cinema, via documentary, animation, fantasy and science fiction, comedy and melodrama."

Locarno Piazza Grande, International Competition and Filmmakers of the Present Competition (with information provided by the festival)
Piazza Grande (Gala screenings):
"Au Fond Des Bois" by Benoît Jacquot – France/Germany – 102 min.
with Isild Le Besco, Nahuel Perez Biscayart, Jérôme Kircher
World Premiere – Opening film
"Cyrus" by Jay Duplass and Mark Duplass – USA – 2010 – 92 min.
with John C. Reilly, Jonah Hill, Marisa Tomei
Euorpean Premiere
"Das Letzte Schweigen" (The Silence)
by Baran bo Odar – Germany – 2010 – 118 min.
with Ulrich Thomsen, Wotan Wilke Möhring, Katrin Sass, Burghart Klaussner,
Sebastian Blomberg
International Premiere
"Gadki Utenok" (The Ugly Duckling) by Garri Bardine – Russia – 2010 – 74 min.
Animation
First Feature – World Premiere
"Hugo Koblet - Pédaleur de Charme" by Daniel von Aarburg – Switzerland – 2010 – 97 min.
with Manuel Löwensberg, Sarah Bühlmann, Max Rüdlinger
World Premiere
"Invisible Boy" by Philippe Parreno – France – 2010 – 5 min.
with YI
World Premiere
"Kongavegur" (King's Road)
by Valdis Oskarsdottir – Iceland – 2010 – 90 min.
with Gisli Örn Gardarsson, Daniel Brühl, Nina Dögg Filippusdóttir
International Premiere
"L'Avocat" (The Counsel) by Cédric Anger – France – 2010 – 95 min.
with Benoît Magimel, Gilbert Melki, Aïssa Maïga
World Premiere
"Monsters" by Gareth Edwards – United Kingdom – 2010 – 97 min.
with Scoot McNairy, Whitney Able
"Rammbock" by Marvin Kren – Germany – 2010 – 64 min.
with Michael Fuith, Theo Trebs, Brigitte Kren
(First Feature)
"Rare Exports: A Christmas Tale" by Jalmari Helander – Finland/France – 2010 – 78 min.
with Per Christian Ellefsen, Tommi Korpela, Jorma Tommila
(First Feature - World Premiere)
"Rubber" by Quentin Dupieux – France – 2010 – 84 min.
with Thomas F. Duffy, Roxane Mesquida, Wings Hauser
International Premiere
"Sommervogel" (Little Paradise)
by Paul Riniker – Switzerland – 2010 – 96 min.
with Roeland Wiesnekker, Sabine Timoteo, Anna Thalbach
World Premiere – Closing film
"Svet - Ake" (The Light Thief) by Aktan Arym Kubat – Kyrgyzstan/Germany/France/Netherlands – 2010 – 80 min.
with Aktan Arym Kubat, Taalaikan Abazova, Asan Amanov
"The Mission of the Human Resources Manager" by Eran Riklis – Israel – 2010
with Mark Ivanir, Gila Almagor, Reymond Amsalem, Guri Alfi, Rosina Kambus, Yigal Sade
World Premiere
"To Be Or Not To Be" by by Ernst Lubitsch – USA –1942 – 99 Min.
with Carole Lombard, Jack Benny, Robert Stack
"Uomini Contro" (Many Wars Ago) by Francesco Rosi – Italy – 1970 – 100 min.
with Mark Frechette, Alain Cuny, Gian Maria Volonté

International Competition:
"Bas-Fonds" by Isild Le Besco – France – 2010 – 68 min.
with Valérie Nataf, Ginger Romàn, Noémie Le Carrer
World Premiere
"Beli, Beli Svet" (White White World) by Oleg Novkovic – Serbia/Sweden/Germany – 2010 – 121 min.
with Uliks Fehmiu, Hana Selimovic, Jasna Duricic
World Premiere
"Beyond the Steppes" by Vanja d'Alcantara – Belgium/Poland – 2010 – 90 min.
with Agnieszka Grochowska, Aleksandra Justa, Borys Szyc
First Feature - World Premiere
"Cold Weather" by Aaron Katz – USA – 2010 – 97 min.
with Cris Lankenau, Raúl Castillo, Trieste Kelly Dunn
International Premiere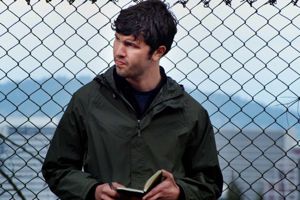 "Curling" by Denis Côté – Canada – 2010 – 92 min.
with Emmanuel Bilodeau, Philomène Bilodeau, Roc Lafortune
World Premiere
"Han Jia" (Winter Vacation) by Li Hongqi – China – 2010 – 91 min.
with Bai Junjie, Zhang Naqi, Bai Jinfeng
World Premiere
"Homme Au Bain" (Man at Bath) by Christophe Honoré – France – 2010 – 72 min.
with François Sagat, Chiara Mastroianni, Dustin Ariel Segura-Suarez
World Premiere
"Im Alter Von Ellen" (At Ellen's Age)
by Pia Marais – Germany – 2010 – 95 min.
with Jeanne Balibar, Julia Hummer, Georg Friedrich
World Premiere
"Karamay" by Xu Xin – China – 2010 – 356 min.
Documentary
International Premiere
"La Petite Chambre" by Stéphanie Chuat and Véronique Reymond – Switzerland – 2010 – 87 min.
with Michel Bouquet, Florence Loiret Caille, Eric Caravaca
First Feature - World Premiere
"La.Zombie" by Bruce LaBruce – Germany/USA/France – 2010 – 63 min.
with François Sagat, Rocco Giovanni, Wolf Hudson
International Premiere
"La Nas Trevas - A Volta do Bandido Da Luz Vermelha" by Helena Ignez and Ícaro C. Martins – Brazil – 2010 – 83 min.
with Ney Matogrosso, André Guerreiro Lopes, Djin Sganzerla
World Premiere
"Morgen" by Marian Crisan – Romania – 2010 – 100 min.
with Hathazi Andras, Yalcin Yilmaz, Elvira Rimbu
First Feature - World Premiere
"Periferic" by Bogdan George Apetri – Romania/Austria – 2010 – 87 min.
with Timotei Duma, Ioana Flora, Andi Vasluianu
First Feature - World Premiere
"Pietro" by Daniele Gaglianone – Italy – 2010 – 82 min.
with Pietro Casella, Francesco Lattarulo, Fabrizio Nicastro
World Premiere
"Sac" by Tayfun Pirselim – Turkey/Greece – 2010 – 127 min.
with Ayberk Pekcan, Nazan Kesal, Rıza Akın
World Premiere
"Songs of Love and Hate" by Katalin Gödrös – Switzerland – 2010 – 89 min.
with Jeroen Willems, Sarah Horvàth, Ursina Lardi
World Premiere
"Womb" by Benedek Fliegauf – Germany/Hungary/France– 2010 – 107 min.
with Eva Green, Lesley Manville, Matt Smith
World Premiere

Filmmakers of the Present Competition:
"Aardvark" by Kitao Sakurai – USA – 2010 – 80 min.
with Larry Lewis Jr, Darren Branch, Jessica Cole
First Feature - World Premiere
"Burta Balenei" (The Belly of the Whale) by Ana Lungu, Ana Szel – Romania – 2010 – 64 min..
with Andrei Enache, Iulia Lazar, Olga Szel
First Feature - World Premiere
"Foreign Parts" by Verena Paravel and JP Sniadecki – USA/France – 2010 – 82 min..
Documentary
First Feature - World Premiere
"Framtidens Melodi" (Songs of Tomorrow)
by Jonas Holmström and Jonas Bergergård – Sweden – 2010 – 84 min..
with Rolf G. Ekroth, Sven-Olof Molin, Helena Bengtsson
First Feature - International Premiere
"Ivory Tower" by Adam Traynor – Canada/France – 2010 – 75 min..
with Chilly Gonzales, Tiga, Peaches
First Feature - World Premiere
"Jo Pour Jonathan" by Maxime Giroux – Canada – 2010 – 80 min..
with Raphaël Lacaille, Jean-Sebastien Courchesse, Vanessa Pilon
World Premiere
"La Lisiere" by Géraldine Bajard – France-Germany – 2010 – 96 min.
with Melvil Poupaud, Audrey Marnay, Hippolyte Girardot
First Feature - World Premiere
"La Vida Sublime" (The Life Sublime) by Daniel V. Villamediana – Spain – 2010 – 90 min.
with Víctor J. Vázquez, Min.ke Wang, Emiliana Minguela
World Premiere
"Mandoo" by Ebrahim Saeidi – Iraq – 2010 – 90 min.
with Rojan Mahamad, Shahab Fazili, Tima Amiri
First Feature - World Premiere
"Memory Lane" by Mikhaël Hers – France – 2010 – 98 min.
with Lolita Chammah, Marie Rivière, Louis-Ronan Choisy
First Feature - World Premiere
"Nijyu" (Intolerance Now) by Takahiro Yamauchi – Japan – 2010 – 60 min.
with Mirei Nakamoto, Tomohiro Ureshino, Kazuma Nakamoto
First Feature - International Premiere
"Norberto Apenastarde" (Norberto's Deadline) by Daniel Hendler – Uruguay/Argentina – 2010 – 89 min.
with Fernando Amaral
First Feature - World Premiere
"Paraboles" (The Art of Telling" - 5th episode of Mafrouza) by Emmanuelle Demoris – France – 2010 – 155 min.
Documentary
World Premiere
"Prud'Hommes" by Stéphane Goël – Switzerland – 2010 – 85 min.
Documentary
World Premiere
"Pulsar" by Alex Stockman – Belgium – 2010 – 91 min.
with Matthias Schoenaerts, Tine Van den Wyngaert, Sien Eggers
World Premiere
"September 12" by by Özlem Sulak – Germany/Turkey – 2010 – 60 min.
with Nevzat Yüce, Emine Yelkenbiçer, Lütfü Varo
First Feature - World Premiere
"The Fourth Portrait" by Chung Mong-Hong – Taiwan – 2010 – 105 min.
with Xiao-Hai Bi, Lei Hao
International Premiere
"Tilva Ros" by Nikola Leraic – Serbia – 2010 – 103 min.
with Marko Todorovic, Stefan Djordjevic, Dunja Kovacevic
First Feature - International Premiere
"You Are Here" by Daniel Cockburn – Canada – 2010 – 78 min.
with Tracy Wright, R.D. Reid, Anand Rajeram
First Feature - World Premiere