"Rick" Premieres, Ruffalo Talks Directing, and Sarah Polley Slays Zombies
by Wendy Mitchell
Among the new films that have people buzzing here in Toronto is the latest movie from Jim Jarmusch, "Coffee & Cigarettes." The film debuted for the public on Sunday and had its press & industry showing on Monday. Of course a core audience for the picture here in Toronto is buyers. One New York acquisitions executive called the collection of short films a "good movie," saying that some of the shorts are absolutely "great." That said, the buyer cautioned that the film is a "prestige piece" and expressed concern that working with Jarmusch may come at too high a price. Another staffer at a New York City-based company liked the film, touting Cate Blanchett and Bill Murray's performances.
The producers of the film, Jason Kliot and Joana Vicente, made a little news of their own on Monday, announcing that they are partnering with ad exec Donny Deutsch, best known for his work plugging such brands as Coors, DIRECTV, Revlon and Mitsubishi. The new name of Kliot and Vicente's company is being modified as a result of the three-year pact, its now known as Deutsch Open City. The deal will fund the outfit's overhead and development costs for what is called an "unlimited number of motion pictures." According to the announcement, the company will seek partners on some projects and fully finance others. The company recently finished shooting "The Assassination of Richard Nixon" with Sean Penn, Naomi Watts and Don Cheadle. Deutsch Open City remains committed to its Blow Up Pictures digital film label.
CONTENT FILM AND "RICK"
ContentFilm, which debuted "The Guys" here in Toronto last year on the anniversary of September 11th with Open City, premiered its corporate satire "Rick" on Saturday, to a sold-out crowd who started laughing as early as the opening credits (we won't ruin the surprise) and were left shaken by the film's darker ending. Curtiss Clayton, a longtime film editor, shot his directorial debut in New York in 20 days this spring. Bill Pullman plays the titular Rick, a widower who is struggling with a rebellious daughter (the luminous Agnes Bruckner), a young smarmy boss (creepy but still hot Aaron Stanford), and a job applicant who puts a curse on him (Sandra Oh). Content celebrated Saturday evening with a dinner at festival hotspot Bistro 990, where guests included director Clayton, cast members Pullman, Stanford, Emmanuelle Chriqui, Cinetic's Micah Green, Content's Ed Pressman (with wife Annie), John Schmidt, Sofia Sondervan, and Michael Roban, producer Ruth Charney, and others. Lead Pullman who told indieWIRE that he is currently talking to companies about a project that he intends to direct. Topics of conversations at dinner included the Olsen twins, Lars Von Trier's secret porn films, the restorative powers of a cup of tea, and of course, films past, present and future.
RUFFALO PARTNERING WITH KILLER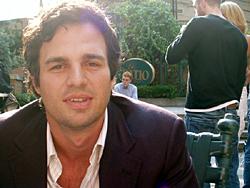 Mark Ruffalo, in Toronto with two powerful and wildly different films — the cancer drama "My Life Without Me" and the very erotic thriller "In the Cut" — was also eager to talk to indieWIRE about one of his forthcoming projects, one that he'll direct himself. Ruffalo will make his directorial debut with "Sympathy for Delicious," a project that he'll start shooting in March in Los Angeles. He described the movie as being "about a guy in a wheelchair who gets the gift to heal but can't heal himself." The character starts a "heal-a-palooza" in a quest for fame and fortune, but finds compassion in the end, Ruffalo said. "It's a rise and fall movie, very funny and quirky,"" he said. Killer Films and Saturn Films are producing, and Nicolas Cage will star as the Jesuit priest opposite the healer. (Ruffalo says he won't be acting in this one). On the prospect of directing his first film (he has directed some theater before), the actor admitted to being "really nervous." But he added, "It's where I'd like to branch out to." Ruffalo said he hopes to have is own style of directing, but takes inspiration from greats like John Cassavetes, as well as from his recent on-set experience with Jane Campion on "In the Cut."
POLLEY SWITCHES GEARS
Ruffalo's "My Life Without Me" costar Sarah Polley also told indieWIRE that she has a change of direction ahead — she just wrapped shooting on a big-budget remake of the zombie classic "Dawn of the Dead." For Polley, whose two films in Toronto — "My Life" and "The Event" both deal with death, as have her previous films like "The Sweet Hereafter" — she says she welcomed a break from the tragedy. "I've never done a movie where I wasn't going through some horrible dramatic thing. Just to go around shooting zombies with a shotgun was like the most incredible break," she said. "I love zombies, I love the original 'Dawn of the Dead,' I love the genre. It's really the only kind of commercial movie that I would go and see, so it was a lot of fun."
"BUTCHERS" EYEING A DEAL
The people behind Anders Thomas Jensen's "The Green Butchers," a dark comedy about a pair of misfit butchers in a small town in Denmark, told indieWIRE that they are nearing a U.S. theatrical pact for their film. The deal had not been announced as of our deadline time. The project is the sophomore directorial effort (after 2000's "Flickering Lights") for Jensen, the prolific writer behind "Mifune," "The King is Alive," "Open Hearts," and "Wilbur Wants to Kill Himself" (the latter also playing here in Toronto). Producer Tivi Magnusson of Danish powerhouse M&M Productions told indieWIRE that "Butchers" has already been a box-office success in Denmark, seen by a 10th of the population. And he sees international potential for select audiences. "An intelligent American audience will think it's funny. It's not a broad release, its going to be an art-house film, and I mean that in a good way," the producer said. "I think they want to see a movie from Denmark that's not just blah blah blah and rough with the camera, it's beautifully shot and styled." Magnusson said the amazingly prolific Jensen already working on several other screenplays, including a heist movie that he will direct. He's also hoping to work on an English-language project next year.
Sign Up: Stay on top of the latest breaking film and TV news! Sign up for our Email Newsletters here.