Movies in Morocco, The 3rd Marrakech International Film Festival
by Howard Feinstein
"I'm a real bitch when it comes to my rights," says brash singer/belly dancer/hooker Sahar in the Egyptian film "Lace." Sahar is played by the great icon of Arab cinema, Yousra. This five-year-old film, which belongs to the catfight genre, was part of a homage to the legendary thesp at the third edition of the Marrakech International Film Festival (October 3-8), in the interior of Morocco, only a 40-minute plane ride from Casablanca. The comment is supercampy, but it could refer to the 80-film event itself: It's a proud showcase for movies from the Arab world. Its multiple feasts in ancient palaces and its screening facilities in the spanking new Congress Hall are fabulous window dressing.
"Egypt is still the Hollywood of the Middle East," Yousra explains. The beautiful, personable, Cairo-based diva is an autodidact with 85 features under her belt. Sitting in the bar of the grand old Mamounia Hotel, she looks two decades younger than her 48 years. "I believe our films are not shown more outside the Arab countries because there are 'rules' abroad that don't permit them to breathe much beyond our borders. It's because of the media, and the way things are marketed," she says. "There must be an audience in Canada, for example, where 2-3 million Arabs live. Multiplexes in the U.S. and everywhere else are required to take the cream of the cake: Hollywood films. We need people to understand us by what they see of us, not by what they hear of us or read about us — both the good and the bad."
With 100,000 spectators, many of them foreign, the Marrakech International Film Festival took one large step toward rectifying the imbalance. (The fest's scope is global: Pjer Zalica's Bosnian feature "Fuse" won the Golden Star, with Tom McCarthy's "The Station Agent" taking the Special Jury Prize. And Oliver Stone, who is shooting his version of "Alexander" in Morocco, gave a press conference with lead actor Colin Farrell on the occasion of a Stone mini-tribute that included "Persona non Grata," his self-indulgent doc about Arafat, who couldn't be bothered to talk to him.)
"Lace," by the female director Enas el-Dagheddy, is an over-the-top flick completely accessible to the masses. Sahar, from a poor family, is the best friend of Myriam (Elham Shahine), a shy daughter of wealth who is a successful lawyer. Unfortunately, the two women fall for the same man, a sadistic police detective, so they form a menage-a-trois. That's when the Neely-Helen Lawson-like one-liners begin. By film's end, however, the gals realize what a putz the cop is, and venture off a deux to raise Myriam's baby.
A very different movie in the tribute was "Alexandria, Again and Forever" (1990), directed by Egypt's preeminent arthouse filmmaker, Youssef (Joe) Chahine. Yousra takes on a more serious role in "Alexandria": an actress-turned-revolutionary. "I'm an extremist, darling," she says, puffing on a ciggie. "I like nice, sweet, romantic things. Then I do something wild — but NOT fundamentalist." The word calls for a pregnant pause. "I love eccentric things, to grow unexpectedly," she continues. "I love people thinking, 'Oh, she's challenging herself again.'"
To her credit, Yousra has been bridging the gap between commercial and esoteric cinema for 20 years. (She was highly visible on the festival circuit when she starred in close pal Yousry Nasrallah's 1993 film "Mercedes.") "I tell myself, 'You give people what they want, but you also take what you want,'" she says. "It's my satisfaction as an artist. I believe that some day, maybe in 10 years, those people who rejected these specialized films will embrace them." What is uncertain is whether or not a potential crossover audience will accept her as a 70-plus American woman named Ginger in Chahine's recently wrapped film, "Anger" — "Joe's love story with America," as she terms it.
One Arab film at the fest that might take much longer to be embraced in the Maghreb is Algerian director Abdelkrim Bahloul's "The Sun Assassinated." Based on the life of gay French-Algerian poet Jean Senec, who refused to adapt to the stiff, conformist Islamic norms of the nascent Algerian state, this slick movie boasts a tour-de-force performance by French actor Charles Berling. Host of a weekly radio program entitled "Poetry on All Fronts," Senec cruised and mentored youthful talent, openly and separately. Political opportunists had him killed, then blamed it on an aspiring straight writer whom Senec had been coaching. Unfortunately, Bahloul weakens the engrossing drama by casting too many angelic-looking young males in key roles; they are clearly uncomfortable in front of a camera.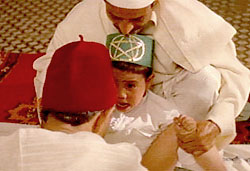 The most personal of the Arab films was the marvelous "Threads," directed by Moroccan-born, Chicago-based filmmaker Hakim Belabbes with a strong sense of surrealism based in the quotitidian. Set in his provincial hometown of Bejjaad, the movie focuses primarily on Medhi (Azeddine Bouayad), a dying expatriate who returns from the U.S. to the place of his birth in order to see what is left of his family as well as the unresolved demons he thought he had left behind. Utilizing an aged narrator who stares straight into the lens as the glue that holds the enterprise together, Belabbes interweaves Mehdi's traumas with those of several village youths, among them a potter's son who leaves the family business in favor of becoming an artist in Casablanca; a teenaged girl whose poor family ships her to the big city to become a servant; a child frightened of his impending circumcision; and an adolescent who feels powerless in the face of his baby sister's potentially mortal illness. This is, save for a weak supporting performance by the old man's American-born daughter, a near-perfect film; it has the feel of a collaboration between Paradjanov and Bunuel shooting an autobiographical screenplay by Margaret Mead.
Besides the award winners, the best of the non-Arabic-language films were deftly directed works that address social issues: Indian Manish Jha's feature, "A Nation Without Women" (fresh from Toronto); and Cuban Fernando Perez's poetic doc, "Suite Habana" (opening night, San Sebastian). "A Nation Without Women," a breathtaking first film, takes the problem of female infanticide to a narrative extreme: No females remain in an Indian village. The dire situation initially allows for some comic relief — a performer in drag, group jerk sessions while men in heat watch a porno tape — but after one old man spots a beautiful young teen secretly saved by her father, the film becomes deadly serious. The wealthiest villager buys her to be a sex slave for his five sons (each marries her) as well as himself: This is Dogville East. Only the low-caste servant and the handsome youngest son treat her like a human being. They've got to be pushed out of the way, of course, testosterone being a natural aggressive chemical. Ultimately, class warfare ensues, precipitated by multiple claims of fatherhood for the child she is to bear.
Veteran director Perez's "Suite Habana" has no dialogue, only an excellent music track to accompany scenes of some individuals he has chosen to follow over the course of a single day in the Cuban capitol. He eschews such exhausted subjects as macho men, musicians, and the backdrops of '50s-era General Motors cars: He presents real people, those generally absent from films made by either Cubans or foreigners in Cuba. Several of them are very old. One youngster has Down's syndrome. A 30-year-old man turns out to be a laborer by day, transvestite by night. Perez lovingly shot this Spanish co-production on digital video with a tiny crew, in order to maintain an intimate relationship with his subjects. (It has been blown up to 35mm.) Not since German filmmaker Walter Ruttmann's 1927 "Berlin: The Symphony of a Great City" has a metropolis been captured with visuals astonishing enough to impart upon its subjects the grace and dignity they deserve.
Sign Up: Stay on top of the latest breaking film and TV news! Sign up for our Email Newsletters here.