Sofia Coppola Talks About "Lost In Translation," Her Love Story That's Not "Nerdy"
by Wendy Mitchell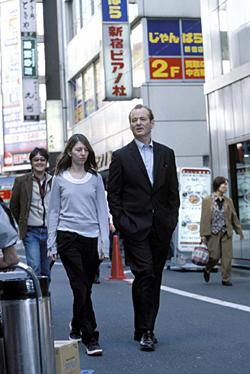 Sofia Coppola's "Lost In Translation" has proven itself to be a sophomore smash, with mostly rave reviews, a lucrative run at the box office, several Golden Globe wins and a slew of Oscar nominations. The film follows the unlikely, increasingly intimate friendship between two Americans stuck in Tokyo: Bob (Bill Murray) is an aging movie star making some quick cash by appearing in whiskey ads, and Charlotte (Scarlett Johansson) is a recent college grad confused about her life plan and mostly ignored by her photographer husband (Giovanni Ribisi), who is in town on business. Jetlagged, confused, and lonely, Bob and Charlotte meet in the bar of the hotel where they're staying, Tokyo's stylish Park Hyatt. Soon, they are bonding over cultural differences, running off to karaoke bars with Charlotte's hipster Japanese pals, and falling for each other. Though their relationship can definitely be described as "intimate," there's no sex involved. In addition to being an atypical romance and a cultural snapshot of Tokyo, "Lost in Translation" is also a laugh-out-loud comedy, thanks to Bill Murray's impeccable performance.
The film is obviously personal for Coppola, who spent time in Tokyo several years ago, working in photography and fashion. indieWIRE managing editor Wendy Mitchell recently spoke to her about the inspirations for the film, the challenges of shooting in Tokyo, and the strange bond between her main characters.
indieWIRE: What inspired you to make "Lost In Translation"?
Sofia Coppola: For a while, I've wanted to do a movie in Tokyo. I knew the setting. I wanted to shoot at the Park Hyatt hotel, and I wanted [to shoot] the neon at night, and I wanted to make something romantic. I wanted to make a love story without being nerdy. But it mostly came from time I spent over there when I was younger.
indieWIRE: You were doing fashion work in Tokyo?
Coppola: I was taking photos, and also my friend and I had this clothing company called Milk Fed.
iW: Do you still visit Tokyo?
Coppola: I still like to go there. A lot of the guys in the movie, like Charlie Brown, are people I've known for years. The idea for "Lost in Translation" really started when I saw Charlie perform "God Save the Queen" at a karaoke bar. I said, "I have to put this in a movie."
iW: Why was the Park Hyatt in particular a good setting?
Coppola: I stayed there during a "Virgin Suicides" promotional/press tour. It's just one of my favorite places in the world. Tokyo is so hectic, but inside the hotel it's very silent. And the design of it is interesting. It's weird to have this New York bar…the jazz singer…the French restaurant, all in Tokyo. It's this weird combination of different cultures.
iW: Can you talk a little bit about the other locations of the film — the look of Tokyo you were trying to capture?
Coppola: I wanted it to be based on the way a snapshot looks. I talked with Lance Acord, our great DP, about how we wanted to shoot it with a small lightweight camera so that we could be mobile. The film stock was a higher ASA so you didn't have to light it. We could go into a club without people really noticing, it was almost documentary-style for some scenes. You can't get permission to shoot in the subways there. The idea was to be stealthy and shoot people and just run around Tokyo with a few crew members. I wanted the film to look the way Tokyo looked to me when I visited.
iW: Did you ever think of shooting on DV because of your constraints with space and light and so forth?
Coppola: Yeah, my dad [Francis Ford Coppola] tried to talk me into it. He said, "They're not even going to have film soon, you might as well get used to it!" He's Mr. High-Def, he's really into it. I thought about it because it would have been non-intrusive, but for this I did want it on film, because it's like a memory and a love story.
iW: What were the challenges of shooting in Tokyo? Did you have a mostly Japanese crew?
Coppola: I think the biggest challenge was just working with our time frame (27 days) and our low budget. [Coppola didn't want to disclose the exact budget, saying only that it was "a couple of million dollars."] Because the hotel had guests, the hours were just crazy. But having a mostly Japanese crew and not speaking Japanese was definitely complicated.
iW: How did you get around the language barrier?
Coppola: My AD was bilingual, but still everything takes so much longer. There are just the cultural differences, the formality of things there. If you just want to ask the extra in the background to move a little bit, everything takes longer. You can offend people without knowing you are. We were shooting late at one location, we were only about 10 minutes late — totally normal for American shoots, but there we had totally disrespected them. So it was definitely a challenge getting through all that. But it ended up being really fun.
iW: Did anything that occurred while you were filming inspire additions to the film?
Coppola: I loved to open it so if we saw a cool place we could shoot it. The Japanese politician that waves at Bob on the street, that's not a big thing, but I didn't know about that. We would just kind of find things like that and add them in.
iW: I wanted to talk a bit about the casting. Why were you interested in pursuing Bill Murray in this lead romantic role?
Coppola: I've just always loved watching him in movies and I always wanted to work with him. He has this sweet, lovable side. I thought it would be funny to see him in this little kimono in Japan, where he's really out of place.
iW: And with Scarlett [Johansson] how were you confident that she could handle such a meaty role even though she's still a teenager?
Coppola: I always liked her in "Manny & Lo," as a cute little girl with that husky voice. There's just something about her, she does that cool wise-ass character well. She just seems older than she is. There's some innate quality.
iW: What sparked the idea about these two characters who have this strange bond?
Coppola: For everyone, there are those moments when you have great days with someone you wouldn't expect to. Then you have to go back to your real lives, but it makes an impression on you. It's what makes it so great and enjoyable.
iW: Part of the powerful nature of their relationship is that it's fleeting.
Coppola: Yeah, it's just for that moment. And sometimes with strangers, you can tell them something that you couldn't tell someone you know. But I just liked those brief moments of connection when they're feeling so disconnected.
iW: Did you ever consider a version of the story in which they were physically intimate?
Coppola: I liked this relationship. I've had friends like that where you have a flirtation but you're just friends. I wanted it to be more innocent. If they slept together, that would bring in reality.
iW: Did you work a lot with the cast before you started shooting?
Coppola: I did one rehearsal with Scarlett and Giovanni, but Bill and Scarlett met in Tokyo so I'm glad it seemed to work out between them. We just kind of jumped into it. We did a lot of improvising. Bill's great at improvising.
iW: Can you remember something specific that Bill came up with?
Coppola: When [Bob and Charlotte] are in the sushi bar, I had just written "he tries to make her laugh." Bill just went off.
iW: Was there anything you learned on "Virgin Suicides" that helped you while making this film?
Coppola: This one seemed just as hard. I think that there are those moments when you think you're not going to get through it, but you know that you did last time, so that helps. You kind of forget about it after you're done shooting. You're like, "How did I DO it?" I knew that it works out even if it seems like it's not going to.
iW: Do you and Spike Jonze [Coppola's husband] give each other advice?
Coppola: We definitely talk about stuff, but I'm pretty stubborn, I don't think we really like to get advice from one another [laughs]. But it's nice to talk out your ideas.
iW: What about your dad?
Coppola: Yeah, he's like my teacher, my advisor, I talk to him a lot. If a problem comes up, he's great in the early stages when I'm trying to get it together. He tells my brother [Roman] and I that you just have to will it to happen. Even if you're just starting and you don't have any money, just go ahead and it will all fall in. It kind of gives you the confidence. He's great about editing, too, like early cuts, that's his area of expertise.
iW: What do you think your Tokyo friends will think of "Lost in Translation"?
Coppola: I'm curious. They'll laugh when they see Charlie singing. For [Americans], it's so exotic looking, and I wonder to them if it's like me watching a movie about L.A. I hope they'll like it. Like the translations or misunderstandings, the crew thought those were funny, not offensive.
iW: The music seems very important to you as a filmmaker. How did you get Kevin Shields [former mastermind of My Bloody Valentine] involved with this one?
Coppola: I started working with Brian Reitzell who was the music supervisor on "Virgin Suicides." I started telling him about the script when I was writing, and he made me all these compilation CDs, just kind of the music we were talking about. I always loved My Bloody Valentine, and Brian thought to approach Kevin Shields, which was really exciting. I work pretty closely with Brian. I wanted it to be less like a score and more like these mixtapes he used to make me. They reminded me of Tokyo, they sounded like dream pop. It's that melancholic, romantic sound that Kevin Shields is so great at.
iW: I love the scene when Bill Murray sings Roxy Music's "More Than This" at the karaoke bar. How was that song selected?
Coppola: That's funny, we were in the karaoke place and Bill and I were just talking about how we love that album [Roxy Music's "Avalon"]. I said, "Will you sing it for me?" So he did, and I thought it was so sweet that we filmed it, and luckily we got permission to use it in the movie.
iW: So, what are you doing next?
Coppola: I'm thinking about beginning to write again. I'm procrastinating. I'm still working with Focus to promote this film. One of these days I will get back to writing, but I'm going to put it off a little longer.
Sign Up: Stay on top of the latest breaking film and TV news! Sign up for our Email Newsletters here.