Building Bonds Between Filmmakers and Audiences, A Report from Vancouver's Fest
by Sarah Keenlyside
On the eve of the Vancouver International Film Festival (Sept. 23 – Oct.8), I was en route by taxi to the Brighlight Pictures/Vancouver Film Studios red carpet event at Cin Cin, one of Vancouver's trendiest restaurants. I asked the driver to take a back road, thinking the area surrounding the party would be in a state of chaos. I imagined it would play out like a typical festival mob scene with traffic backed up for blocks, crowds pushing against barricades and media-types pointing microphones as stars emerged from their stretch limos. Then I remembered I was in Vancouver, a city famous for its casual, laid back attitude, where a pair of jeans passes as formal wear.
Star TV host Terry David Mulligan (think MTV's Carson Daily only 25 years older) was poised red carpetside to announce the party's VIP guests as they arrived (mostly local actors and directors with films in the festival, as well as our party-loving mayor, Larry Campbell), but overall the fuss outside was minimal. Inside, partygoers were treated to B.C. wines, fabulous hors d'oeuvres and engaged in lively conversation. The evening served as a pleasant kick-off to a festival that is more about appreciating movies than generating hype.
Festival director Alan Franey explained that it is not the festival's goal to emulate the 'socially stratified' atmosphere of other big film festivals, "We believe in the almost sacrosanct end goal of the relationship between the filmmaker and the audience," he said. "And we really do want this festival to be different than a lot of film festivals where that has been lost a bit."
Nowhere is this attitude more evident than in VIFF's commitment to introducing audiences to their local talent. Not only does the festival screen the largest selection of Canadian films in the world every year, this year's program included a total of 34 British Columbian films, (not all of them great, mind you, but nonetheless supported by the festival).
Some homegrown highlights included "The Love Crimes of Gillian Guess" directed by Bruce McDonald, Bill Marchant's gay-marrriage-gone-terribly-wrong black comedy "Everyone" (featuring an excellent ensemble cast of young B.C. actors), and Velcrow Ripper's "Scared Sacred," a stunning travelogue and personal meditation on human suffering and spirituality. In the end, however, it was Manitoba's Gary Yates who scored the Citytv Western Canada Feature Film Award (and CDN $12,000) for his Sundance premiere "Seven Times Lucky."
Other films in the Canadian program included such high-profile fare as Don McKellar's second directorial offering "Childstar," John Duigan's "Head in the Clouds," starring Charlize Theron and Penelope Cruz, and Istvan Szabo's "Being Julia," which not only had the honor of being the opening night film at VIFF but opened the Toronto International Film Festival as well.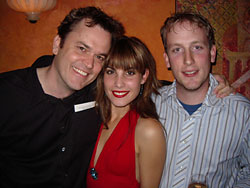 The Federal Express Award for Most Popular Canadian Film ended up being shared by two films, both documentaries. François Prévost and Hugo Latulippe won for "What Remains of Us," a film considered so contentious that camera phones and other recording devices were not allowed inside the screenings. The film documents the story of a Tibetan refugee from Quebec who smuggles a videotaped message from the Dalai Lama into Tibet, thus delivering the first words from the spiritual leader to his people since 1950. The other prize went to Leanne Allison and Diana Wilson for "Being Caribou," in which a newlywed couple follow the migration of the caribou through the Arctic Wildlife Refuge, a pristine area in Alaska that is under threat by oil companies looking to exploit its rich underground resources.
But Canadian films were not alone on VIFF's agenda, far from it. The festival also screened an immense number of international selections, including the AGF People's Choice Award for Most Popular International Film, "Machuca" (Chile), directed by Andrés Wood, as well as programs including a Spotlight on France, a section of German Indies (most notably Leander Haussmann's "Berlin Blues" and Marcus Mittermeier's "Quiet as a Mouse" and an entire festival's worth of Asian films.
In fact, VIFF's Dragons and Tigers program is the biggest showcase of Asian films outside Asia (95 films were in the program this year of which 21 were international premieres). This makes perfect sense, considering Vancouver has a built-in audience for the films. "Vancouver has an ethnic mix that is different than any other city in the world," said Franey, adding that a lot of the filmmakers attending VIFF are making their first trips to a film festival outside of their home countries.
Such was the case of Dragons and Tigers Award for Young Cinema recipient Takahashi Izumi. His winning first film, "The Soup One Morning," subtly recounts the story of a young couple whose relationship crumbles after the man develops a severe anxiety disorder and subsequently joins a mysterious religious cult. Before its premiere at VIFF the film had never been screened outside of his native Japan.
Franey also attributed the success of the Dragons and Tigers program to thoughtful scheduling. "We've had a lot of the Asian guests in the first half of the festival, and so they've all been here to meet each other." The second half of the festival, he says, focused greatly on political documentaries.
Documentaries made up another significant portion of the festival's offerings. This year 78 were shown, including Jessica Yu's "In the Realms of the Unreal" (USA), winner of the National Film Board Award for Best Documentary Feature. Also screened were a vast number of political films dealing with subjects such as the war on Iraq (Salam Pax's "Baghdad Blogger" and "Video Reports from Iraq"), Israeli/Palistinian relations (Yoav Shamir's "Checkpoint," and Simone Bitton's "Wall") and the current U.S. president (William Karel's "The World According to Bush" and Jeremy Earp and Sut Jhally's "Hijacking Catastrophe: 9/11, Fear and the Selling of American Empire"). Franey explained that because the U.S. presidential debates were going on during the latter part of the festival, these politically charged films seemed well timed. "I think it's a very special year," he said. "Our program seems to have really struck lots of points of relevance."
But what has remained most relevant year after year is the festival's commitment to fostering the filmmaking community, both in Vancouver and abroad. In addition to screening local films, the festival's concurrent Vancouver International Trade Forum offered four days of education and networking for new and seasoned film professionals. I attended the New Filmmaker Day where panels of filmmakers, producers, distributors and writers shared their knowledge of subjects ranging from creating a shot list to finding distribution deals for low budget films. I particularly enjoyed the panel on how to write for low-budget film, which included the always entertaining Vancouver director Mina Shum ("Double Happiness"). Right off the bat she shared her insight that one should never write a screenplay specifically with a budget in mind, thus inciting a lively and informative debate between the panelists and the audience.
Sign Up: Stay on top of the latest breaking film and TV news! Sign up for our Email Newsletters here.