Auto-Critique: Abbas Kiarostami's "10 on Ten"
by Jeff Reichert with responses from Michael Joshua Rowin and Michael Koresky
In a surprise maneuver, master filmmaker Abbas Kiarostami announced after the completion of his gorgeous "The Wind Will Carry Us" in 2000 that he was joining the DV revolution and would hang up his 35mm cameras in favor of pursuing digital filmmaking exclusively. He's stayed true to his word thus far, offering up his sketchbook of African AIDS orphans with 2001's "ABC Africa" and following that with the truly radical auto-cinematic exercise of 2002's "Ten." His latest, "10 on Ten," more a lecture than a film, attempts to explain, in ten clearly demarcated "lessons," the reasons for the shift, using only clips from his previous two works, occasional images of the landscapes from 1997's "Taste of Cherry," and (largely) a dashboard-mounted camera which captures the director as he drives through the countryside and expounds on the kind of cinema in which he's now engaged. As he goes through basic topics like "Script," "Subject," "Location," and "Music" and elucidates his thoughts on each and how they've changed over the course of his filmmaking, the effect is akin to having a private session with one of cinema's greatest — imagine the difference between Bresson reading his "Notes on Cinematography" to you and explaining each tenet, and idly paging through the text alone. Kiarostami's lessons in "10 on Ten" are illuminating and fascinating (if occasionally a tad rote for the avid student of film theory), but if you're expecting "The Wind Will Carry Us Further," you're out of luck.
"10 on Ten" is the kind of film that would have been impossible to make or have shown in theaters without the current interest in and acceptance of video technologies. Though I'm completely aware of the arguments for DV around democratization, how the dismantling of the cumbersome, expensive apparatus of 35mm production, distribution, and exhibition will offer space for more new filmmakers, and provide established filmmakers the ability to enter into closer communication with their audiences, and I'm curious as to how it creates possibilities for an instant-response cinema of political reportage, that will further the project of films like "Outfoxed" or "Tying the Knot," I remain somewhat nervous in the face of all the promises of "digital cinema." As evinced by a film like "10 on Ten," the possibilities for low-cost filmmaking are intriguing and seemingly endless, but so far the upsides of the revolution haven't quite fully materialized, while the downsides (low-budget, low-concept, anti-aesthetic, ugly, unconsidered films) are running amok through festivals and theaters worldwide. And not to open another complete avenue of discussion around the illusory nature of DV's democratic promise, if a video called "10 on Ten" was circulating, but didn't bear the name of Abbas Kiarostami, would anyone care? Kiarostami's passion for the technology is evident throughout his lessons, and infectious, but this fervor is tarnished somewhat by a stubborn idealism that, at times, borders on naiveté.
Still, judging "10 on Ten" against the expectations which surround any new film bearing Kiarostami's name finds it holding up remarkably well, furthering the director's restless, idiosyncratic path which simultaneously strikes out afresh each time while revising, updating, and reconsidering earlier work. For me, the pleasure of Kiarostami's films has always been in the delicate intermingling of his meta-cinematic inquiries with the gorgeous ultra-cinematic vistas of Iran — that he can end a film ostensibly about filmmaking like "Through the Olive Trees" with a single long shot of lovers in a landscape and reveal that maybe the subject of the work was something else after all. Car-bound as "10 on Ten" is (he reveals in Lesson 5 that the automobile is his favorite location due to the intimacy of conversation afforded by the side-by-side positioning of the passengers), Kiarostami sneaks his camera outside occasionally to (re)capture the landscapes of "Taste of Cherry." Due to the degraded quality of the image, the effect isn't quite the same as in the earlier film, but in the climax of his final lesson, Kiarostami makes his firmest case for the possibilities of his kind of digital filmmaking. He removes the camera from its position on the dashboard and fixes it on a cedar tree featured in "Taste of Cherry" while he recites a haiku, but then, almost as an afterthought (though surely, thoroughly planned) tilts downward to the road, and begins a slow zoom that reveals an active anthill peeking out from between the rocks. Completely invisible seconds prior, the camera has uncovered something we would have missed otherwise. A filmmaker who feels that digital video allows him easier access to the only true subject of films — human beings and their souls — Kiarostami has, over the course of his 80 minute ride, but mostly in this final gesture, revealed that all along he'd been generously teaching us quite a bit about what drives his.
[Jeff Reichert is co-founder and editor of Reverse Shot. He is currently employed as Director of Marketing and Publicity for Magnolia Pictures and co-director of the Providence French Film Festival.]
Take 2
By Michael Joshua Rowin
"The moral, like the artistic, problem lies in being able to observe reality, not to extract fictions from it." So wrote Cesare Zavattini more than half a century ago as a call to arms for the Italian neorealist movement. Abbas Kiarostami extols pretty much the same cinematic philosophy in "10 on Ten," a digital video fashioned as a set of "lessons" about "Ten," the Iranian filmmaker's previous feature. Kiarostami's passionate dedication to neo-neorealist methods, and their underlying principles, is unquestionable. What is questionable is the existence of such a didactic, visually stilted exercise as "10 on Ten." A re-read of Zavattini's 1953 manifesto "Some Ideas on the Cinema" — along with Bresson's "Notes on Cinematography," another text oft quoted here by Kiarostami — would suffice. A few clues, however, suggest "10 on Ten" might be justified as a viewing experience.
At the wheel of his car, Kiarostami addresses a camera that sits in the same dashboard position as the one in "Ten" — a neat meta-trick considering Kiarostami's extensive lesson on how automotive transportation nurtures conversation, a recurring theme of his films. Kiarostami self-reflexively shows how "Ten" — in a tradition spanning from Rouch and Morin's groundbreaking documentary "Chronicle of a Summer" to the verbose cinema of Linklater — eventually arrives at naturally flowing speech through the recreation of environmental conditions conducive to dialogue. Despite a few touches, however, "10 on Ten" is comprised purely of monologue and, lacking any tension generated by the abovementioned dialectic, remains a drag to actually watch, more appropriate, perhaps, as a dvd bonus feature than a theatrical release. As Kiarostami's car travels down the same dirt road as the protagonist's in "Taste of Cherry" (several long shots of the slow voyage mirror those from the 1997 film), one can't help but long to see it again to once more appreciate Kiarostami's mastery of direction, sound, image, and location; unlike "10 on Ten," a lesson embodied as pure cinema.
[Michael Joshua Rowin is a staff writer at Reverse Shot, has written for the Indypendent, Film Comment, and runs the blog, Hopeless Abandon.]
Take 3
by Michael Koresky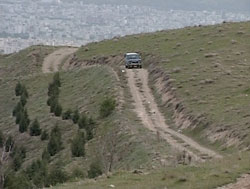 A central irony of Kiarostami's "10 on Ten" — – a simultaneously unassuming yet theoretically grandiose cine-essay on the promise of digital video, as opposed to say, its merits and shortcomings — lies in the problem of auteurist persona. As painstakingly unkempt wielding his camera in his baggy jeans and denim shirt as Michael Moore in his dress-me-downs, Kiarostami truly makes himself a one-man-army here, conversing only with his stationary camera, planted in the passenger's seat as it had been in 2002's "Ten." Here, he's not really furthering the discussions that make "Ten" a truly outstanding and memorable social document but rather extolling the technological apparatus that once allowed Kiarostami to delve into the societal constraints imposed upon women in contemporary Iran. "Ten"'s journey into private space so blatantly utilized digital video's hidden aesthetic that it seemed to wear its subtext on its sleeve. Thus, Kiarostami's need to revisit this literal camera angle, now placing the camera directly on his own mug, could seem redundant; however, his impenetrability as a camera subject, explicated through his refusal to create a dialogue with anyone other than himself and exacerbated by those eternal pitch-black sunglasses, at times pushes the project into slight disingenuousness. I cannot claim that I didn't enjoy his lecture, that I didn't come away from "10 on Ten" with the desire to grab an XL1 and document something, that I didn't find exhilarating the director's insistence that digital video frees film from the clutches of capital and censorship — but Kiarostami remains so aloof, his eyes blocked from view for the full 80 minutes, that his recurring theme of the camera capturing the soul of the human being is somehow negated.
[Michael Koresky is co-founder and editor of Reverse Shot, as well as the assistant editor and frequent contributor of Film Comment.]
Sign Up: Stay on top of the latest breaking film and TV news! Sign up for our Email Newsletters here.