Kicking Off a Busy Season of Film Festivals, SXSW Draws Industry and Filmmakers to Texas
by Eugene Hernandez
The South by Southwest Film Conference and Festival, kicking off tonight in Austin, TX, ushers in busy season of Spring film festivals in the U.S. At the Austin Studios tonight the annual Texas Hall of Fame event will honor Marcia Gay Harden, Irma P. Hall, Dennis Quaid, Robert Rodriguez, and Lauren Bacall, while at the festival huge downtown venue, The Paramount Theater, SXSW will kick-off with Luke and Andrew Wilson's "The Wendell Baker Story," described as the story of "a good-hearted ex-con who gets a job at a retirement community where he joins forces with the elderly to fight corruption and win back his girlfriend."
While SXSW welcomes a large youthful audience in the popular college town, a number of industry guests and filmmakers will also be in town, many participating in the panels and seminars during the four-day conference. Buyers will also be eyeing some of the films debuting at the event.
"I think we're witnessing a festival's most pivotal era right now with SXSW. Last year, this year, and next year promise to be amazing examples of growth," explained festival and conference producer Matt Dentler, in an interview with indieWIRE. "Quite frankly, I feel this is the best program of films we've had in all my years involved with the festival." Dentler, tapped for the lead SXSW Film job by Festival Director Louis Black in 2003, began as an SXSW intern in 1997.
Industry insiders agree that it's a good time for SXSW. Noting that the "lineup looks very strong this year," regular SXSW attendee David Koh, Palm Pictures head of acquisitions and productions, explained that he is especially focused on the event's music-themed projects (a logical highlight of an event that offers an even higher profile music component). "It is important for our company because it is one of the premiere places to see music films," noted Koh. The company will showcase music doc "Be Here To Love Me: A Film About Townes Van Zandt" at the event.
Josh Braun, a producer's rep from Submarine, singled out the strong doc programming at the annual fest. "Spellbound" was a hit a few years back for Braun and last year "A League of Ordinary Gentlemen" won the audience prize at the fest and Braun later sold the film to Magnolia Pictures. "I'm happy to see that documentaries have remained a strong focus of the festival," Braun said.
"SXSW has become a more important annual stop on the festival calendar because the programming has been so consistent so more buyers are attending every year and it's a great place to debut a film," said Braun, adding that he is anxious to debut "The Roost" this year, "because horror fans in Austin are a force to be reckoned with and I know they are going to love this film."
"We believe that SXSW is a top tier film festival attracting industry leaders and decision makers," said Steven Beer from Greenberg Traurig, who will represent "Shooting Livien" at SXSW, "We hope to present 'Shooting Livien' before smart audiences and distribution executives that understand great filmmaking." Continuing he praised the festival, "We believe (SXSW) is much more significant because of the increasing competition in the market place. It is the most important stop after Sundance on the top tier festal circuit. You can't beat SXSW as a showcase."
"It's a great place to showcase certain types of films because it has a specific yet incredibly enthusiastic audience," explained Jared Moshe who will attend from The Film Sales Company. "Also, as Austin is becoming more and more of a film center, you can build great buzz for your film to whet buyer's appetites."
"The films are often provocative, and we have an opportunity to see how they play with sophisticated audiences, as well as network with other industry professionals from around the country," explained Marla Halperin, from Magic Lamp.
As a launching pad for new movies, the festival has proved quite valuable to distributors. "SXSW in particular has a interesting combination of a hipster vibe from Austin but it's also in the heartland," said Howard Cohen of Roadside Attractions. The company successfully showcased "Super Size Me" at the festival last year. "We feel the festival definitely played a nice part in raising awareness for the film between Sundance and the May opening."
Wellspring will launch Todd Solondz' "Palindromes" at SXSW, a few weeks before it is sent to debut in theaters. "I think it's a great festival for getting attention for your films and also generating substantial press," explained Ryan Werner, head of theatrical distribution at the company who will make his first trip to the festival. "It's just a good fit for this film. There is a young, adventurous audience in Austin."
SXSW organizers are proud of what they have accomplished at the event. "I think the film festival has certainly gotten bigger and better," said Dentler. "There's more of a focus now than ever before, as we are able to embrace more world premieres and definitely more Texas filmmakers. My goal is to continue our trend of bringing industry and audiences together. A lot of festivals are either one or the other, and we've done a very good job of being both."
SXSW faces tough competition from a number of the other U.S. festivals that follow Sundance. While March remains rather manageable and SXSW has anchored itself in the middle of the month, shortly after SXSW in brings high profile events, including New Directors/New Films and the Tribeca Film Festival, both in New York and the San Francisco International Film Festival. Numerous regional events are now battling these industry events for films in April, including the Florida Film Festival, the Nashville Film Festival, the Full Frame Documentary Film Festival, the Palm Beach International Film Festival, and others are among the events coming in the next few weeks.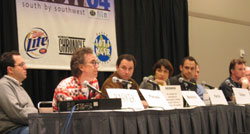 "There are a lot of quality festivals happening over the next two months and all we can hope for is that attendees get something out of our event that they can't get anywhere else," said Matt Dentler during the email conversation with indieWIRE. "No one wants the 'same old festival experience', and that's not what you get at SXSW."
"We live in a time where there are enough terrific independent films to go around," said Dentler. "Luckily, SXSW has enough industry and press attention to keep our quality of premieres high. The only issue I worry about is whether the filmmakers are able to make the best decisions for their films. You want to be careful about where you premiere, and with so many festivals at the same time, it can be very confusing and complicated especially for those new to the scene."
Concluding, Dentler added, "I think Spring has become an important season for U.S. fests because it's between Sundance and Cannes. I think filmmakers and the industry are looking for the best venue between these two great, legendary festivals. And that's why you see a surge in activity in between. People want to cover all of their bases, and it's become apparent that top quality can be found at stops beyond just the normal 'acquisitions festivals' like Sundance, Cannes, and Toronto."
"I think festivals like SXSW, Hamptons, Tribeca, San Francisco, LAFF, AFI, Santa Barbara, and Palm Springs (and a few others) all are in the same boat," concluded Howard Cohen from Roadside Attractions. "They're not Sundance, but distributors know there may be unexpected successes that will come out of them. Citing such films as "What the Bleep Do We Know," "Woman Though Art Loosed," and "The Wild Parrots of Telegraph Hill," Cohen added, "These are interesting hits that don't fit traditional molds. That's specifically why they might work and is also exactly why they might be overlooked by the big international festivals. So we have to start to cover these other festivals, too."
Check out the SXSW lineup at indieWIRE.com @
www.indiewire.com/onthescene/onthescene_050208sxsw.html
indieWIRE's coverage of SXSW '05 will continue @
http://blogs.indiewire.com/sxsw/
[EDITORS NOTE: indieWIRE's Eugene Hernandez and Brian Brooks will be covering SXSW this year. Eugene will be moderating Saturday's "Meet the (Film) Press" session and also Sunday's on-stage Q&A with Christine Vachon.]
Sign Up: Stay on top of the latest breaking film and TV news! Sign up for our Email Newsletters here.