For filmgoers this is a week of embarrassing riches. Yet for Phil Morrison, such gifts could also be seen as a severe case of bad timing. Ever since I first saw "Junebug" back at the New Directors/New Films festival this last spring in New York, I wondered when this wondrous American original would be released. Unfortunately, pitted against the long-awaited latest works of Jim Jarmusch, Wong Kar-wai, and Werner Herzog hot on their heels, Morrison's film might get lost in the shuffle. Yet as reassuring as it is to fall back on the old standbys, here's an exciting new voice in an independent American cinema at a time when we really need it. Here, Morrison reveals why his film is able to tap into such deep reservoirs of emotion, and how, in the midst of such luminous stillness and big-hearted domestic warmth, he manages to pull off some expertly balanced situational comedy as well. Michael Koresky speaks with Morrison ahead of "Junebug"'s release this weekend by Sony Pictures Classics.
indieWIRE: There's a certain approach you take to the family in "Junebug" that you don't really see in a lot of American films, something more ethereal and lacking in sentiment or vulgarity. Do you see something missing in American films in the way the family unit is regarded that you were trying to invest here?
Phil Morrison: Well from your point of view, perhaps there's even something missing from even the final cut of the movie: We had a cut we called "the Terence Davies cut." It was 16 minutes longer. We may still have it in the avid room. I guess you could say that Charles Burnett is in there too. "To Sleep With Anger" is one of my favorite films about the South, even though it takes place in L.A., but for me it is absolutely about the South. That's where this family happens to be, and that's where my family happens to be. I think the word "dysfunctional" has no meaning. I swear to God I don't see this family as non-functioning — I think it's about how they manage to function in spite of the ways they're balanced against each other. And so I wanted to approach that not in a voyeuristic way but in a way that, like Terence Davies or Charles Burnett, acknowledges that we, the people watching the movie and making the movie, don't purport that this family is evidence of everything that's not in our own heads and hearts.
iW: I was thinking of even something like "Meet Me in St. Louis" as well as "To Sleep With Anger," both of which really get at the complexities and comforts of daily family interactions.
PM: There are direct quotes to "Meet Me in St. Louis" in there! When they arrive and Ashley says, "You're here, you're here. Right where we live," that's what Judy Garland says about the fact that the fair is coming to St. Louis, to "right where we live." It's that feeling of being lesser than the bigger places — but accepting that and not being angry about it. And also when Eugene sings in the hallway [Morrison sings]: "If you like-a me and I like-a you and we like-a both the same"; that is this really heartfelt, great song, yet it's also racist. In spite of that, Eugene sings the good part, he preserves it.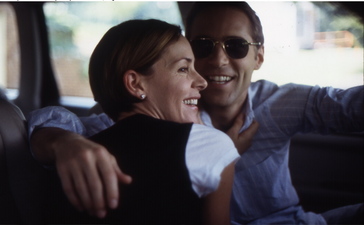 iW: Amy Adams is getting a lot of attention as Ashley, and rightfully so, but she's so forceful that people might miss Embeth Davidtz's complex subtle work as Madeleine. What did Embeth bring to the role that wasn't on the page first?
PM: She brought something that was sort of ineffable. Maybe what she conveys the most is what I hope the movie is about, which is how we try to behave the way we wish we were as opposed to how we really are. Which isn't necessarily a bad idea, I mean they say "Fake it till you make it" in AA, right? But it's precarious.
iW: Have people identified more with Madeleine or the family based on the different regions they're from? It's a film with no clear hero or villain.
PM: So far, and this is only anecdotal because everyone is different, there have been people who declare a class-based concern for the family, like how do you feel about making fun of the people in the family? I don't feel like we are. But I accept that as someone's concern. But we were thinking about that. One thing I definitely experienced up here (New York), that maybe I have to sort of cop to feeling defensive about, is since the election, people in my cohort, who are sensitive to portrayals of people in the movie as classist, have had no problem coming up with those sorts of [middle-American] stereotypes about a phantom real person they can blame for re-electing George Bush.
iW: When I first saw it at New Directors/New Films festival in New York, someone in the audience claimed the film was deriding its Southern characters, which was the exact opposite of what I felt. What it showed is that people come into movies with Southern characters with certain biases and expectations.
PM: I have this self-conscious inclination to just say "anyone who hates it, that's cool that's fine!" But I do feel like I have to stick up for what we did. What we don't do is prove that the Southern characters have all the "virtues" of Northerners, which would maybe be a way, from that audience's perspective, to honor the Southern characters. We were more interested in accepting. I know people have said the Southern characters aren't clever and that they've been to North Carolina and have met tons of clever people. I guess this movie doesn't necessarily make cleverness high on its list of virtues.
iW: Are you from the actual area where you filmed "Junebug"?
PM: Yeah, I'm from Winston-Salem, where the film was shot. And [the screenwriter] Angus MacLachlan has lived there his whole life. We've known each other our whole lives. We're about nine years apart, and I grew up idolizing him, he was an actor and playwright in town, and I thought he was really cool.
iW: Like in "The Long Day Closes" or "House of Mirth," you have these lingering shots of empty rooms. And the character of George [Alessandro Nivola] is himself a blank slate on which to project. And, of course, the baby Junebug itself, which is the ultimate empty space. Why did you decide to shoot the film in this way?
PM: That's so hard to talk about because it's such a gut thing. It was part of the conception when we were shooting the movie, and of course in the editing room we had to make choices, but the shots fall almost exactly where we thought they would. They're not about content; they're never meant to be about what just happened. There's that weird phenomenon where the more you like a movie the more your mind wanders and goes all over the place. For me the less I like the movie the more focused I am on it. I saw a movie last night I didn't like at all, and I thought to myself afterwards that my mind didn't wander; I followed the story moment for moment. I guess I like movies that leave me that space. It's free-associative — I'm not thrilled about using a science term for it, so I guess I'll say it's prayer-ish. A little bit of that out-of-body thing that can happen in a movie that really does it for you.
iW: Have you felt that recently while going to the movies?
PM: Oh, yeah. I felt it in "War of the Worlds" a lot. I felt it at times in "Hustle & Flow," because of its belief in joy, and its ability to transmit that joy. There was no point in me where I tried to pretend I had the confidence to take on an approach that wasn't inspired by other movies. I don't mean that it's homage, but I thought that these are the approaches that moved me, so I'll give it a try. But also it really was directly a result of the feeling of the place where we were making the movie. I don't think that this mystical rush I'm talking about is dependent on silences or slowness, but it made sense for this movie. But I hope people feel it's balanced where it moves along at a clip, and it's funny.
iW: Well, there is a real balance here between behavioral comedy and artistic inquiry. Did your background in directing the TV show "Upright Citizens Brigade" prepare you for that sort of balance?
PM: Well it's really complicated. That show was so much about the experience of being close to the actors as it was about the work. Their perspective was the concept of the "Yes. And." I'm no expert in this. Have you heard of Del Close? Well his basic tenet of longform improvisation is this thing called, "Yes. And." One should really go elsewhere to understand it, but it speaks for itself. When you improvise with someone you don't negate the premise or the idea or reality of what they have just created; you say "Yes. And…?" And it's so essentially positive. No matter how angry [UCB cast member] Matt Besser might be about the state of the world, it's fundamentally positive, because of "Yes. And." That was incredibly inspiring to me. I went into that show thinking it would be like "Phantom of Liberty." And it did so happen that this form of storytelling they had come up with was more like "Phantom of Liberty" as well. But what I got out of it more was this seductive world of "Yes. And." Seductive sounds negative, but what it did was show there was a real sense of hurt, and people hurting. And I really related to that, and how funny it was in spite of that. Maybe it's distance, but it's easier for me to speak with pride about "Upright Citizens Brigade" even more about "Junebug" because it really made me obsessed with the idea that the distance between comedy and tragedy is an illusion. It sounds lofty, but I don't know how else to put it. And it was fun — that show was the most joy and sadness I've ever experienced. I was the director of every episode for the whole first season. It was the first time I ever felt like I was really doing something.
iW: I have a lot of friends who have many episodes basically memorized.
PM: Really? That's wonderful to hear. You know the gift they gave to me was that they accepted that the camera meant something. And they accepted our pursuit of that idea, and that it mattered how we shot it a little bit beyond just landing the joke. That might have led to the failure sometimes in terms of landing the joke, but it seemed to me they were ready to risk missing some jokes for the show to be compelling in some other ways. I'm very willing to have taken that risk.
iW: What's up next?
PM: I'm shooting a thing the weekend "Junebug" opens. I'm saying "thing" cause I don't know what to call it. I'm doing it with [visual artist] Tony Oursler and Kim Gordon. There's no real sense of whose job is what, which is really cool and really confusing. It's going to be a live performance. Kim has put together a group of musicians, including Jim O'Rourke and DJ Olive, and they play live, and then there's a movie that plays on two screens sandwiched, the back of the screen is a rear projection and the front is a scrim. So it's almost like a living chroma key. Kim wrote a script inspired by car advertising — I've done car advertising, which is why I think I'm part of this illustrious piece. So it's about car advertising and a little bit about "Pierrot le fou." The whole thing will be an hour long, so maybe it's kind of like the movie will haunt the video, and hopefully by the end, the story will mean something. It's like "Junebug" in that we had the perspective that we'd find out what we find out, yet we don't know exactly what yet.
[ Michael Koresky and Reverse Shot a href="http://www.indiewire.com/movies/movies_050802junebug.html">reviewed "Junebug" this week in indieWIRE. ]
Sign Up: Stay on top of the latest breaking film and TV news! Sign up for our Email Newsletters here.