To include Olivier Ducastel and Jacques Martineau among France's best-unsung contemporary filmmakers would probably be a bit of a hyperbolic stretch. Yet in the interest of making someone sit up and take note, I'll dare to do just that. Wearing their big-hearted generosity perhaps a bit too much on their sleeves, the directing duo nevertheless repeatedly construct narratives of unending good will and slapdash optimism that send you out of the theater refreshingly buzzed. Even if their brand of homo-happy whimsy doesn't exactly correspond with today's trendy art-house fare, it's been disconcerting to see their work become increasingly gay-ghettoized in the U.S. with each successive film.
After their relatively accessible delight "Jeanne and the Perfect Guy" found wider audiences due to button-cute Virginie Ledoyen, Ducastel and Martineau released a pair of enormously likable, effortless, and frank films specifically about young male sexuality: "The Adventures of Felix," with its revelatory lead performance by Sami Bouajila (easily one of the greatest young actors on the planet, corroborated by his brilliant central role in Desplechin's "Playing 'In the Company of Men'") tracked a charming young HIV-positive Frenchman of Arab descent across France to Marseilles in search of his birth father. Yet narrowly marketed with its silly poster of shirtless men fondling and frolicking in a field, "Felix" never really broke away from its niche market. The case with their follow-up, "My Life on Ice," was direr. A wise and wispy coming-of-ager shot entirely on pseudo video diary, the film was forced to sidestep U.S. theatrical release entirely and immediately popped up on DVD on the TLA label. Both films currently languish on the gay/lesbian racks of video stores across the country.
"Côte d'Azur" (French title "Crustacés and Coquillages" after the film's catchy central tune) has a slighter chance of breaking free from those constraints, playing as it does into much broader stereotypes, yet this mile-wide gleaming smile of a movie still faces an uphill battle. Flirting with the conventions of the door-slamming theatrical sex farce and the mistaken (sexual) identity romp, Ducastel and Martineau again wrestle with sexual identity, yet without burrowing so deep that any of their characters get irrevocably hurt. The genial optimism of Ducastel-Martineau often takes consequence entirely out of the equation, and, in the case of "Côte d'Azur," for the first time they run the risk of short-changing some of their characters, transforming their sexual crises into sitcom fodder. Yet if you ultimately choose to play along, you'll feel greatly rewarded by the film's back-bendingly joyous denouement.
The central idea here is summed up best by Béatrix (a glowing Valeria Bruni-Tedeschi, who last dazzled earlier this summer in Ozon's "5×2"): "Is life complicated or uncomplicated?" It's a question that could be asked by all of Ducastel & Martineau's protagonists, from Felix to "My Life on Ice"'s Etienne, and by the filmmakers themselves, caught up as they all are in life-altering journeys and decisions, all of which somehow elide torture and heartache to find a bemused grin lurking at the center of everything. Béatrix has joined her husband, Marc (Gilbert Melki), daughter Laura (Sabina Seyvecou of "Secret Things"), and teenage son Charly (androgynous Romain Torres) at the seaside house where Marc spent his youth for the summer. Naturally, the heat and the aphrodisiacal crustaceans coax out the sexual appetites of the whole family, exacerbated when Charly's cute friend, Martin (Édouard Collin), himself dealing with his emerging homosexuality, shows up for a visit. Everybody has somebody to hump on the side, even though it might not immediately seem apparent who (or what gender) that somebody is.
"Côte d'Azur"'s deeply settled, blasé attitude toward sexual identity, seen as something comfortable as an old pair of slippers, is ironically what might alienate some viewers. Surely some of the events that take place in the film, specifically between a husband and wife married for many long years, would have damaging impact, yet Ducastel and Martineau deny even the narrative satisfaction of witnessing this damage. Sex is essential here, yet it may seem presented as nearly frivolous to those used to seeing it as torturous and fraught with burdensome psychosis. This inexorable glide towards an ecstatic song-and-dance ending has a lot less to say about "working out" sexual issues and "dealing" with intolerance — the central concerns of most gay-themed indies — than with surveying sexual confusion with an absurd little shrug. It's a surprisingly welcome addition to a growing trend of gay cinema that refuses to devolve into apologies. Happiness is possible at all costs, they seem to be saying. Surely the most nihilistic of Bergman's summer-home devolutions into hysteric victimization are as intrinsically manufactured as this open-armed optimism. Pick your poison.
[ Michael Koresky is co-founder and editor of Reverse Shot, as well as an editor at Interview magazine and frequent contributor of Film Comment. ]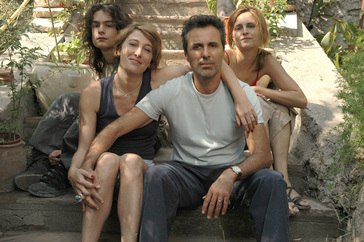 Take 2
By Kristi Mitsuda
Likethe brightly colored and curlicued opening credits accompanied by crustaceans, "Côte d'Azur" aspires to the breeziness of a French summer holiday but plays as distressingly forced whimsy. Believing itself possessed of an immense amount of charm — the characters beg to be labeled with words like "winsome" — the film's carefree frolicking struggles to achieve an insouciant ease which its belaboring precludes. Audience cues for laughter, always transparent in bad comedies, grind uncomfortably by.
The movie can be broken down into interludes involving showers, cell phones, and sex; not a terrible conceit but one that never accrues a deeper level of humor and meaning despite pointedly cyclical repetition. An even more palpable awkwardness arises when scenes give way to impromptu musical numbers oddly reminiscent of the tedious "8 Women" (another French confection far too convinced of its own cleverness). Such narrative breaks, of which there are only two, feel exasperatingly random, apropos of nothing much. And I'm not sure where the film's structural thematic stems from (Tennessee Williams?) but one has to wonder why the big family secret necessarily entails, of course, discovery of closeted homosexuality.
The build-up to these reveals, as evidenced in others like "The Daytrippers" and recent "Heights," are unduly momentous, as the filmmakers wait expectantly for the audience to be scandalized. This anticipated response surely held truer in Williams's time; it now seems a tad hysterical. But though "Côte d'Azur" utilizes the dramatic trope, at least it recognizes this. Circumventing the usual reactionary tendencies, it readily incorporates differing sexualities within its domain so that a utopian vision of love and family is ultimately reached. It's too bad this happy-go-lucky acceptance can't make up for a supremely flawed coming out.
[ Kristi Mitsuda is a Reverse Shot staff writer and maintains the blog artflickchick. ]
Take 3
By Eric Hynes
There are pleasures to be had from a breezily diverting film content with meeting rather than exceeding or subverting expectations. Despite playing safely within the lines of these modest, crowd-pleasing ambitions, "Côte d'Azur" proves how difficult – and exhausting – breezy can be. This punch-clock French summer sex farce might look the part — and sneak its way into unimaginative art-house programming schedules — but it's a snapless, laughless slog.
"Côte d'Azur" gets mileage — and international distribution — from simply being stereotypically "French." While the required iconography is dutifully supplied — an oversexed married woman, a repressed married man, copious bed-hopping and masturbation, bare tits and hairy ass, all under the sustained "gaze" of the hot summer sun — the film actually goes further, pigeonholing its characters into comfortable and recognizable sexualities even while promoting acceptance and liberality. Gilbert Melki's nuanced performance as an ambiguously gay father is subverted by his character's sudden, ostensibly refreshing turn to full-on fey gayness, punctuated by flicks of the wrist and swishings of the hips. His coming out, spurred by his reacquainting with the town plumber (yes, there's no saucy double entendre the film won't hammer into the ground), evokes Scott Thompson's "I'm Gay" routine in "Kids in the Hall: Brain Candy," but without any of the irony or absurdity. In this film, once everyone's sexuality is finally clear, it's time to act and dress the expected part. What's dad got hiding in his closet? Tight ribbed T's and brightly colored tanks, of course.
To arrive at its happy ending of universal acceptance and domestic bliss, "Côte d'Azur" clarifies what's muddy, tangled, and recognizably human about its characters. Hey, it's okay that everyone's okay with themselves in the end, but in a film full of forced moments (sloppy song-and-dance sequences, shellfish puns as philosophy), nothing's as forced as the sudden contentment of the perennially discontented.
[ Eric Hynes is a Reverse Shot staff writer. ]
Sign Up: Stay on top of the latest breaking film and TV news! Sign up for our Email Newsletters here.