Every day through the end of the Sundance Film Festival, including weekends, indieWIRE will be publishing two interviews with Sundance '06 competition filmmakers. Sixty filmmakers were given the opportunity to participate in an e-mail interview, and each was sent the same questions.
Dito Montiel directed "A Guide to Recognizing Your Saints," screening in the Independent Film Competition: Dramatic section. The film is based upon his memoir of the same name, about growing up in a tough New York neighborhood and the friends he left behind. According to Sundance, the film "is steamy with humidity, cooking and adolescent sexuality." Montiel participated in both the Sundance Screenwriters Lab and Directors Lab. This is his first film.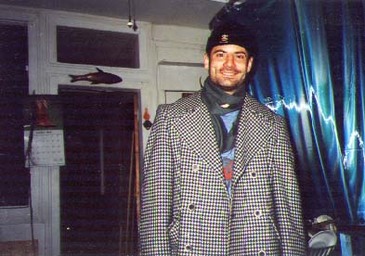 Please tell us about yourself. Where were you born? What jobs have you had?
I was born in Queens, New York. I've done every job you could think of in New York. Selling peanuts to Larry Fresh Fruit ices to dog walker to unloading trucks at the Jacob Javits Center.
What were the circumstances that led you to become a filmmaker?
Ridiculous circumstances. I always wrote songs. [I was] much more of a songwriter. I was in hardcore bands when I was little and always played music. I wrote a book. It came out. Robert Downey and my friend Jonathan Elias talked about making it a movie. They brought down producer Trudie Styler. I said OK. [I] found out INT meant interior, EXT meant exterior and wrote a script. Someone I never met submitted it to Sundance who picked it and brought me to the labs where I learned from some great teachers, and then we made a movie. I am and always will be a fan.
How did you learn about filmmaking? How did you finance your own film?
When I was a kid I was into hardcore music. The scene in New York was tiny. Every person hanging out was in a band and played at the A7 Club. There was not much rehearsing or anything. Just doing. You got on stage in front of the rest of us and made noise until it sounded really good or even worse. Luckily, I never lost that mentality. I have no schooling in any normal sense but have learned from the best as far as just doing things. I learned filmmaking from loving movies and then just saying, OK, let's do it. At the moment it seems to be working so I'll stick with it.
As for financing, I had the mentality that money was no object. NOT because I had any but because that was NOT going to dictate whether or not it was made or HOW it was made. This, or any other film I make, or you do, will, in the end simply be varying degrees of what you're capable of. I suggest EVERYONE go on the cheaper side. It makes it more fun and inevitably will make your art form come out better. I could NOT stress anything more.
Where did the initial idea for your film come from?
I wrote a book, but based the film really around one moment in the book. To try and cover the book would have been a biographical picture about someone no one should really care about.
What are your biggest creative influences?
I LOVE movies and always, ALWAYS have. ALWAYS! [I'm] not much a fan of indie films unless I'm dragged in, and then I usually love them (sometimes). [I'm] much more about Morgan Freeman, a white girl and a serial killer. My favorite filmmaker is Spike Lee. I love his stuff. Even if I don't like the film I love the craft. I think he is the best.
What were some of the biggest challenges you faced in either developing the project or making the movie?
I had exact visions in my head of who and what my characters looked and thought like. As some of them do not exist in front of cameras, finally giving in and letting the actors do what they wanted with the roles was scary. Once you get the guts to do that though, life is a lot easier and more fun.
Tell us about the moment you found out that you were accepted into Sundance, where were you?
I was on Canal Street [in New York City] with my friend/editor Jake, actually about to buy a bootleg film off the streets, which probably isn't the most appropriate place to be.
What do you hope to get out of the festival, what are your own goals for the experience?
I don't know. I do know that Sundance is the real deal. [I] used to think places like that were fixed. If you weren't at least Robert Redford's gardener's kid or something you'd never get in. I'm living proof there are cracks. My whole experience with them has been almost unreal. At times I felt they gotta be looking for something on the back end! I mean, I love films too, but this is RIDICULOUS! In the end, they're the real deal, and I owe them a lot. I look forward to seeing the film there on a big screen and riding down the mountain on inner tubes in the snow.
What is your definition of "independent film"?
Usually boring. Once in a while INCREDIBLE!
What are a few other films you're hoping to see at Sundance and why?
"American Hardcore" [dir. Paul Rachman] sounds really interesting. I like the book a lot and was a big part of that scene in New York.
Who are a few people that you would most like to meet at Sundance?
I have 20 friends coming from New York and just about the entire cast so that will be fun. I do love seeing movie stars so I'll let you know when I do.
If you were given $10 million to be used for moviemaking, how would you spend it?
I'd make 20 movies in 10 years with it. Anyone interested in this, e-mail dmontiel@eliasarts.com.
What are some of your favorite films?
"25th Hour" is one of my favorite films of all time. "Carlito's Way" (NOT the remake), "Unfaithful," ANY documentary by Jon Alpert ("One Year in a Life of Crime"). In 2005 I liked "Hostage," "Crash," "Cinderella Man," "Tarnation," any film on www.themadparade.com.
If you took President Bush's job, who would you hire/fire?
I wouldn't know what to do.
Sign Up: Stay on top of the latest breaking film and TV news! Sign up for our Email Newsletters here.