Every day through the end of the Sundance Film Festival, including weekends, indieWIRE will be publishing two interviews with Sundance '06 competition filmmakers. Sixty filmmakers were given the opportunity to participate in an e-mail interview, and each was sent the same questions.
Sabina Guzzanti directed "Viva Zapatero!," screening in the World Cinema Competition: Documentary section. According to Sundance, Guzzanti's documentary is "a savvy critique of the current era of vast media corporations and the political forces that attempt to manipulate them." The film was inspired in part by the cancellation of Guzzanti's television show "RAIot," which satirized the Italian government. In addition to directing, Guzzanti has acted, produced and edited films.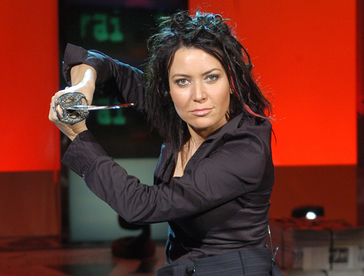 Please tell us about yourself. Where did you grow up? What jobs have you had?
I was born on Jul. 25, 1963, in Rome, and I grew up there. I studied acting at the Academy of Dramatic Art, but as soon as I graduated I started to write and direct satirical comedy shows for the theater. I also worked as a writer and actress in satirical shows on TV, first as part of a group and then on my own. I'm well known for inventing various characters, some of which have a political basis. Some of these are representations of real people, others are pure fantasy.
I've also appeared as an actress in films (with Sergio Corbucci, Giuseppe Bertolucci and other directors you've never heard of) and theater.
I have released two records and written three books.
I wrote and directed a short film called "The Wild Woman" (1997), a surreal comedy called "Bimba" (2002) and this documentary in 2005.
What were the circumstances that led you to become a filmmaker?
I started doing political satire in '92 when a kind of legalitarian revolution broke out that was known as "mani pulite" ("clean hands"). It was followed by a series of corruption-linked scandals that tarnished practically every politician who had governed Italy in the postwar period and became even more committed in '94 when Berlusconi won the election [for prime minister] for the first time.
How did you finance your own film? How did you learn about filmmaking?
I produced "Viva Zapatero" myself, shooting with a crew of only three people, me included. We didn't use any artificial lights, and it was shot with a Sony 150. I shot it during breaks in a theatrical tour over the course of one year. I filmed some additional interviews during the editing stage. I wrote the screenplay after shooting the film and polished it up during editing. I never attended film school (except for a two-month course in New York), and I learned about editing by working in TV.
What are some of your creative influences?
The example of Michael Moore was definitely important because he showed that a documentary could attract lots of interest at the cinema. Even if I don't agree with his film 100 per cent, I'm glad it exists. I also thought "Tarnation" was very interesting for its aesthetic qualities and diaristic narrative structure.
What were some of the biggest challenges you faced in either developing the project or making the movie?
I didn't have any problems during shooting, mainly because no one realized what I was doing until the film made a surprise appearance at the Venice Film Festival. Even the festival president was caught unawares by it. The biggest problem I encountered was getting permission to use reportorial footage from TV. I managed to get it thanks to a loophole in the Gasparri Law, which is the law that I attacked in both my censored TV show and "Viva Zapatero!"
What do you hope to get out of the festival?
I am very happy that the film is being shown at Sundance because the restriction of freedom of expression is a problem that concerns all Western countries, and the public is not fully aware of it. I think the example of Italy, which is very extreme in certain aspects, could serve to put the inhabitants of other countries on their guard because in our case it's very evident. Elsewhere it might be more difficult to prove.
Futhermore, thanks to the language of satire, the defense of freedom and democracy becomes even more dynamic. Propaganda would have us believe that these are desperate battles waged by marginalized losers. Humor and satire serve to counteract this conditioning.
What are some of your favorite films and why?
I expect to see some wonderful films at Sundance, and I see that cinema in general is regaining its importance after several years in the doldrums. The first film that gave me a sense of a possible rebirth was "Eternal Sunshine of the Spotless Mind," which was released in Italy a couple of years ago. I thought it was an excellent metaphor for our times: the idea of erasing the memory to avoid suffering, the deglamourized technology and the use of video art in the place of special effects, all work together to make an inspired film that's almost a manifesto. A moving homage to the great effort it takes to stay human in this day and age.
I also liked: "Cache" for its courage in returning to an explicitly metaphorical style of cinema, but not letting on about it until the film is nearly over.
A film by a Danish director whose name I can't recall that came out in Italy as "Non desiderare la donna d'altri" ["Brothers," dir. Susanne Bier] for the strength of its story.
Cronenberg's "A History of Violence," a magnificent film for a number of reasons, but very original in its decision to present violence in a contemptible way rather than lapse into a fake condemnation that actually publicizes what it purports to expose. I was also mad about Cronenberg's "Spider."
If you were given $10 million to be used for moviemaking, how would you spend it?
If I had 10 million Euros right now — but maybe I'll do it anyway — I'd set up a competition to produce the best satirical documentary about the Vatican during the last few years, with as many references as possible to all the damage Catholicism has done to the world.
What are one or two of your New Year's resolutions?
My resolutions for the New Year are:
To found a Satirist International that will tour all the major European capitals every time something happens that needs to be brought to the public's attention.
To make as many films as possible, I hope at least three. Make a study on the relationship between artists/intellectuals and politics, citing Dante, Pasolini, Orwell, Rosa Luxemburg.
[Get the latest from the Sundance Film Festival throughout the day in indieWIRE's special Park City '06 section]
Sign Up: Stay on top of the latest breaking film and TV news! Sign up for our Email Newsletters here.