For a quarter century the Sundance Film Festival has strived to become and remain a preeminent showcase for short filmmaking. This year, the short film programmers chose from an astounding 4,327 entries. For every film that made it, nearly 60 did not, and as usual with any film festival, the 73 selected narrative, documentary, animated and experimental shorts contain some real gems — examples of why short filmmaking can be such a satisfying use of the medium. As the continued proliferation of inexpensive digital cameras and editing software makes filmmaking more accessible to all, the best shorts still show why fitting the perfect amount of content into a brief period of time is a difficult science.
indieWIRE invited all the accepted short film directors to submit their works to be considered for inclusion in this article. Of the 73 films playing before selected features or as part of eight programs, this reporter received and screened 34 and believes the following titles, in no particular order of preference, are especially worth checking-out:
Among the narrative selections, one of the simple highlights this year is "You Turned Back and Held My Hand" (Program VI), as close to a perfect example of what a short film should be. First, as obvious as it may seem, it's actually short. Clocking in at just under seven minutes, director Gabriella Tollman wastes not one frame in telling a complete story in a concise and compelling fashion. Moreover, she combines clear storytelling with an artistic, exhibiting a lovely shooting style with wonderfully appropriate lighting (kudos to cinematographer Fortunato Procopio). The film is a brief slice – maybe two slices — of a relationship: a man and woman have sex bathed in a warm glow, basking and cuddling in their post-coital warmth. But as often is the case with young relationships, both participants may not always be on the same page.
In Jacques Thelemaque's "Transaction" (Program III), the male-female sexual dynamic plays out a bit differently. A business man opens his hotel room door to welcome the call girl he has hired for the evening. He seems a bit anxious, unsure how to proceed, but the call girl is all business. Thelemaque's utilizes an effective visual device to illuminate the resulting mini-power struggle and ultimate shift between client and provider. The performances by Ed Shaff and Diane Gaidry are integral to making "Transaction" a compelling experience as convey more through tone, posture and subtle facial expressions than by any individual line of dialogue.
"Le Rouge au Sol" (Program IV) slowly but surely becomes a fascinating look at a the art of simple communication. Director Maxime Giroux utilizes a simple mother-son road trip to IKEA to depict a conversation that might be unimaginable to most. The son, in this case, is a man who has hit rock bottom – no career, no relationship and a consistent abuse of drugs and alcohol. During the ride, he speaks quite frankly with his mother, a sweet, meek-looking woman who appears too fragile to even handle her sons confession. Yet it's her reaction and the simplicity of the situation – as well as the lack of a clean resolution – that makes Giroux's film special.
Chances are, lots of people will see "Le Rouge au Sol" by accident as its playing in the same program as "Dealbreaker", the eagerly awaited directorial debut of Gwyneth Paltrow, who co-wrote and co-directed with Mary Wigmore. It's also produced by Moxie Pictures and financed by Glamour Magazine and Nokia. While "Dealbreaker" might not be Sundance's best example of struggling, independent, bootstrap filmmaking, the nice surprise is that "Dealbreaker" is a very well-made and often hysterically funny film. While the initial premise certainly isn't groundbreaking – a woman describes how she can't find the right mate because all her dates have dealbreaking quirks – the presentation and the big comic denouement make Paltrow's and Wigmore's film one of the highlights of the fest.
Three other titles worth noting include "Common Practice" (also in Program IV) depicts a neighborhood in which all the disparate characters stop what their doing in order to come together and listen to a young boy's violin playing; the animated "Fumi and the Bad Luck Foot" (Animation Spotlight) in which a young girl learns that what seemed to be her greatest flaw might actually be the very thing that makes her so special; and "Max and Josh" (Program III), a seemingly inane, but quite funny and poignant, conversation between two friends that ultimately proves to not be what it seem, instead showing how people often mentally deal with certain difficult situations.
Many of the documentary selections prove equally as compelling. At 41 minutes, "Mind Over Matter" (part of the all-doc Program II) is long enough to barely qualify as a short, but its not quite full feature length is a perfect symbolic representation abbreviated life stories it tries to tell. A more heartbreaking, potentially tear-inducing film you're unlikely to find at any length. In 1998, director Scott Gerow began to document his father's struggle with obesity and supposed new determination to lose the weight and get healthy. Within a year of starting, however, Gerow was diagnosed with brain cancer. For the rest of the film, Gerow undergoes painstaking radiation and chemotherapy treatments as he faces a life-threatening illness, all the while retaining the most positive of attitudes. Meanwhile, his struggle is contrasted with that of his father's whose own dedication and discipline turns out to be a bit lacking.
While "Mind Over Matter" succeeds simply in large part due to its moving story, Tamra Davis' "A Conversation With Basquiat" (Program I) is an example of a perfectly designed and crafted doc short. The film utilizes an interview with the late celebrated artist Jean Michel Basquiat conducted shortly before his death simply as a starting point. What makes this short interesting is less the specific content of Basquiat's comments and more the way Davis utilizes other footage – from still photographs of the artist as a child and of examples of his art to showing him at work – to illuminate or contrast the underlying dialogue. What the viewer gets is a brief survey of the artist, his life, and his work. Obviously, Davis can't depict his whole life in 21 minutes, nor does she attempt to, but as a primer to the man and his work, this conversation proves quite interesting.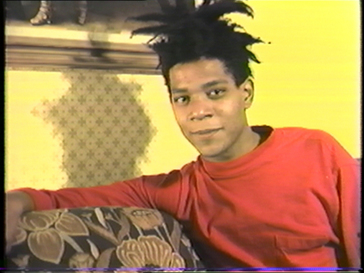 Another well-crafted doc is "Hello, Thanks" (screening before the feature "Wordplay"). With the blurry line between fiction and memoir making front page news these days, filmmaker Andy Blubaugh's reconstruction of a year in his life dating via the personal ads is thoroughly entertaining whether every detail is true or not. Funny enough to cause some chuckles yet universal enough to induce audience nods of recognition, the most clever part of this story is watching Blubaugh become more interested in the creative writing of his ads than the specific dates they may attract.
The festival's Frontier section — comprised of more experimental films that push the boundaries of cinema — includes its own shorts program. "Site Specific_Las Vegas 05" is one among a series of films in which director Olivo Barbieri shoots various metropolises from a helicopter. Starting from the middle of the desert and focusing on aerial views of Las Vegas, the most remarkable thing about this film is how the entire city looks like one giant toy set. And in an era where this country finds itself in an energy crisis and inundated with fears of terrorism, seeing the bright lights and traffic congestion of this mecca of commercialism in the middle of the desert the way Barbieri presents it is quite a startling experience.
However, it's hard to imagine that any short at the festival could be more startling or might provoke more controversy than "Flesh" (Program V), a primarily CGI-animated attempt to explore the reasons for and the aftermath of the 9/11 attacks. French filmmaker Edouard Salier purports to look at the attacks with no bias: in the film, New York's buildings represent ever-present commercial entities which feed off sex and greed while at the same time becoming targets for those terrorists who believe that their deaths will lead to eternal existence among "70 heavenly virgins." Describing "Flesh" (which also calls itself "The Truth About 9/11") adequately is virtually impossible. Technically, it's a superb achievement. Thematically, it could easily be dismissed provocative agitprop. Compelling and controversial, this film will likely elicit animated and emotional responses from many, including anger and disgust from more than a few. A warning: if you might have trouble watching dozens of animated planes fly into just about every structure of a CGI New York City (except, a very prominent and notable Statue of Liberty), you might want to think twice about attending Program V.
[Starting January 19, 2006 and through June 19, 2006, the Shorts Program at the 2006 Sundance Film Festival shorts will be available to view online.]
Sign Up: Stay on top of the latest breaking film and TV news! Sign up for our Email Newsletters here.