Jasmila Zbanic's "Grbavica won the top prize, the Golden Bear, at the 2006 Berlinale, awarded tonight at the festival's closing ceremony in Germany's capital city. The film, from Austria and Bosnia & Herzegovina, is the story of a mother and daughter set in post-war Sarajevo.
Declaring, "We have found ways to choose what we feel reflect, in the most profound way, the mood of the world today," Berlinale jury president Charlotte Rampling joined her fellow jurors in announcing this year's award winners at a ceremony that was broadcast live on German television and via the Internet around the world.
Get the latest news, buzz and iPOP photos from the Berlinale in indieWIRE's special Berlin International Film Festival section.
"I am very calm, because i am dreaming this and I will wake up in five minutes in Sarajevo," said Jasmila Zbanic, accepting her golden trophy on stage at the Berlinale Palast today. "I am dreaming that I am hear on the stage with Miss Rampling…" Commending the event she thanked festival director Dieter Kosslick and the event's organizers for "being so liberal to invite such a small film, from a small country with a small budget…" Continuing, she urged that people not ignore the plight of people back home even though the war ended some 30 years ago and she asked that those who committed war crimes be brought to justice. "I hope that this will change your view on Bosnia" and concluded, "I hope this bear will not be disappointed when he sees Bosnia."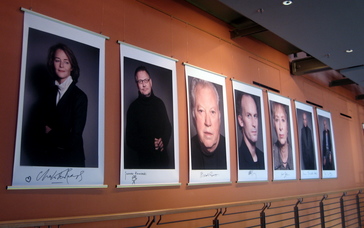 Accepting the Silver Bear for best director with his co-director Mat Whitecross, filmmaker Michael Winterbottom said, "It is a great honor (but) there are really only three people who should get any prize and they are here tonight and that's the three people who were in the film." Recognizing the subjects of his movie, the "Tripton Three" — Ruhel Ahmed, Asif Iqbal, and Shafiq Rasul — Winterbottom invited the three former Guantanamo detainees to take the stage.
Pernille Fischer Christensen won two key awards, the Silver Bear grand jury award and the Berlinale's new best first feature award, for her film "En Soap" (A Soap). Her body shaking on stage, she raised her arms and screamed, "Yes!" loudly, while clutching her second trophy in front of photographers. Moments later, her voice still trembling, she said, "I just went out with my small bear and cried out there," she said. "Now I don't know what to do. I am so extremely lucky and what I am so happy about is that this is a film that we made for — can I tell the budget? — less than one million Euros."
Thanking those involved with the film, she concluded, "We've tried to force each other to be true in our vision of human beings and not try to talk about our lives in an easy way. I am so happy," and opening her arms widely, added, "I am so surprised."
The complete list of jury prize winners follows, including a list of other award winners:
Golden Bear:
"Grbavica," by Jasmila Zbanic
Silver Bear – The Jury Grand Prix (shared)
"En Soap" (A Soap), by Pernille Fischer Christensen
"Offside," by Jafar Panahi
Silver Bear – Best Director
Michael Winterbottom and Mat Whitecross, "The Road To Guantanamo"
Silver Bear – Best Actress
Sandra Hueller in "Requiem" by Hans-Christian Schmid
Silver Bear – Best Actor
Moritz Bleibtreu in "Elementarteilchen" (The Elementary Particles) by Oskar Roehler
Silver Bear – Artistic Contribution
Jurgen Vogel as actor, co-writer and co-producer of the film, "Der freie Wille" (The Free Will) by Matthias Glasner
Silver Bear – Best Film Music
Peter Kam for "Isabella" by Pang Ho-Cheung
Alfred Bauer Prize
"El custodio" by Rodrigo Moreno
The jury prizes above were selected by the international jury that included: Charlotte Rampling (actress, UK), Jury president; Matthew Barney (multi-media artist, USA); Yash Chopra (producer, India); Marleen Gorris (director, Netherlands); Janusz Kaminski (cinematographer, Poland); Lee Young-ae (actress, Republic of Korea); Armin Mueller-Stahl (actor, Germany); Fred Roos (producer, USA)
Other awards at the 2006 Berlinale:
Best First Feature Award
"En Soap" (A Soap) by Pernille Fischer Christensen
FIPRESCI Prizes
Competition: "Requiem," directed by Hans-Christian Schmid
Panorama: "Knallhart" (Tough Enough), directed by Detlev Buck
Forum: "In Between Days," directed by So Yong Kim
Manfred Salzberger Prize
"Bubot Niyar" (Paper Dolls), directed by Tomer Heymann
Panorama Audience Awards
Feature: "Bubot Niyar" (Paper Dolls), directed by Tomer Heymann
Short: "Hayelet Bodeda" (The Substitute), directed by Talya Lavie"
Teddy Awards
Feature: "The Blossoming of Maximo Oliveros" by Aureas Solito
Documentary: "Beyond Hatred," directed by Olivier Meyrou
Short: "The Day I Died," directed by Maryam Keshavarz
Special Jury Prize: "Combat," directed by Patrick Carpentier
Siegessaule Reader's Jury Award: "Paper Dolls," directed by Tomer Heymann
Berliner Morgenpost Readers' Prize
"A Prairie Home Companion," directed by Robert Altman
Golden Bear for Best Short Film
"Aldrig Som Forsta Gangen!" (Nie wie beim ersten Mal!) by Jonas Odell
The Jury Prize – Silver Bear to the Short Film (shared)
"Gratte-Papier" (Penpusher) by Guillaume Martinez
"Our Man In Nirvana" by Jan Koester
Special Mention
"El Dia Que Mori" (The Day I Died) by Maryam Keshavarz
Panorama Short Film Award
"Tes Cheveux Noirs Ihsan" (Dein dunkles Haar Ihsan) by Tala Hadid
Prix UIP Berlin
"El Cerco" (The Fence) by Ricardo Iscar and Nacho Martin
DAAD Short Film Prize
"Barburot" (Swanettes) by Rony Sasson
ABOUT THE WRITER: Eugene Hernandez is the Co-Founder & Editor-in-Chief of indieWIRE.
Get the latest news, buzz and iPOP photos from the Berlinale in indieWIRE's special Berlin International Film Festival section.
Sign Up: Stay on top of the latest breaking film and TV news! Sign up for our Email Newsletters here.