With just under a month before the 59th Festival de Cannes kicks off in the South of France, organizers unveiled the anticipated lineup for the annual event, a high point on the festival calendar and a leading marketplace for new films. Offering a total 61 films from some 30 countries that will screen in this year's Official Selection, the 2006 edition includes 48 world premieres with 19 competition films from 13 countries. Eight titles are in the official selection coming from first-time feature-length filmmakers. As previously announced, Ron Howard's world premiere of "The Da Vinci Code" will open the festival May 17th and Algerian/French director Tony Gatlif's drama "Transylvania," starring Asia Argento, will close the 12-day festival May 28th. In public remarks today, organizers surveyed the fest lineup and insiders began buzzing about some of the anticipated titles.
[The complete Festival de Cannes Official Selection is available here on indieWIRE.com.]
The Competition
Three American directors will join the elaborate evening red carpet competition screenings at the Palais de Festivals near the Cannes waterfront. Oscar-winner Sofia Coppola's ("Lost in Translation") will give a nod to France with her latest, "Marie-Antoinette," starring Kirsten Dunst as the ill-fated French Queen and Jason Schwartzman as King Louis XVI whose reign unleashed the French Revolution in 1789. "Donnie Darko" director Richard Kelly makes his first appearance in Cannes with his comedy/thriller "Southland Tales," set in a Los Angeles on the brink of calamity. Richard Linklater's "Fast Food Nation" starring a huge cast including Patricia Arquette, Bobby Cannavale, Ethan Hawke, Avril Lavigne and Catalina Sandino Moreno is also in the competition line-up. The film, loosely based on the book by Eric Schlosser, is set amidst the environmental and social consequences of the fast food industry. Also of note, Linklater's "A Scanner Darkly," which Warner Independent will open in the U.S. later this, will screen in the Cannes Un Certain Regard section.
Hailing from around the globe are veteran Cannes directors returning to the Croisette with their latest projects. Pedro Almodovar, who won the best director prize in 1999 for "All About My Mother" will be in the Cote d'Azure with "Volver," which has already opened in the filmmaker's native Spain. Italian director Nanni Moretti ("The Son's Room," 2001 Palme d'Or winner) will bring his latest, "Il Caimano" to the competition. The film, which opened in Italy prior to the country's latest general election, is described as a smearing of recent Italian prime minister and media tycoon Silvio Berlusconi, who lost the election to a center-left coalition headed by former premier Romano Prodi. 2002 Grand Prix winner Aki Kaurismaki ("The Man Without a Past") joins the competition with his drama "Laitakaupungin Valot" (Lights of the Superb), while British director Ken Loach, who won the 2002 best script prize for "Sweet Sixteen," will be in Cannes with his film about republican dissent in early 20th century Ireland, "The Wind that Shakes the Barley."
Mexican director Guillermo del Toro returns to Cannes with his competition film "El Laberinto del Fauno" (Pan's Labyrinth), about a young girl and her family who travel to post-war Spain amidst dictator Francisco Franco's fascist rule. The girl lives in an imaginary world, which veils her reality.
British director Andrea Arnold holds the distinct position as this year's sole first-time feature filmmaker in the competition. Arnold, who won the 2005 Academy Award for best short film for "Wasp," will travel to Cannes with her first feature, "Red Road." Set in Glasgow, the film revolves around a closed-circuit television monitor Jackie, who is a remote person content with a low-key order she has built in light of past pain she has experienced. One day, however, while monitoring CCTV, she sees a man she expected never to see again, and is confronted with an opportunity to face him.
Hong Kong director Wong Kar-wai, as previously announced, will serve as president of the feature film competition jury. Joining him are Italian actress Monica Bellucci ("The Brothers Grimm"), English actress Helena Bonham Carter ("Charlie and the Chocolate Factory"), Argentine director Lucrecia Martel ("La Nina Santa"), Chinese actress Zhang Ziyi ("Memoirs of a Geisha"), American actor Samuel L. Jackson ("Star Wars: Episode III – Revenge of the Sith"), French director Patrice LeConte ("The Widow of Saint Pierre"), English actor Tim Roth ("Silver City"), and Palestinian director, Elia Suleiman ("Chronicle of Love and Pain").
Fremaux's Thoughts
Despite Cannes' obvious high profile, the festival has purposefully remained steadfast in limiting films in its Official Selection. The festival, according to artistic director Thierry Fremaux will continue to host a program that is succinct in its scope. "Cannes will never be a 300-film festival," said Thierry in comments made available to the press Thursday. "The Official Selection represents about fifty [films], no more. [However], a large share of the world's production is presented at the Marche [du Film], the largest in the world."
This year, the festival has tacked on an extra day, with award-announcements slated for the Sunday of the Festival de Cannes' final weekend (May 28th) as opposed to Saturday, which had been the fixed awards night recently. "The number of films selected has remained identical, even though the competition will last ten days," commented Fremaux. "That is to say [there is] one more day than in 2004 or 2005. The programming schedule will thus be lightened."
Fremaux describes this year's festival as one of the event's "renewal years," with three groups that can be distinguished in the competition line-up with the aforementioned Moretti, Almodovar, Kaurismaki and Loach among returnees to the category, while he places Coppola, Paolo Sorrentino ("L'Amico di Famiglia"), Alejandro Gonzales-Inarritu ("Babel"), Rachid Bouchareb ("Indigenes"), Lou Ye ("Summer Palace"), and Richard Linklater among this year's "rising generation." The third group Fremaux describes, are a few filmmakers whose presence in competition "ring a particular echo," including Del Toro and Richard Kelly.
Out of Competition
Among this year's 16 out of competition offerings are Hollywood films "United 93" by Paul Greengrass, which will open the Tribeca Film Festival next Tuesday, April 25th, as well as Brett Ratner's "X-Men: The Last Stand" and "Over the Hedge," an animated Dreamworks movie by Tim Johnson and Karey Kirkpatrick. The three studio films will screen in the Grand Theatre Lumiere in the Palais off the Croisette.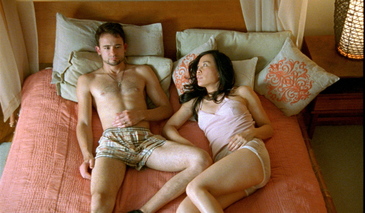 New York filmmaker John Cameron Mitchell's ("Hedwig and the Angry Inch") latest "Shortbus" will have its world premiere in the festival's new Midnight Screenings along with Su Chao Pin's thriller "Guisi," and Hong Kong director Johnny To's "Election 2." Fermaux described Mitchell's "Shortbus" as "a highly audacious film."
Also screening out of competition this year is Davis Guggenheim's global warming documentary, "An Inconvenient Truth," which debuted in January at the Sundance Film Festival. Former Vice President Al Gore, who is featured prominently in the film, will be among this year's slate of luminaries trekking the Croisette in promotion of the film. Sydney Pollack's Toronto International Film Festival '05 doc "Sketches of Frank Gehry" will also screen in the category. The film profiles the life and work of the iconic architect whose work is known worldwide.
Un Certain Regard and Short Films
This year's Un Certain Regard line-up consists of 24 films from 20 countries, including seven films by first-time filmmakers. Fremaux describes the section as a springboard to the Official Selection. "For several years now, Un Certain Regard has become so demanding that is it now a true alternative selection to the competition itself. Moreover, [it is where] we find the greatest number of first films."
Ten films will screen in this year's short film competition, while 17 will take part in the festival's Cinefondation student competition, including three from the United States. This year's Cinefondation and short films jury are Russian director Andrei Konchalovsky ("House of Fools") who will serve as president. French actress Sandrine Bonnaire ("The Light"), German actor Daniel Bruhl ("Good Bye, Lenin!"), Malian director Souleymane Cisse ("Waati"), and Polish composer, Zbigniew Preisner ("The Beautiful Country") will join Konchalovsky on the jury.
And More in Cannes
As alluded to previously, the Marche du Film (Cannes film market) is the world's largest meeting place for the planet's motion picture industry. This year, the festival expects more then 10,000 attendees and plans 1,400 screenings.
Cannes will also welcome back its Producers Network this year. Launched in 2004, the program is designed to both accompany producers in the development of their projects and to serve as a conduit for co-productions. An estimated 500 producers from around the world are expected this year, with a large increase expected from Asian countries. Additionally, this year's international village will include pavilions from eleven new countries.
In additional Cannes '06 news, this year's jury of the Camera d'Or will be presided over by Belgian directors Luc and Jean-Pierre Dardenne, whose film "L'Enfant" won last year's Palme d'Or. The actor's master class, which will be given on Friday, May 19th will be presented by actress Gena Rowlands, while the music master class by Alexandre Desplat and Jacques Audiard will take place Sunday, May 21st. Sydney Pollack will host a cinema master class on Thursday, May 25th.
Europe will be the focus of the Festival de Cannes once again this year on Tuesday May 23rd when the European Ministers of Culture as well as celebs will be in Cannes to celebrate "Europe Day" with the theme "European films go global."
"Cannes remains faithful to its principles, and the philosophy which leads the selection equally remains the same," commented Fermaux about this year's festival. "Highlighting auteur cinema, the search for singular voices in different cultures, qualities of direction, the practice of cinema as art, a world which recognizes itself through the films screened… the Festival de Cannes [is] derived from [an] alchemy of authors, cinema, glamour, market and press."
[The complete Festival de Cannes Official Selection is available here on indieWIRE.com.]
ABOUT THE WRITER: Brian Brooks is the Associate Editor of indieWIRE.
Sign Up: Stay on top of the latest breaking film and TV news! Sign up for our Email Newsletters here.