A big gloppy heaping of Southwestern Grand Guignol, James Marsh's "The King" is nevertheless shot with all the patience and "artfulness" we've come to expect from serious indie dramas in the new millennium. Never intent to call out its own trash as trash, "The King" couches its head-slapping melodramatics in turgid metaphor and gross self-importance. Like "Monster's Ball," that inexplicable and dishearteningly popular piece of portent that was like a Stanley Kramer tolerance drama aspiring to Wim Wenders-esque regional dislocation (in other words, a hopeless muddle), "The King" was partly written by Milo Addica, who, with "Birth" also on his resume, apparently never met a thudding metaphor he didn't love. Here, there's no room for spontaneity, for nuance of character in the overdetermined world Marsh has established; the actors, though game, seem suffocated.
Like some sort of Texas transplant of Pasolini's "Teorema," with a particularly American sort of religious hypocrisy standing in for Italian bourgeois complacency, Marsh's drama charts the mounting tensions and aftershocks in a rural Corpus Christi household when Elvis (Gael Garcia Bernal), a mysterious, dark-eyed young man fresh out of the Navy, arrives in town to track down his long lost birth father. That his dad turns out to be an evangelical local preacher, Father Sandow (William Hurt), doesn't stop him from rejecting his son again, in a decidedly un-Christian manner. Remarried to the taciturn, melancholy Twyla (Laura Harring), and now the father of two children, the conflicted, sullen Malerie (Pell James) and the guitar-strumming religious zealot Paul (Paul Dano), Father Sandow refuses to come to terms with his past indiscretions, manifest in the person of the glowering and virile Elvis, and he is unable to welcome the boy into his new family's world. As retaliation, Elvis begins to forcefully court the unknowing Malerie; just what his intentions are with his half-sister becomes one of the film's ongoing questions, which is answered by a sudden severe disruption, the consequences of which continue to spiral out for the remainder of the film.
Bernal's credibility as a actor, and his ever-growing international reputation as brainy, teenybop-eschewing hottie of the moment, will be the major selling point here, although his slightly vague, searching performance and odd vocal mannerisms (wait… is that supposed to be an American accent?) perhaps don't convince when compared to the other performers who make up the Sandow clan. Harring, unrecognizable from her "Mulholland Drive" bombshell is absorbing and tender as the wannabe matriarch, James, last seen in a cameo as the flower shop girl in "Broken Flowers," is a compellingly insular balance of withering and resilient, while Dano, who made a striking debut in the similarly portentous indie drama "L.I.E.," manages an impressive share of dignity in a role that others would make into a condescending trick–when denied the chance to input creation alongside Darwinism in his high school curriculum, the resentment and disappointment registering on his face are palpable. And Hurt, who's been eking out mannered yet sharp and poignant character roles in the past ten years in everything from "Smoke" to "A.I." to "The Village," adds another halting portrait of sunken masculinity to his worthwhile repertoire.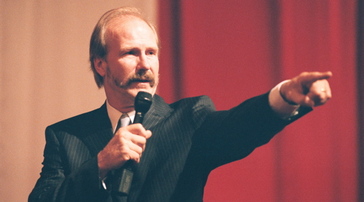 If only these actors didn't feel so rigidly placed in the frame, so subordinate to the script's penchant for heavy symbolism, perhaps "The King" would have truly come to life. Instead, it's a film with a necrophile's sense of drama, and not in an artistically viable way that a filmmaker such as Bruno Dumont is able to pull off with insight and true foreboding. Once "The King" gets revved up, all that remains is a ponderous overflow of religious symbolism and self-righteous Christian-baiting. Elvis, who is basically the family's boiling subconscious made flesh, becomes either avenging angel of devil sent straight from hell, a creation that's meant to put the Sandows' faith to the test. Without a proper emotional focus though, "The King" ends up as dead-eyed and judgmental as its antihero.
[Michael Koresky is co-founder and editor of Reverse Shot, as well the editorial manager at the Criterion Collection and a contributor to Film Comment.]
Take 2
by Jeff Reichert
Because I usually take pains to avoid such films, it's easy for me to forget a certain strain of aggressively average American Independent film that continues to lurk around the peripheries of the scene. You know the kind–that vaguely literary, well-cast, minorly accomplished, serious drama like "Ulee's Gold" or "The Door in the Floor" that would have once been made and released within the confines of the studio system back before the big bloat rendered that economy of scale near impossible. I'm not much a fan of the two pictures aforementioned or their ilk, but they look like near masterpieces when compared to "The King," which strives for American Gothic but crumbles (almost, but not quite spectacularly) under the weight of its own pretensions.
It's hard to be too angry at "The King." Even if the screenwriter's jumped the shark, everyone else is obviously giving their all, but in the wreckage it's only the lesser names that come out unscathed. Especially the female characters — even if their roles are somewhat rote and unforgiving, Pell James still manages to conjure the otherworldly strangeness and naivete of a young Sissy Spacek while Laura Harring makes a sizable snack out of a role written more as an afterthought. Bernal I can take or leave, but I really wanted to like William Hurt in this like I did in "The Village" or "A History of Violence," but when his character is little more than an obvious amalgamation of screenwriting contrivances, a familiar face can only go so far. Nice chopstache, though.
[Jeff Reichert is co-founder and editor of Reverse Shot.]
Take 3
by Brad Westcott
A discerning cinematic palette is at least — if not more so — as wary of the contrived vacuity lurking at the core of so many ostensibly "alternative" choices as of the soulless obviousness of the latest mega-budget atrocity. This particular tale of a newly discharged Navy sailor (Gael Garcia Bernal) in search of recognition from possible-biological-father evangelical minister William Hurt feels borrowed and hollow as it over-reaches for biblical portent.
In a fit of generosity it wouldn't be difficult to chalk up the plethora of inter-texts informing "The King" to something like "our postmodern age" or even knowledgeable, well-crafted filmmaking. Though if William Hurt's evangelical minister's strident piety and Gael Garcia Bernal's Latin touch at times recall the work of Alejandro Gonzalez Inarritu, it's without any of the latter's gift for suspenseful yarn-spinning. Nor is "The King"'s obvious parable-izing a la the Dardennes brothers counterbalanced by anything as sincere as their naturalistic aesthetic. So goes the film's unfortunate stab at red-state worshipers: "Saved" sans the attempt at humor, "Junebug" without daring to peel back the skin of our collective preconceptions. Even Bernal's wardrobe touts some knowing cinematic index: plaid shirt, jeans, cowboy boots, and ex-military crew-cut are Travis Bickle shorthand for moral ambiguity.
Penned by the author of "Monster's Ball," "The King" hopes to render us speechless, awed by the ironic circumstances subsequent to a second-act killing. Yet what we get is empty invocation with little to say and just as much for us to feel. Still, I suppose it ain't all bad. Bernal remains electric no matter what he does, proving here reason enough to keep watching. Lastly, "The King" is not without practical life lessons: should you ever find yourself denied entry to a brothel on the grounds that they're closed, utter these magic words, "I just got out of the Navy, and I just got paid."
[Brad Westcott is a frequent contributor to Reverse Shot.]
Sign Up: Stay on top of the latest breaking film and TV news! Sign up for our Email Newsletters here.