Four new American films in Cannes are taking aim at politicians and policies back home. These films are shocking, scaring and provoking audiences here at the Festival de Cannes in the hopes of stirring sentiments and perhaps changing viewpoints. John Cameron Mitchell's "Shortbus," Richard Linklater's "Fast Food Nation," Davis Guggenheim's "An Inconvenient Truth," and Richard Kelley's "Southland Tales" have each struck a chord at the festival in recent days, in some cases dividing festival audiences.
"Shortbus"
A sex therapist who can't have an orgasm and a gay couple who talk about bringing a third guy into their relationship are among the interconnected group of New Yorkers depicted in "Shortbus," John Cameron Mitchell's follow-up to "Hedwig and the Angry Inch." What began as "The Sex Film Project" and an online casting call for actors more than three years ago has resulted in an explicit, artistic and ultimately hopeful new film that has had people talking in the past 24 hours here at the Festival de Cannes.
Admitting there was, "a certain provocation in mind when we made this film," Mitchell talked about his new movie in Cannes Saturday ("Shortbus" is playing out of competition but was showcased at a red carpet midnight screening that drew an ovation from attendees). Mitchell explained Saturday that sex is a metaphor for some of the deeper messages he hoped to explore within his characters, like love and fear.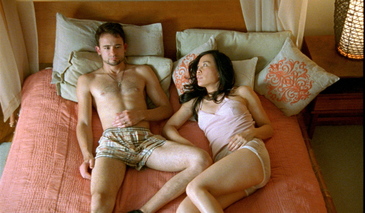 The film is set in an around a weekly Brooklyn salon, dubbed Shortbus, where sex, music and expression draw a diverse mix of mostly young people, one of whom quips that their world today is "just like the 60s, but with less hope." Mitchell's movie is meant to be a "call to arms," he explained at Saturday's press conference with his cast. Mitchell said that many people simply feel powerless in an era in which so much clamping down is taking place. "We couldn't get Bush out in 2004, so a lot of people put their ideas into their artistic work."
"There is a bit of a lack of hope among young people that we, my friends and I, want to do something about," Mitchell continued, later adding, "If we can't do elections we might as well do erections."
The $2 million movie, according to the producers, was particularly hard to raise money for, but Mitchell and his team (including producers Howard Gertler and Tim Perrell from Process) persevered despite considerable concern by many in the film community that the film was a stylized porn flick.
"I have no problem with pornography," John Cameron Mitchell said Saturday, "But I don't see this in that way." He explained that porn is mean to arouse and there is much more to his movie than just that.
While those involved with the movie have admitted that it may be a challenge to secure distribution for such a film, early positive reaction has buoyed interest in the movie here in Cannes, with insiders saying that even some unlikely prospects started circling the movie. A few buyers informally polled by indieWIRE today said they loved the movie.
Either way, Mitchell explained that he and his collaborators didn't create the film to make money and any buyer they might partner would be carefully screened. The team grew close given the intimacy of the experience and Mitchell said that he plans to carry over those closeknit friendships into the next phase of the film.
"Everyone including the distributor will have to be friends, too," John Cameron Mitchell quipped, "You've got to be careful who you get in bed with."
"Fast Food Nation"
Richard Linklater's "Fast Food Nation," a fictional adaptation of Eric Schlosser's best-selling non-fiction book of the same name, stirred viewer sentiments on Friday in Cannes, but was not as well-received. A look at the industrialization of food, Schlosser's book particularly targets the fast food industry, represented in Linklater's film as the fictional food chain, "Mickey's." The Fox Searchlight movie, from Participant Productions, explores a group of characters, from a Mickey's executive played by Greg Kinnear to an immigrant from Mexico played by Catalina Sandino Moreno.
Schlosser, who co-wrote the script with Linklater, explained that their idea was not to create a literal adapation of the book, but rather pick up on some of the issues addressed in the work. "I like that it isn't a literal adaptation," Schlosser said Friday at a press conference in Cannes, he explained that the goal was to avoid creating a "work of agitprop that is fed to you like medicine." However, many in Cannes complained that the film falters when the message becomes a bit to heavy-handed.
"I think the film can be seen in political terms, but most of the characters are not thinking that way," explained Linklater, who decided to use an ensemble to explore the issues in the film.
Schlosser explained that perhaps the timing of his book, released in January of 2001, accounts for its popularity. "I think that is significant because that was the month that our president took office, literally," Schlosser said. "If the book had been published ten years earlier, I think maybe no one would have read it." Continuing he added, "I am amazed that people are still interested in the subject and it still feels relevant."
Linklater and Schlosser tie their exploration of the food industry to the immigration debate, linking the treatment of the animals to that of the workers themselves.
Asked about the immigration issue, a hot button back in the U.S. right now, Linklater explained, "Certain issues don't go away, there is nothing new in the immigrant issue, its been there forever and its going to be there forever. A government can choose to focus on it for electoral purposes and scapegoat people and I think that is whats going on right now."
"This movie is really about unveiling things and becoming aware," Linklater explained at the Cannes press conference. "We've become very separated and divorced from where things come from."
"An Inconvenient Truth"
Calling the screenings here in Cannes the debut of the new version of the documentary "An Inconvenient Truth," the Sundance 2006 world premiere (another Participant Productions title) screened this weekend in Cannes, with film subject Al Gore on the scene. Based on a lecture and slide show about the global change that Gore has been delivering for several years now, the film is both terrifying and inspiring.
At a press conference yesterday, the former U.S. vice president quipped, "I put together a slide show, with Kodak projectors, years ago and…I am as surprised as anyone that my slide show is here at Cannes."
The slide show, now a multimedia presentation, is engaging and eye-opening and Gore hope that's the exposure the film is receiving in Cannes, along with the attention from the U.S. release of the movie this month, will spur audiences to take action. The former politician believes that viewers and the erratic weather of late will force governments to make changes to prevent the situation from worsening.
"I believe," Gore said, "That within the next two years even Bush and Cheney will be forced to change their position on this crisis." Continuing he added, "The key to solving the crisis depends upon people demanding action not just of the president, but of Congress as well. A public persuasion campaign could be a huge influence."
And of course, Gore addressed the usual questions about any political aspirations. Declining to comment on any of the would-be Democratic party contenders for U.S. president in 2008, he again took his name out of consideration.
"I don't have any plans to be a candidate again," Gore said, "I was in elective politics for twenty-four years, I have found that there are other ways to serve and I am enjoying it."
"I know from my experience in the past that what I can most valuably do is try to change the minds of the American people, and people elsewhere, about this planetary emergency."
"Southland Tales"
Set to debut in competition tonight (Sunday) in Cannes, is a film that has already created a bit of debate. Richard Kelley's two-hour and forty minute "Southland Tales" connected with some audiences and sent others walking out of the theater Sunday morning at a press screening. The showing was met with applause but at a press conference this afternoon, Kelley was pressed to react to the mixed reactions.
Set a few years in the future, and starring The Rock, Justin Timberlake and Sarah Michelle Gellar (among many others), the film involves a porn star turned celebrity, an action film star, and new government agency that dominates United States life.
"I always thought the film was certainly going to push buttons," Kelley said, "I look forward to everything that is to come and the discussion." Continuing, when asked about the issues raised by the movie, Kelley said, "I think that the film is meant to be a tapestry of ideas all related to some of the biggest issues we are facing right now, whether its homeland security, altering of fuel, or… celebrity and politicians and how the two are becoming closely related.
"The film is meant to be an experience like a puzzle," Kelley concluded, "To approach a lot of these issues with a sense of comedy. I thnk this is a film that needs to be experienced in more than one viewing. There is no simple solution to our dilemma right now, as a country and as a planet."
[Get the latest from the Festival de Cannes throughout the day in indieWIRE's special Cannes '06 section.]
Sign Up: Stay on top of the latest breaking film and TV news! Sign up for our Email Newsletters here.