In a deal with Celluloid Dreams, Sony Pictures Classics announced Tuesday it will release "Persepolis" (based on Marjane Satrapi's best-selling graphic novel autobiography) in North America. Satrapi co-wrote and is co-directing the project with Vincent Paronnaud. Executive produced by Kathleen Kennedy of the Kennedy/Marshall Company, the film is a co-production with France 3 Cinema and is being produced by Marc-Antoine Robert and Xavier Rigault of 2.4.7. Films. It was described in an announcement as a "poignant coming-of-age story of a precocious and outspoken young Iranian girl that begins during the Islamic revolution." Hengameh Panahi from Celluloid Dreams is handling the film's international sales.
[indieWIRE's Cannes '06 Market Daily column is being published in the Cannes Market News print dailies, produced by Le Film Francais and the Marche du Film. 13,000 copies of the English-language publication are available in all festival venues, hotels and throughout Cannes.]
Satrapi, a member of the Un Certain Regard jury this year at the Festival de Cannes, has received international attention and acclaim for her graphic novels, "Persepolis" and "Persepolis 2." During a lunch at the Carlton Beach on Tuesday in Cannes, she emphasized that her story is a subjective one and she does not strive to represent all Iranians. She was born in Rasht in the late 60s and now lives in Paris. Her latest book is "Embroideries," and takes a look at the sex lives of Iranian women.
In a statement Tuesday, Satrapi said, "I observe with some sadness that five years after publishing my book "Persepolis," my country is still, indeed more than ever, in the spotlight. "Persepolis" has become not just about me telling my story. It is universal, immediate and necessary."
The film is being made in Paris, with Chiara Mastroianni set to voice the lead role in French and supporting voices will include Catherine Deneuve, Danielle Darrieux and Simon Abkarian. An April 2007 competition date is expected for the project, with an English version of the film also planned. [Eugene Hernandez/indieWIRE]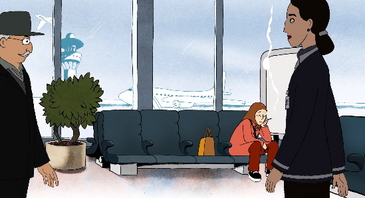 IFC Entertainment Gets "Destricted" in Cannes
IFC Entertainment has picked up all North American rights to "Destricted," IFC President, Jonathan Sehring announced Tuesday from Cannes. Andrew Herwitz of the Film Sales Company negotiated on behalf of the filmmakers with IFC's Jonathan Sehring and Elizabeth Nastro. International rights are being sold through Katapult Films.
The film is described by IFC as a "concept for an ongoing franchise of erotic short films by well-known auteur directors, fashion designers, photographers, artists and actors. It is the brainchild of Mel Agace, Neville Wakefield and Andrew Hale, all of whom serve as producers on the collection. The directors whose works are on the current 'Destricted' are: Gaspar Noe, Matthew Barney, Larry Clark, Sam Taylor Wood, Matthew Brambilla, Richard Prince and Marina Abramovic." The film premiered at the 2006 Sundance Film Festival.
"These films exemplify the bold filmmaking on which IFC was founded and continues to support," commented Sehring in a statement. We are a company that values and gives voice to the vision of independent artists, no matter how challenging or controversial that work may be." [Brian Brooks/indieWIRE]
Wong Kar Wai to Make First English-language Film
Hong Kong director Wong Kar-wai will commence pre-production following the Cannes Film Festival on "My Blueberry Nights," with Jude Law, Natalie Portman and Norah Jones, his first English-language effort, Studio Canal announced Monday. The film is described as a "hip, romantic story, which explores the sensual link between love and distance," according to the Paris-based company.
The film will also mark the big screen debut of Grammy Award-winning singer Norah Jones who will portray a young woman who travels across America to find answers to her questions about the true meaning of love. According to a release, Jones' character encounters a series of offbeat denizens played by Law and Portman. The film is a Block 2 Distributions presentation and produced by Wong Kar Wai, Jean Louis Piel, Jacky Pang and Wang Wei, and is a production of Jet Tone Films and Lou Yi Ltd.
Wong is also preparing a thriller named "Lady from Shanghai," starring Nicole Kidman, which will begin production in 2007. He is currently serving as the president of the Cannes Film Festival jury. His most recent feature, "2046," screened in competition in 2004. Other previous credits include "In the Mood for Love," "Happy Together," and "Chungking Express." [Brian Brooks/indieWIRE]
Swiss no longer neutral at Locarno International Film Fest
The Locarno International Film Festival's new artistic director Frederic Maire has announced that the festival's first official invitation to a Swiss film is director Marcel Schupbach's documentary "La Liste de Carla." The film, about the Hague's International Criminal Tribunal and the complications of law and politics, will not be the only presence of Swiss cinema at Locarno's 59th festival–two Swiss filmmakers will be participating in the judging process. Ticinese photographer and filmmaker Edo Bertoglio ("Downtown 81" and "Face Addict") will be an Official Competition jury member along with video artist Emmanuelle Anitlle ("Rollow") who will be on the jury for the Filmmakers of the Present section. [Kristina Woo/indieWIRE]
Film Society of Lincoln Center announced its Film Festival line up
The Film Society of Lincoln Center's 44th annual New York Film Festival announced some details as well as dates for 2006. Running from September 29-October 15, the noncompetitive festival will be held at Alice Tully Hall and the Walter Reade Theater, showcasing new and international filmmakers.
The festival's big event this year, however, will be the New York Film Festival Retrospective: 50 Years of Janus Films. Running from September 29-October 27, this series will feature many world cinema classics, some of which are not yet released on DVD or VHS. Working in conjunction with Janus Films and Criterion, the retrospective will screen new prints of almost all the presented films such as Jean Renoir's "The Rules of the Game," Marcel Carne's "Children of Paradise," Jean Cocteau's "Beauty and the Beast," Akira Kurosawa's "The Seven Samurai," and Francois Truffaut's "The 400 Blows."
"Our goal with this program is to make available new prints of films that were once staples of the art house revival circuit," comments Film Society of Lincoln Center Associate director of programming and retrospective curator Kent Jones. "We are proud to be able to show them in new prints on the big screen and delighted to partner with Janus Films and Criterion on this historic undertaking." [Kristina Woo/indieWIRE]
TLA Releasing hits the waves with gay surfer film
TLA Releasing has acquired the Australian surfer film "Tan Lines" for North American theatrical and home distribution. Shot in Australia, "Tan Lines" is about a teenaged surfer boy who falls in love with his best friend and the issues their relationship raises in their own surfing community. The film is by ED, who is not only making his feature film directorial debut with "Tan Lines," but also served as the film's producer and director of photography. The film's world premiere will be at the 2006 Philadelphia Gay & Lesbian Film Festival in July 2006 and will be released in 2007. [Kristina Woo/indieWIRE]
Sony Pictures Classics gets into gear with "Driving Lessons"
Sony Pictures Classics has acquired the North American rights to "Driving Lessons," British writer Jeremy Brock's directorial debut. Loosely based on his own teenage years, Brock's film stars Julie Walters, Rupert Grint and Laura Linney, and has already screened at the Tribeca Film Festival and at Cannes. Produced by Julia Chasman as her company RubberTreePlant's first production, "Driving Lessons" is a Content Film International presentation. [Kristina Woo/indieWIRE]
Germany to get a Taste of Bollywood
Indian film company UTV has sold its Market films "Rang De Basanti" and "Don" to Germany's Rapid Eye Movies. "Rang De Basanti," which is UTV's most lucrative film of 2006, will be opening in Germany in June, while "Don," starring Bollywood star Shah Rukh Khan and former Miss World Priyanka Chopra, will be hitting German theaters later this year in a day-and-date release agreement with Rapid Eye. [Kristina Woo/indieWIRE]
Reykjavik International Film Festival Adds New Sections
Hronn Marinosdottir, director of the Reykjavik International Film Festival, and Dimitri Eipides, special programming director, hosted a lunch in Cannes Sunday to tout new programming sections for the fest's third edition, taking place September 28 – October 8 in the Icelandic capital. The new sections include "Three by Three," a sidebar dedicated to three directors who will be spotlighted and given a special focus on three of their films. Panorama will highlight Icelandic films, while Human Rights will screen work in that genre in conjunction with panels. In addition to the festival's sixty films from around the world, the opening night will celebrate the celestial. The northern lights will be in full luminous splendor as the city of Reykjavik will go dark for half an hour in order for people in the city and attending the festival to see the sky without interference, and an astronomer will describe the various galaxies and stars.
Iceland's Minister of Industry, Valgerdur Sverrisdottir attended the festival lunch at Long Beach restaurant off the Croisette to promote filming in Iceland. Some high profile recent productions there included "Batman Begins" and "Die Another Day." [Brian Brooks/indieWIRE]
Post Central to produce feature films
Rochester, NY based production and post-production company Post Central has created a new arm of their company called Post Central Entertainment to produce independent feature films. Their first film "Cherry Crush," a "teen noir" starring Nikki Reed ("Thirteen") and Johnathan Tucker ("The Deep End") is currently in post-production. It is produced by Post Central President Gary Knaak and is executive produced by CEO Bill Lang. Producer Neal Weisman will be consulting on sales, distribution and marketing. "Cherry Crush" is just one of Post Central's films that they plan on producing in the $5 million budget range and that uses locations in Upstate New York. Weisman is currently in Cannes scouting for films and talent. [Kristina Woo/indieWIRE]
Little Film Company makes big sale with Scandinavians
The Little Film Company has sold Finnish director and writer Marko Makilaakso's film "War of the Dead" to Scandinavia's Scanbox for distribution. Produced by Lithuanian Film Studios and The Little Film Company in association with Double Star films, "War of the Dead" is the first film in a co-financing partnership with Lithuanian Film Studios that stipulates that the film be produced in its facilities. The film is set to begin principle photography in November. [Kristina Woo/indieWIRE]
French New Waver to receive Lifetime Achievement Award
This year at the 33rd Flanders International Film Festival, French New Wave filmmaker Agnes Varda will receive the festival's Joseph Plateau Lifetime Achievement Award. The Palme d'Or winner will not only be presented with this award, but will be honored by the festival's retrospective of her films, including "Cleo from 5 to 7" et "Les Glaneurs et La Glaneuse." Additionally, two of her recent video installations will be presented in cooperation with S.M.A.K., the Ghent museum of contemporary art. Past recipients of this Lifetime Achievement Award are Robert Altman, Tony Curtis, Jeanne Moreau and Alain Resnais. [Kristina Woo/indieWIRE]
Lightning Entertainment has a "Nobel" film
Los Angeles based sales and distribution company Lightning Entertainment has bought the international sales rights to independent feature documentary "Nobelity," written and directed by Turk Pipkin. Filmed in America, France, England, India and Africa, "Nobelity" is a series of conversations with various Nobel prize winners that spans over a number of pressing world topics. Theatrically released on Earth Day, April 22, 2006, Monterey Media will be released on DVD later this year. [Kristina Woo/indieWIRE]
[Get the latest from the Festival de Cannes throughout the day in indieWIRE's special Cannes '06 section.]
Sign Up: Stay on top of the latest breaking film and TV news! Sign up for our Email Newsletters here.