Attempting to achieve a delicate balance between a respect for and a critical stance toward the subject, with a constant awareness of the moral and ethical dilemmas potentially undermining the epistemological foundations of their projects, war documentaries arrive onscreen carrying a host of artistic burdens. "The War Tapes" is unique in its radical attempt to get past the ideological suspicion accompanying antiwar docs by having the bulk of its footage shot by soldiers themselves–detractors will initially hesitate before declaring that director (but how useful is such a term for a film like this?) Deborah Scranton brought her political baggage to a complex reality toward which she refused to remain objective. The misconception will no doubt also arise that "The War Tapes" captures the "real" face of the Iraq War in a way supposedly inferior documentaries fail to do because of their limited access to military quarters and combat zones. This is of course, nonsense–even if "The War Tapes" allows us to view the war directly from soldiers' points of view, it is still filtered, edited, and selected to manufacture distinct effects. Make no mistake, however: "The War Tapes" is decidedly antiwar, and its use of video diary from the front lines isn't mere exploitation–it's powerful reportage.
Instead of choosing to become yet another "embedded" reporter, Scranton gave digital video cameras to three members of the New Hampshire National Guard serving in Iraq and asked them to film their experiences and record their reactions. A simple premise yielding revelatory results–it's not so much that we get to know Sergeant Steve Pink, Sergeant Zack Bazzi, and Specialist Mike Moriarty any better than we would soldiers in a more conventional war documentary, but the moments that we are allowed to be privy to are rare and absolutely scintillating. In one unforgettable instant, the sarcastic, decidedly liberal Bazzi mocks the advertised glories of war and his particular assignment of protecting a Halliburton vehicle as he stands in front of a truck pouring out streams of septic waste along an open road. Pink and Moriarty arrive with greater optimism about their mission, but after various engagements–including the routine avoidance of IEDs and the assault on Fallujah–both become hardened survivalists. The road to disillusion is hardly politically correct: "I hope it filled its belly," Pink says of a dog that ate the remains of killed insurgents. Pink's bitterly victorious photographs of the dead fighters tell an even more gruesome story.
Scranton's construct thesis on the horror of war may not surprise anyone attuned to what's taking place in Iraq. Instead, the war's undetectable remnants of pain–the lingering psychological and physical impairments soldiers bring home from battle zones–are the film's most devastating emotional revelations. These are the difficult realities both supporters and detractors of Operation Iraqi Freedom, more engaged with statistics and abstract figures, refuse to recognize. Moriarty returns to his wife and children without illusions or any desire to see more action: he sustains possible carpal tunnel syndrome from the hours gripping his machine gun while on patrol, a disability that might affect his work at the aircraft manufacturer he works for as a civilian; his temper, which he worked hard to retrain before he left for Iraq, is worrisomely revived; flashbacks of a terrible accident involving a run-over Iraqi woman continue to plague him. The formerly staunch patriot who volunteered to serve his country in response to the attacks of September 11 now sees family coming first, well before the unsatisfying hypocrisies and indignities of occupation. Similarly, young Sergeant Pink transforms into a sullen and brooding veteran, and after a psychiatric evaluation he is asked to receive treatment for Post-Traumatic Stress Syndrome. At one moment, while in New England awaiting his next tour of duty, Pink directs a sarcastic rant to the camera about the war's ultimate purpose. "It better be about the money," he half-kiddingly posits, explaining that if the U.S. fails to secure Iraq's oil treasures his service will have been in vain. Such cynicism has long been Bazzi's way of dealing with serving in a war he doesn't agree with–unsurprisingly, he comes back the least changed. But it's his mother's tearful response to their reunion that brings to a pitch the suffering and heartache endured by the soldier's loved ones–"The War Tapes" proves that such mournful worry is more difficult to watch than all the flying shrapnel and sudden explosions.
[Michael Joshua Rowin is a staff writer at Reverse Shot. He also writes film reviews for L magazine, has written for The Independent, Film Comment, and runs the blog Hopeless Abandon.]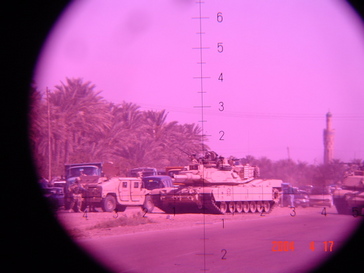 Take 2
By Chris Wisniewski
Though it purports to be the "first war movie filmed by soldiers themselves" there's something eerily familiar about the opening images of Deborah Scranton's "The War Tapes": the film begins in medias res with a jerky point-of-view shot from a miniDV camera mounted to the helmet of a soldier in combat; the barrel of his gun is visible at the bottom of the frame; shots are fired, and fire is returned; each bullet jolts the camera with its brute force. Of course, we have seen something like this before, or at least, we've seen the simulacrum–the footage bears such a striking resemblance to the visual conventions of first-person shooter video games that it's unsettling. In a moment, it's as if reality and representation have collapsed into each other. It's an apt starting point for any film about this current war, a war so obscured by media and political representation that the reality of it, for those of us safely tucked thousands of miles away, remains completely unknowable.
As a consequence, the Iraq War would make for a fraught subject for any documentarian, and Scranton sidesteps many of these political and cinematic issues by letting the soldiers tell their own stories. "The War Tapes" follows the Iraq experience of Stephen Pink, Mike Moriarty, and Zack Bazzi, each a member of the Charlie Company of the 172nd Infantry Regiment. The soldiers and their families seem to speak for themselves, with their own footage, which has the side effect of making the film's success dependent on our own interest and investment in Pink, Moriarty, and Bazzi, to somewhat mixed results. The approach lends the film a certain intimacy and another kind of familiarity; it ends up being a very personal look at the civic commitment of the soldier and the psychological devastation of war. Of course, we've seen something like this before, too, though the setting and approach may have been different. If "The War Tapes" isn't quite as groundbreaking in practice as it is in principle, though, it still offers some genuine moments of empathy.
[Chris Wisniewski is a Reverse Shot staff writer, and has written for Interview and Publishers Weekly .]
Take 3
By Nicolas Rapold
In a war defined as much by its presentation as its execution, one can be forgiven for approaching "The War Tapes" a bit warily. A film that advertises the unique access allowed by its methods–using footage by three soldiers with their own cameras–sounds suspect or disingenuous, appearing to perpetuate the very embedment-era canard of pseudo-openness that it's trying to circumvent. The sound of pumped-up rock'n'roll, or the soldiers' camera-ready smartass sarcasm (always a good trick for making viewers think the film already agrees with them), also made me worry about where "War Tapes" was headed. Fortunately filmmaker Deborah Scranton shepherds the project with a responsible hand, even if her character sketches (and characters' opinions) might not please all political proclivities, which is probably a good thing. Part of a strong second wave in documentaries about the war in Iraq, "The War Tapes" forms with "The Blood of My Brother," also opening this month, direct looks at the conflict in human dimensions.
The challenge of Scranton's material, which her attentive editing meets admirably, is to find a way of exploring individual psychology and sentiment (e.g., how the accidental death of a innocent girl, unsurprisingly, disturbs the soldiers) without losing sight of the bigger picture or falling into confessional cliches or self-constructed personas. Her work courageously spans terrific highs and lows of wartime experience, from the initial swaggering momentum of convoys and big guns and mission statements (the parts that made me nervous), all the way to the throat-catching final sequences with the soldiers returning home, when the bottom seems to drop out of all the ready patter and purpose. To judge from the haunting look on 24-year-old Steve Pink's face, fear and doubt, carried around so long that it has become embedded in the soldier's very fibers, might have had the real triumph.
[Nicolas Rapold is a Reverse Shot staff writer, as well as a film critic for the New York Sun, and the assistant editor of Film Comment. ]
Sign Up: Stay on top of the latest breaking film and TV news! Sign up for our Email Newsletters here.