One has to at least admire Francois Ozon's attempt to articulate a more thoughtful and private perspective on untimely death. Keeping company with outsized melodramas swimming in shallow carpe diem sentiment like "My Life Without Me" (not to mention the reversals of romances like "Autumn in New York" and "Sweet November," where fading beauties teach jaded men to truly live), as well as thematic variations conducive to female bonding ("Terms of Endearment," "Beaches"), "Time to Leave" feels the more profound by comparison. Though the French director may not sidestep cliches endemic to the subject matter, his desire to provoke a quieter meditation upon mortality – rather than simply court tears – makes this an interestingly flawed project.
Initially the film seems set to veer wildly off its genre tracks with its relocation of a gay male to the center position, typically occupied by a woman, and it's fascinating to witness the scaling of emotional terrain from this slightly altered view. Not nearly so sympathetic a character as we've come to expect of our dying young (at least not for those weaned on Hollywood tropes), fashion photographer Romain (Melvil Poupaud, whose extraordinary good looks act as shorthand signifier of the character's narcissism and superficiality, the better to offset the physical and emotional transformation he will undergo) makes the decision to keep his prognosis to himself. His startlingly destructive fits of anger after learning the news result in his hurling hateful words at his sister and then abruptly breaking up with his boyfriend, actions which, conversely, make him a more attractive protagonist; there's nothing ingratiatingly palliative about his bold and ignoble bitterness, none of the flattening, beatific qualities we've come to expect of characters diagnosed with terminal cancer.
"Time to Leave" continues in this intriguing and unexpected way for a stretch, as small instances achieve a tender delicacy. After leaving the doctor's office, Romain goes to sit in a park, the sounds of his muffled crying audible over images of others lounging in the sun, and the agony such mundanely pleasant moments now hold for him sinks deeply in. Soon after, he visits his grandmother (played by Jeanne Moreau) and confesses his secret, stating matter-of-factly but not unkindly, "You're like me; you'll be dying soon"; the starkness of the words and Moreau's fragile expression put into place just how comfortably couched we're used to seeing the roughness of death phrased in film. And with her deeply veined hands and slightly sagging cheeks, the legendary actress's presence summons an entire history, age, experience, all of which, when juxtaposed against the youthful perfection of her grandson not-yet-in-decline, makes the tragedy of his impending demise explicit. But more than this, it emphasizes a stirring corporeality – an almost sensual awareness of the body and its inevitable deterioration (heightened by a wonderful detail, that this grandmother sleeps in the nude and later, sadly, by the increasing slightness of Poupaud's frame) – not often found in a genre where a paler shade of foundation alone is often meant to convey encroaching death.
These opening scenes promise a film less blandly prettified and more attentive to the darkly nebulous internal rackings and reckonings this particular individual will undergo in the face of the ultimate; a path, unfortunately, not taken by "Time to Leave." Instead the narrative continues as if in accordance with some outwardly dictated drive towards soppiness, which the approach of death's pallor always seems to bring (though the recent "The Death of Mr. Lazarescu" proves the subject needn't be so soaked in self-conscious emotionalism).
This turnaround is emblematized by – it really couldn't get more disappointingly maudlin than this – Romain's feelings towards children. The story in fact structures itself around this conceit as ample screen time is spent establishing the character's initial distaste, evinced in his remoteness from his sister's children, and later, even more baldly in his assertion, when approached by a waitress (Valeria Bruni Tedeschi) and her sterile husband about the possibility of helping them conceive, that he plain doesn't like the little buggers. That Romain goes from complete disinterest to later marveling at a baby suckling at his mother's breast seems a cheap trick meant to illustrate his "growth" as a human being. On top of this, he flashbacks often to visions of his younger self, moments that carry the usual hackneyed connotations of a return to innocence and childlike wonder at the world and its inhabitants as his time runs out.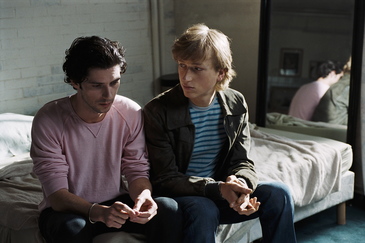 What began as a subtle examination ends a drama rife with requisite grand gestures and realizations, as Romain makes apparent peace with his little boy formerly lost, and has a change of heart with regards to the childless couple. Conceived as part of a trilogy of mourning begun by "Under the Sand," this second installment carries less resonance than its predecessor's uncomfortable existential questionings, perfectly drenched in embarrassment and denial. As in that film, as well as "5×2," Ozon concludes on a metaphorical stretch of beach which aptly conjures a mysterious infinity. Too bad the depth of feeling the image implies feels unearned this time. Still, at least "Time to Leave" doesn't fade out with a slideshow of the final photographs Romain has been snapping of his loved ones throughout, as you just know it would've in a parallel Hollywood universe. These last looks remain his alone, and I suppose that's something.
[Kristi Mitsuda is a Reverse Shot staff writer and works at New York's Film Forum.]
Take 2
By Michael Koresky
Melvil Poupaud, with his penetrating, rich brown eyes, thick mane of tousled black hair, full rose-red lips, and perennial three-day beard scruff, and who looks like a trimmer, less action-movie intimidating Eric Bana, is unmistakably the center of attention in the ad campaign for Francois Ozon's "Time to Leave." And rightfully so: Often shirtless, even in one shot full-frontal, albeit silhoutted, Poupaud is indeed a gorgeous specimen on film; and as he plays something of a hollow shell, it's difficult to get much past that surface. A cancer movie that watches with sexual fascination the disintegration of a perfect male body, "Time to Leave" suffers by not being honest enough with itself for what it is: in the press notes, Ozon claims to have wanted to make a gender-switched Sirkian weepie in which a gay man takes the central role, yet it's hard not to notice that visually and emotionally, there's nothing remotely Sirkian (or even melodramatic) about the film.
Ozon wishes to dote upon Poupaud's flawless physicality as fashion photographer Romain, who moves from denial to self-destruction to acceptance after discovering he has mere months to live, and for a while, there's something daringly aestheticized about the endeavor. Yet (especially when compared to Patrice Chereau's more convincingly contemplative 2003 film "Son frere," which much more boldly and unapologetically mixed the body horror of cancer and homoeroticism) "Time to Leave" isn't comfortable enough to remain a mere investigation into beauty and disintegration; instead Ozon piles on extraneous subplots and psychologies, including Jeanne Moreau's distracting cameo as his free-thinking grandmother and the repetitious, clumsy use of flashback through which Romain is supposed to come to terms with his childhood self… or something. Death, forgiveness, regret, life choices–yeah, they're all there, packed into its blink-and-miss-it 85 minutes. But let's face it, you'll probably only be able to recall the physiognomy and physique of its central actor–not necessarily a bad reason to go see a movie. Just ask Josef von Sternberg or Jean Cocteau.
[Michael Koresky is co-founder and editor of Reverse Shot, as well the editorial manager at the Criterion Collection and a contributor to Interview and Film Comment.]
Take 3
By Chris Wisniewski
Romain, the terminally ill, breathtakingly beautiful protagonist of "Time to Leave" is, for lack of a better word, a bastard. Upon learning about his illness, he sets about destroying almost every meaningful relationship he has — with his boyfriend, his sister, his parents — in as cruel a manner as possible. It's one of the most admirable things about this misguided film. Ozon seems intent on denying any conventional way into Romain's emotional journey towards death by making him relentlessly unsympathetic. It's a bold choice, but it ends up crippling the film both practically and conceptually. When Romain alienates his friends and family, "Time to Leave" is left with a vacant center: without any meaningful relationships to give the film heft, it rests squarely on the shoulders of its superficial protagonist, who has nothing to do except, well, die.
"Time to Leave" fills the dramatic void with thematic preoccupations. Romain is both lovely to look at and obsessed with looking at lovely things. He's a fashion photographer lacking any depth or complexity before he's confronted with his own inevitable demise. Superficiality and decay become, for Romain, opposing forces and enduring truths. Ozon himself aestheticizes Romain's failing body, bringing superficiality and decay into a kind of uncomfortable filmic dialogue. This is an interesting idea, but it leaves us with nothing to hold on to, nothing to feel, and nothing to think. All we can do is watch. And though "Time to Leave", like Romain, is itself lovely to look at, it's also just as empty.
[Chris Wisniewski is a Reverse Shotstaff writer and a frequent contributor to Publishers Weekly .]
Sign Up: Stay on top of the latest breaking film and TV news! Sign up for our Email Newsletters here.