Early on in "Heading South" ("Vers le sud"), we are introduced to Brenda (Karen Young), an American who has traveled alone to a picturesque beach. In her late forties, Brenda appears comfortable in her own skin, even though the setting, Port-au-Prince, Haiti, in the Seventies, predates the "40 is the new 30" credo of a Sex-and-the-Citified world. She speaks in halting French to Albert, the maitre d', and nonchalantly strides through sprouting umbrella patches along the shoreline, obviously a seasoned visitor to the island. We follow her to a distant point on the blaringly white beach, where a lanky black body lies in contrast to the sand. As she jostles the sleeping mass, we cut to a shot of Brenda, head on, her eyes beady and ravenous. A baby-faced young man, Legba (nonactor and complete natural Menothy Cesar), rolls over to acknowledge her. Suddenly, Brenda's expression changes. "Do you remember me?" she asks the young man, a nearly visible anticipation oozing from every pore. It's as though this mature, confident woman has just been inhabited by the spirit of a 15-year-old, "Freaky Friday"-style, with vulnerability and desperation replacing confidence and swagger.
Strange, in a film thus far touted as focusing mainly on sexual tourism and the base carnality of older women whose "single goal it is to consume the pleasures of the flesh," (according to one French synopsis) that this woman has clearly come specifically to see one particular boy. Evidently, Dany Laferriere, author of "La Chair du maitre," the collection of stories providing the basis for this film, had a more complex concept in mind than "Old Biddies Gone Wild." "I wanted to find out if in this exchange, in this trade, where flesh meets flesh, there wasn't something more," Laferriere explains.
Indeed, the "something more" lies in the feelings each woman develops for her conquest. Both Brenda and, we learn soon after, Ellen (Charlotte Rampling) have come to Haiti for one reason: Legba. Thus, the film is more deeply imbued with the romantic fidelity of a "Same Time, Next Year" rendezvous than the anonymous lust of an "Eyes Wide Shut" orgy. Perhaps Laferriere and, subsequently, director Laurence Cantet's point, is that women, or, particularly, middle-aged women, simply cannot abandon themselves to wanton sexual debauchery, but rather, even when visiting this carnal "paradise," as Ellen calls it, tend to hone in on one solitary object of desire.
"Heading South" contains a rather inconsistent smattering of first-person monologues delivered to the camera. Brenda and Ellen's, in their dumbstruck "How I, a woman, got to know my own body and emotional responses" approach, are like The Vagina Monologues too callow for even Eve Ensler to stomach. Brenda, in measured, trembling speech, describes the experience of her first orgasm, at 47 years old, elicited by the then 15-year-old Legba on the same beach three years ago, when she was visiting the island with her husband. Meanwhile, Ellen, apparently scarred early on in her romantic life, bemoans her status as professor at an all-girls school, detailing the heartache she sees each sniveling little girl go through. Sue, a Quebecoise who befriends Brenda and Ellen (as much as one can befriend two completely self-absorbed women), relates an anecdote about a one-night stand with a coworker back home in Montreal. Her cavalier stance vis-a-vis that affair, as well as the fun she has with her Haitian friend (she is also a summertime monogamist, but her man appears more stable and mature than Legba), suggests that she comes closest to the devil-may-care attitude for which the other women strive. Finally, Alfred, the maitre d', relates his disdain for tourists and his dead father's refusal to even speak to white people. It seems a tossed-off attempt to bring the film's politics to the forefront, aspects that Cantet emphasizes in interviews, but which, in actuality, merely serve as backdrop to the emotional lives of these women.
But then, the personal is the political, and the dynamic between these white women and their Haitian hustlers is meant as a metaphor for North/South relations. Laferriere's novel, according to Cantet, "…stresses the fact that everyone gets something out of it." He goes on to suggest that Americans come to the hotel to escape the reality of their day-to-day lives, and the Haitian boys come there to be pampered and appreciated in a society where they are faced with poverty and violence. However, at least when we see Legba interacting with his ex-girlfriend, his mother, or even a waitress at the restaurant, the interactions are real and heartfelt. It is far easier here to pity the frustrated, desperate white women who can neither manage to connect with one another nor successfully buy the love of their capricious Haitian boys.
Overall, there's a distinctly stiff, awkward air to the characters in "Heading South" that doesn't seem human enough for a story supposedly about passion, desire, rejection, and miscommunication between cultures. Perhaps the most universally painful theme is summed up by a policeman's lament in Haitian, translated for Ellen by Alfred. He tells Ellen, who is at her wit's end and pathetically trying to make herself believe she has had some importance in Legba's life, "Tourists never die," implicitly denying her any real presence or influence in the lives of the islanders. She is merely a nuisance, to be tolerated only because she has some money to spend there. Not the first of the many searing blows delivered to Ellen throughout the movie (the others age-related insults from Legba), this seals the deal: already neutered and neglected in America, the illusion of power that she experienced in Haiti has just reached its expiration date, and Ellen must find a way to come to terms with her own status as a single, childless, older woman whose money can't buy her love.
[Sarah Silver is a frequent contributor to Reverse Shot.]
Take 2
by Nick Pinkerton
There's probably some sort of injustice being redressed in my having had to cringe through the two hubristic hours of "Heading South" — though this doesn't manage to make me any fonder of the movie. Without little more than a rare eye-roll, I have accepted a century-plus of cinema that pairs some of the most undeniably lovely women who've ever existed (maybe too lovely to exist anywhere but onscreen) with men who are often well over-the-hill, and frequently blessed with the old stand-by, "offbeat" good looks; the pairing of "South" starlet Charlotte Rampling with the homuncular Woody Allen in 1980's "Stardust Memories" (I know they're only a decade apart in age, but you get my point) is but one particularly glaring example.
Moving past that tradition of intergenerational lust/love to explore the specificity of its older women-younger men dynamic is the hurdle that Laurent Cantet's reactionary faceplant of a film never gets close to clearing. "Heading South"'s aim is the inversion of sexual expectation through its Houellebecq-esque sex tourism scenario with genders swapped (and Houellebecq without the punky cheek that makes him readable), and the film never ceases smugly reiterating itself as Finally, A Film About Female Desire (Oh, And Sometimes Class) long enough to let anything resembling life (much less sensuality–name me a movie in the tropics with less sense of the sun) seep into the frame.
What's there in its place? Embarrassing Karen Young, intoning a camera-address monologue in those solemn, sober tones that are a dead giveaway that we're being piloted one-way down Serious Street by a daft driver. A scene between Haitian native Menothy Cesar and his dear ol' mudder airlifted in from a Bowery melodrama circa 1890. I can photocopy my overlong press kit and pass it along to anyone who's afraid of missing anything by skipping "Heading South"–you won't be any poorer for not seeing the actual movie, an anxious package of themes in search of a character.
[Nick Pinkerton is a Reverse Shot staff writer and editor and contributor to Stop Smiling.]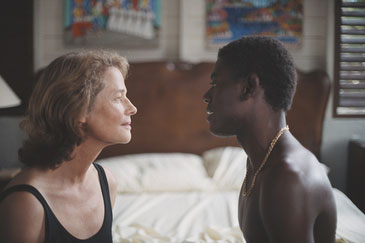 Take 3
by James Crawford
If I didn't know better, I would swear that "Heading South" was a parody of a particular American institution: the movie-of-the-week social problem film. Tackling the issue of sex tourism–where old white biddies travel to Haiti with the sole purpose of sleeping with lithe young black men–Cantet progresses through a rote litany of characters and situations, but does so with studied equanimity, as if shrugging off, in a uniquely Gallic way, a dramatic premise that traditionally is emotionally fraught. Except that I do know better; every interview given by director Laurent Cantet is unbearably earnest and rife with moral outrage and self-satisfied grandeur, trumpeting the film's societal importance. "Heading South," he says, was motivated his embarrassment of being a wealthy foreign tourist in a country riddled by some of the world's most bleak economic prospects.
That's all fine; this kind of outrage fuelled uncommonly affecting social justice films like "Darwin's Nightmare." Cantet, by contrast, channels his embarrassment and indignation into something that is just flat. Which is to say that "Heading South" is mundanely, uninterestingly bad. Characters–like Charlotte Rampling's crusty, jaded Wellesley professor who's nominally past the idea of romantic love, or Karen Young's naive newcomer who still believes it's possible–stand up as lightly sketched archetypes. They're trotted out less for organic reasons than the need to sufficiently reflect the full spectrum of responses to the issue that the film is bringing to life. (Louise Portal, as the overweight dilettante who can't arouse desire in any man, fleshes out the sex-tourist-archetype trifecta.) Since "Heading South" plays, after all, like a feature-length "A Different World" episode, the film's ending–and indeed all of its intermediary set-pieces–are evident from the opening act. Cantet's narrative runs through a checklist of standard declarations appropriate to a film imbricated with so much class, race, and sex baggage. "Heading South" lacks so many things, but the worst is an emotional commitment to its material.
[James Crawford is a staff writer at Reverse Shot and has also written for the Village Voice.]
Sign Up: Stay on top of the latest breaking film and TV news! Sign up for our Email Newsletters here.