The New York Film Festival crossed the halfway mark over the weekend, with Pedro Almodovar's "Volver" in the centerpiece spotlight. The Spanish auteur soaked in the accolades alongside his Cannes award-winning leading ladies Penelope Cruz, Carmen Maura, Lola Duenas, and Yohana Cobo while at a late night post-screening party downtown, he was toasted by famous folks from Bono to Bebel Gilberto. Back uptown at Lincoln Center, two other films were among those stirring crowds this weekend at the festival. David Lynch's "Inland Empire" had public and press alike buzzing, while at midnight Saturday, New Yorkers got their first peek at the acclaimed monster movie, "The Host," from South Korea's Bong Joon-ho.
Photos from the weekend parties are available in indieWIRE's iPOP section.
Lynch Moments
David Lynch's three-hour DV experiment "Inland Empire," featuring a stellar lead performance from Laura Dern, has certainly had tongues wagging in recent days, from biz types wondering who will release the challenging, but hard to forget new feature, to critics and bloggers debating the movie's merits. A New York Times fest write-up by Manohla Dargis calling the film a "must-see of the festival" and praising it as "a spellbinding companion piece to his masterpiece, 'Mulholland Drive'," stirred press and industry in advance of Friday's screening that included a post-showing Q & A with the director.
indieWIRE Video link: In an iW Video clip (posted on YouTube), David Lynch and Laura Dern (joined by Justin Theroux) talk about their new film "Inland Empire." Topics include working in digital video, how the project began, and an apparent dispute with those who claim that the film was influenced by the work of Bunuel.
Set primarily in and around a Hollywood movie set (and sometimes within the other movie altogether), "Inland Empire" is quite difficult to summarize, but Laura Dern stars as "Nikki" an actress making a potentially cursed movie with "Devon" (played by Justin Theroux). Jeremy Irons, Harry Dean Stanton, Diane Ladd, and Grace Zabriskie round out the cast. A strangely assembled Studio Canal press packet only describes the film as, "A story of a mystery…a mystery inside worlds within worlds…unfolding around a woman…a woman in love and in trouble."
Attendees seemed a bit shell-shocked following Friday's screening, mainly asking the director about working in video, while at Sunday night's public screening the film was met with a hearty ovation, many in the crowd standing to applaud the director. At the concurrent NYFF Directors party across the street at O'Neals, where star Laura Dern greeted well-wishers during the Sunday screening, buyers wondered who had made a rumored offer on the film, while journalists continued to debate the movie, some praising it while others dismissed it as a waste of time.
No clear indication emerged about a buyer, but rumors of a pre-fest sale to Magnolia Pictures were put to rest (despite an IMDB listing). The company certainly didn't count itself out of the running for the film but as of Monday had not made an offer, according to a well-placed source.
After shooting clips for his website with a small DV camera (the PD-150), Lynch decided to begin experimenting with a collection of video scenes, starting with Dern's stirring fourteen page monologue that he shot at his own house. "In the beginning, I didn't know how things were going to be related," Lynch explained Friday, "It was awhile before I saw the whole thing kind of emerge."
Journalists maintained a mostly timid stance during the session with Lynch, but one asked about connections between Lynch's new film and his the recent "Mulholland Drive." He explained, "Cinema is a magic medium and I love Los Angeles and I love the idea — because I wasn't alive in the Golden Age of cinema — the whole thing of Hollywood. 'Mulholland Drive' and 'Inland Empire' have something to do with that."
And "Inland Empire," shot with a muddy, pixilated look, perhaps marks a major shift for the filmmaker, who found beauty in the decomposed video look of his new movie. "For me film is completely dead," Lynch emphasized on Friday, "We love film and the quality is so beautiful…the lure and all that's gone before it is so beautiful," he explained. "[But] film gets dirty and film breaks and scratches and the color drifts, the equipment is very, very large and heavy, it's like swimming through cold molasses." He added, "Digital is the future and its getting better every day."
Considering "The Host"
Bong Joon-ho's "The Host," a thriller of a different sort that was in fact acquired by Magnolia Pictures, is the latest South Korean export from an increasingly popular filmmaker, following "Barking Dogs Never Bite" in 2000 and "Memories of Murder" in 2003. It is the story of a monster that emerges from the Han River in Seoul, following a U.S. doctor's dumping of chemicals into the waterway. The mutated creature kills many Koreans and, amidst panic of a dangerous spreading virus, nabs a young girl, leading her family on a dangerous mission to rescue her.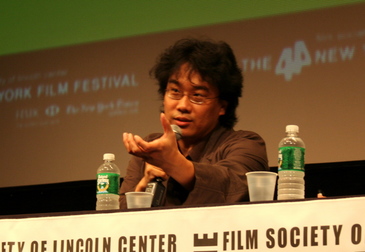 A key bit of subtext that has struck a chord with domestic viewers is the film's apparent critical look at the U.S. and its war in Iraq. In "The Host," misinformation leads to widespread fears of a virus, paralleling the infamous search for WMD's in Iraq. During a New York Film Festival press conference last week, the filmmaker admitted that such connections were, "very clearly intended." But he added that there were also targets that are closer to home.
"I wanted this family to fight against the creature [and] to be the most unlikely type of family…" Bong explained. The dysfunctional group lost their matriarch years before, putting them at a distinct disadvantage, the filmmaker added, and at its core, the movie is specifically offering a criticism of Korean society, with a seemingly weak family fighting the government and other obstacles in their tireless battle. The film has been a big box office hit in South Korea, with the director explaining simply, "I think the reason it might be so popular is not the monster, but the loser family [that is] very normal [and] weak. Korean audiences can relate to them."
The success of the film so far has already lead to some calling Bong Joon-ho his country's Steven Spielberg, and leading some Hollywood companies to try and lure him to L.A. "I think it's a huge honor for me," the director said last week in New York, smiling and adding, "I think if Spielberg heard, that he wouldn't be too happy." For now, Bong explained that he will stay put, "I haven't really given it lots of thought, [I am] in the middle of writing a script for the next film."
Sign Up: Stay on top of the latest breaking film and TV news! Sign up for our Email Newsletters here.