Acting a little bit as a dress rehearsal for next year's 30th edition, the 29th Starz Denver Film Festival (SDFF) once again entertained and informed Denver locals and visitors alike with a program packed with films from all over the world and events of all shape and size. Over 200 films screened at the ten day event and the festival hosted over 170 guests, including filmmakers, tributees and journalists who were treated to screenings, panels and of course, parties. Festival attendance was 38,881, up from 36,812 in '05.
Led by Denver Film Society co-founder & artistic director Ron Henderson and program director Bitt Withey, the program was once again a great mix of films large and small, domestic and US, as well as narrative and documentary. The festival opened with the US premiere of Anthony Minghella's "Breaking and Entering" and Minghella was on hand to receive the Mayor's Career Achievement Award. Closing the festival was Werner Herzog's wonderful "Rescue Dawn." Minghella's film is set to open in a limited release by The Weinstein Company in December, while "Dawn" will reportedly not open until next March, which is unfortunate, given the awards-worthy performances by male leads Christian Bale and Steve Zahn, as well as the film being Herzog's most commercial narrative film to date.
Prior to the closing night screening of the Herzog film, the festival presented its jury awards for best feature, best documentary and an emerging filmmaker award. The Krzysztof Kieslowski award for best feature went to Jan Hrebejk's "Beauty in Trouble" from the Czech Republic, for: "its complex characterizations; its refusal to be simplistic in depicting the choices that people have to make in difficult times; and its warm and compassionate tone." The jury also cited "the exceptional performance of Anna Geislerova in the film."
AJ Schnack picked up the Maysles Brothers award for best documentary for his film "Kurt Cobain: About a Son," which was cited by the jury for: "originality, honesty and humanity in its portrayal of a cultural icon and for its daring new take on the documentary form," adding that Schnack "deftly fuses imagery of the everyday with Cobain's intensely personal narrative to create an intimate and compelling sense of time and place."
The emerging filmmaker jury awarded to Aaron and Adam Nee's "The Last Romantic" as: "Ambitious in its narrative and visual aesthetics, this film is also the rare work by a first-time filmmaker that is both very funny and very smart," and "buoyed by an impressive and charming central performance as well as an eccentric and hilarious supporting cast." The jury also presented an award for Special Recognition for "Originality and Performance" to Mike Akel's, "Chalk."
At the awards ceremony, the brothers Nee were a highlight, pretending to be two random people who were "on the way to Scranton for a Parchisi tournament" when they were oddly and mistakenly whisked away to Denver to receive an award.
The Starz People's Choice Awards were handed out on Monday, with Ricki Stern and Annie Sundberg's "The Trials of Darryl Hunt" picking up the documentary award, Florian Henckel von Donnersmarck's "Lives of Others" nabbing best feature and Renuka Jeyapalan's "Big Girl" and Chel White's "A Painful Glimpse Into My Writing Process (In Less Than 60 Seconds)" tying for best short.
Once again, the Denver audience was treated to Ron and Britt's excellent eye for foreign films, with such acclaimed titles as Susanne Bier's "After the Wedding" (Denmark), Erik Canuel's "Bon Cop, Bad Cop" (Canada)–which was the kickoff film for the SDFF's tribute to Canadian cinema–Nuri Bilge Ceylan's "Climates" (Turkey), Daniel Burman's "Family Law" (Argentina/Italy/Spain/France), and my two favorite non-US films of the year, Bong Joon-ho's "The Host" (Japan/South Korea) and Guillermo del Toro's "Pan's Labyrinth" (Spain/Mexico), among others spotlighted in this year's roster.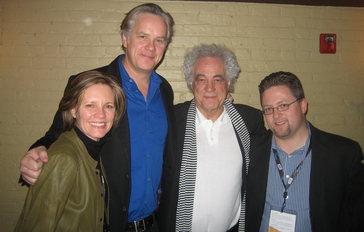 Documentary films have become an ever-increasing high point in festivals around the world and this year's SDFF doesn't disappoint. Films ranged from intimate stories to grand political statements and covered geography from around the world. One of the great benefits of attending a film festival is to learn about the stories of others, be they fictional or documentary and one of the more unknown (to US audiences, at least) of these stories came in the form of Chris Sheridan and Patty Kim's "Abduction: The Megumi Yokota Story," which recounts the kidnapping of at least 13 Japanese citizens in the 1970s by North Korean spies for the purpose of training future agents to pose as Japanese. It took 30 years for Megumi's parents to even begin to unravel the mystery surrounding her disappearance, a mystery that is still unfinished.
A completely different story but no less unknown to me, was told in Judy Irola's memoir of sorts, "Cine Manifest." That I should be unaware of a Marxist film collective that produced two notable indies ("Northern Lights" and "Over-Under, Sideways-Down") as well as several directing and cinematography careers among its members is somewhat of a personal embarrassment, but I'll forgive myself. Irola's film returns to the collective some 30 years later, asking the former members (and herself) questions about the worth of the experiment and addressing the ultimate question of success or failure.
Much like last year, to a person, the filmmakers, guests and jury members alike expressed pleasure with their experiences at the SDFF. From receptions at John Sie's massive mansion to the 'Late Night Lounge' escapades (this reporter received the Richard Turner Award for Perfect Attendance, natch!) the guests and supporters of the festival are treated as well as any festival I have ever attended and far better than most. To paraphrase, the folks at the SDFF never forget that filmmakers and festival guests travel on their stomachs, and never has a festival provided a more constant stream of food and drink. The filmmakers lounge was a welcome refuge, with food and snacks on offer throughout the day and an open bar from 5pm-10pm, while each night held receptions (again with vittles) and of course, the late Night Lounge, catered by local restaurants. Once again, the LNL is the premiere evening hosted experience in film festival-land, and the perfect way to end each festival day. Consummate hosts, Messers Dyer, Balai and Reshetniak forgo sleep and meaningful sustenance for 10 days, just so their guests can party into the wee hours. My liver hates them.
The Denver Film Society is chugging along well, heading towards its 30th edition in 2007 and you can bet your bottom dollar that I'll be there to help "ring dem bells!"
[DISCLOSURE: Mark Rabinowitz served on the doc jury of this year's Starz Denver Film Festival]
Sign Up: Stay on top of the latest breaking film and TV news! Sign up for our Email Newsletters here.