With the goal of shining a brigher international spotlight on Arab cinema, the 3rd annual Dubai International Film Festival came to a close on Sunday night in the United Arab Emirates, awarding its first Gold Muhr narrative competition trophy to Algerian filmmaker Jamila Sahrawi for "Barakat!," while the golden Muhr (Arabic for 'young horse') for best documentary went to Tunisian filmmaker Najeeb Bilkawi's "VHS Kahlusha." Organizers of the young, well-funded new festival launched a competition for Arab work this year hoping to give greater awareness to films from the region, while also maintaining a broader theme of "building bridges between cultures."
Planners expect to count a doubling of attendance over last year's 30,000 admissions, according to initial estimates. The festival added one day this year and concluded on Sunday in Dubai.
Each gold Muhr trophy winner received a $50,000 USD cash award, along with the trophy, while silver and bronze winners received $40,000 USD and $30,000 USD respectively. Runners-up in the Muhr competition included silver prize winner "Falafel" by Michael Kammoun from Lebanon" and bronze winner "Why O'Sea" by Hakin bil Abbas in the narrative competition, while in the documentary section, the runners-up were "Amina" by Khadija Al Salami from Yemen winning the silver prize and Hala Al Abdullah and Amar al Beik of Syria winning the bronze for "I'm the One Who Carries Flowers to her Grave."
"The Muhr Awards is an initiative we can build on in the years to come, and an excellent tool for us to stimulate filmmaking in the region," said DIFF chairman Abdulhamid Juma, in a statement, also adding, "We have come so far in such a short time, and will redouble our efforts for 2007, so that we can continue to attract visitors from around the world in a celebration of cinema, which rises above culture, language and politics to be a celebration of our common human experience."
"Barakat!" from Djamila Sahraoui, who has lived in France for more than thirty years, is the story of a woman (the wife of a kidnapped journalist) who is searching for her husand and challenging the system along the way. Meanwhile "VHS Kahlusha," from filmmaker Najeeb Bilkawi who lives in Tunisia, looks at a man striving to become a famous filmmaker and actor. Making movies on VHS with local villagers, the film's subject is in production on "Tarzan of the Arabs" as documentary director Belkadhi takes a closer look at the aspiring filmmaker's work.
Overall, the Dubai International Film Festival's Arab programming gave many attendees a look at work that counters stereotypes often seen in Western projects. Competition films like Bassam Al-Thawadi's "A Bahraini Tale" (Hekaya Bahrainiya) and Hala Khalil's "Cut & Paste" (Qass We Lazq) offered personal stories and intimate drama, but one film that tackled sterotypes head on was Dr. Sut Jhally's "Reel Bad Arabs: How Hollywood Villifies A People."
Based on Dr. Jack Shaheen's book of the same name, "Reel Bad Arabs" takes a rather academic, but still quite compelling look at the portrayal of Arabs in Hollywood movies over the years, in particular taking Walt Disney Studios to task for its caricatures in such films as "Aladdin," "Father of the Bride 2," and "Ernest In The Army," among others. And he cites what he calls "Islamophobia" in other big studio films like "True Lies," "Rules of Engagement," and numerous films produced by Menahem Goran and Yoram Globus' Cannon Films, including "The Delta Force."
"Arabs are the most maligned group in the history of Hollywood," says Shaheen in the film, "They're portrayed basically as sub-human." Continuing he asks, "Why does Hollywood inject scenes of Arabs (and) slurs into movies that have nothing to do with the Middle East."
On the other end of the spectrum, in the film, which screened in the Operation Cultural Bridge section of the festival, Shaheen cited more positive, fully-rounded portrayals in recent films like "Syriana," "Hideous Kinky," "Paradise Now," and "Three Kings."
At an industry panel discussion earlier in the week (see " TARGET="blank">the recent indieWIRE Dispatch from Dubai), Tunisian film producer Dora Bouchoucha ("Satin Rouge") advocated for work that offers complex views of Arab lives. "Why should cinema in these countries be seen as (just one thing)," she asked, later adding, "The Arab world is huge, the differences within the Arab world are numerous. I invite people to look at these differences…People tend to look at it as a (monolith), that's a problem, a big problem."
Bouchoucha was among a group of industry attendees who made their first trip to to Dubai for the fest, at a time when locals are starting to push the UAE's new Studio City Dubai. Most were upbeat about this year's fest, even if some seemed to appreciate the festival first and foremost for its gracious hospitality and luxiurious guest accomodations. Most who were informally polled acknowledged that the event is off to a good start, given that it is situated in a rapidly growing city with an emerging industry and many industry attendees said they expect the event to draw more and more colleagues in coming years.
A number of insiders gathered for a private luncheon cruise at the fest's midpoint. Among those toasting festival director Neal Stephenson and saluting the growing event's notoriety during the intimate gathering were Fortissimo partners Wouter Barendrecht and Michael Werner, Sundance's Geoff Gilmore, Ido Abram from the Binger Film Lab, Violeta Bava from the Buenos Aires Festival International de Cine Independiente, and Ivy Ho from the Hong Kong – Asia Film Financing Forum and the Hong Kong International Film Festival, Colin Brown from Screen International and numerous festival filmmakers. Producer Ted Hope, Marcus Hu from Strand, Peter Scarlet from the Tribeca Film Festival, Nancy Collet from AFI Fest, Chris McDonald from Hot Docs, Laird Adamson from HD Net International and Patricia Finneran from SilverDocs were among the North American insiders who made the trip to Dubai for this year's event.
Some attendees groused about logistical snafus early in the week, but planners seemed to mostly get a handle on details as the fest entered its midpoint. Some guests were shut out of high-profile gala screenings early on during the event when they were told that the showings were entirely sold out, only to discover later that the films were screened to less than capacity audiences. And another detail that ruffled a few feathers was a strictly enforced black tie policy on opening night that left a few stuck outside for a lavish beach spread that included countless food stations, a bountiful dessert cabana and a live performance by Mos Def.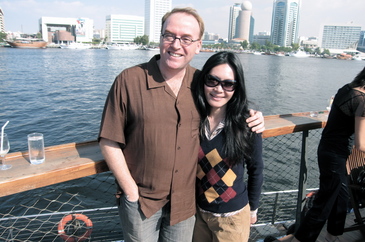 Other prize winners in Dubai this year included the Gold Muhr for best short film to Palestinian director Shereen Diabes for "Make a Wish," along with the silver prize to Anis Laswad from Tunisia for "Magic Crop" and the bronze to Sameh Zobi from Palestine for "Be Quiet." Meanwhile, UAE Film Awards went to a pair of writers and one director. Walid Al Shehhi, who participated earlier in the week in a discussion about Emirati filmmaking, won for the prize for most promising overall filmmaker, winning a cash award, while Mohammed Hassan Ahmed was honored for the short film script for "Timbak" and a second-place prize went to Yousef Ibrahim for "Yatina," while a third prize went to Ahmed Salmeen for "Al Garsha" (the Bottle).
"We have no problem discussing sensitive issues in the UAE," explained Waleed Al Shehhi, during the recent press conference for directors participating in the Emerging Emiratis section of DIFF (see separate indieWIRE Dispatch from Dubai). "This is no problem for us." Continuing, he added, "Our films try to reflect aspects of our society."
Sign Up: Stay on top of the latest breaking film and TV news! Sign up for our Email Newsletters here.