Andy Warhol's mostly unknown former lover, an avant garde musician who can count some of the world's most famous artists in popular music among his legion of fans, and an eccentric symbol behind one of the world's most powerful fashion houses are the rather mysterious, but highly creative subjects of three new documentaries that screened during the Berlinale this week. To varying degrees, Danny Williams, Scott Walker and Karl Lagerfeld have garnered attention and etched an indelible mark on art and culture, though the three individuals remain enigmatic personalities.
"A Walk Into The Sea"
"A Walk Into the Sea" director Esther Robinson began her seven-year journey with her Berlinale Forum doc while working at the Creative Capital Foundation housed at the Andy Warhol Foundation in Manhattan. During an off-chance visit at work, her grandmother told her that her second son, Robinson's uncle, had been Warhol's lover back in the artist's '60s heyday in a period widely remembered as the "Factory Years." The revelation was surprising, and complicated by the fact that Danny disappeared many years earlier under mysterious circumstances. With the help of the curator of the Andy Warhol Film Project, Robinson tracked down a "forgotten" box of 16mm film at the Museum of Modern Art containing his name, revealing an unexpected treasure-trove of work created by Williams with lost images of The Factory and The Velvet Underground.
"Once I saw [my uncle's] films, I knew I had to make a film about [him]," Robinson told indieWIRE prior to a screening of her film in Berlin. "My family never talked about [Danny's life]. I think every family has 'a thing' you're not supposed to bring up… there are these things you're trained to avoid, but once I saw his films, that was a [major] impulse."
In some cases, the Warhol superstars are equally evasive about Danny Williams, who was Warhol's lover and also a talented lighting designer and cameraman working on many of the artist's projects in the 60s. Robinson traces, in the personal feature documentary, her uncle's overlooked connections to Warhol and the factory via the insider images her uncle captured in footage shot at The Factory along with scenes of Warhol superstars including Edie Sedgwick, Billy Name, Lou Reed, Brigid Berlin and others. While she interviewed many of the surviving personalities of the era, though some were not as lured by the attraction of the camera as they were in the uproarious '60s. "It was difficult to get people to be in the film," said Robinson, who nevertheless persevered and scored conversations from many of the Warholites. "In Danny's case, they were [more hesitant] to talk." Robinson went on to speculate that guilt may play a part, and also the fact that the surviving group have "grown tired" of recalling the period.
Despite the access challenge, Robinson also felt motivated to give her uncle his due. "It is clear that Danny designed the light show for The Velvet Underground," she says of her uncle, who choreographed the pulsating psychedelic flashes for the band's early Exploding Plastic Inevitable shows. "And there are still more films not accessible…"
"Scott Walker – 30 Century Man"
"Someone I dated gave me a big joint around 1990 and sat me down and said 'you have to listen to this,'" recalled director Stephen Kijak ("Cinemania") on his first encounter with solitary singer Scott Walker. Fast forward to 2001, Kijak began his sojourn to illuminate the artist's work with an initial fax request. "We wanted to do something cinematic, and he liked our vision," recalled Kijak adding that others had tried to solicit Walker's participation before without luck.
Earlier this week he screened his latest documentary, "Scott Walker – 30 Century Man," in the Berlinale's Panorama section. The film features interviews with Sting, members of Radiohead, Brian Eno, Jarvis Cocker, Damon Albarn, Alison Goldfrapp, Johnny Marr, Marc Almond, Ute Lemper, Simon Raymonde (Cocteau Twins), Gavin Friday, and Dot Allison.
"The Sun Aint Gonna Shine Anymore" became an international hit in the mid '60s for pop band the Walker Brothers, formed by American bassist and lead singer Scott Walker. Near the height of their fame, the band separated in 1967. Instead of going solo and vying for the attention of screaming groupies, Walker recorded dark sounds and challenging lyrics on solo records that are widely viewed among his more famous peers as some of the most influential in pop history, despite their limited commercial success. "I've become the Orson Welles of the music industry," Walker has been quoted having said in a Berlinale description of the film. "People like to lunch with me, but nobody wants to finance the film."
Through a chance connection via a "friend of a friend of a friend" who knows David Bowie, a huge Walker fan, Kijak was able to solicit the help of the famous singer in creating the film. "Scott is one of the artists he feels the most about," he said of Bowie (who also appears in the film), adding with a chuckle during a post -screening Q&A in Berlin, "we thought it would be great if he'd given us heaps and heaps of cash, but we knew he'd be [critical] in getting [the project] international attention."
And most essential, Scott Walker himself agreed to participate. "At first [he'd] speak to Stephen with his hat on," said producer Mia Bays describing how he maintained his own distance even while granting an unprecedented on-camera interview. "[Eventually] the hat came off."
"Lagerfeld Confidential"
Perhaps the most widely identifiable of the three, Chanel maverick Karl Lagerfeld has nevertheless shrouded himself in the eyes of his legions of fans in a veneer of black, dark sunglasses, severe collars, ubiquitous rings and lacey flamboyant fans. French director Rodolphe Marconi, whose first short film "Stop" won the Cannes jury prize in 1999, had set his eyes on Lagerfeld awhile before receiving access. "I had had the idea for some time, many years in fact," recalled Marconi during a post-screening press conference in Potsdmer Platz during the fest. "I met his assistant, and she [randomly] called me up a few months later and said that I'd be having lunch with [Lagerfeld]."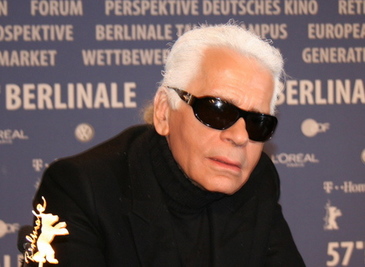 "It took me some time to get to know Rodolphe," said Lagerfeld who spoke English, French, but mostly his native German during the press conference. "I knew his work… I knew how it would look."
The film, "Lagerfeld Confidential," gives an insider view of the inner-circle and passions that swirl around Lagerfeld, including his love for photography as well as a behind-the-runway look at some of Chanel's catwalk extravaganzas. Lagerfeld speaks freely of his philosophical take on life. "My life is change, the principle of my life is change," Lagerfeld asserts, saying he "is only as good as his previous collection." Still, the images of him photographing actress and Chanel model Nicole Kidman, visiting Monaco's Princess Caroline or taking time off at his retreat in Biarritz nevertheless presented a figure who appears intoxicated by his work (even in Biarritz he indulged in photographing a then unknown model, who then became sought after), though one scene delved into the personal.
"Why don't you just ask what you really want to ask," said Lagerfeld in the film when Marconi surreptitiously inquired about his sexual orientation. Lagerfeld met the director head-on recalling his homosexuality as a youth, and his parents' progressive reaction — basically they didn't care.
Yet, the film seems to enhance the enigma in a certain respect, which Lagerfeld appears to readily promote. He said, "What is the real Karl Lagerfeld…? Circumstances determine what is reality…"
indieWIRE's coverage from the 2007 Berlinale and the European Film Market continues in a special section.
Sign Up: Stay on top of the latest breaking film and TV news! Sign up for our Email Newsletters here.