One year ago here in Cannes the American film "Shortbus" captured sex, love and music among a group of New Yorkers. This year, a new French film hits some similar notes. While not as graphic in its depiction of sex, Christophe Honore's "Love Songs" (Les Chansons d'Amour), which premiered Friday night at the festival and opens in France next week, is a modern musical looking at the lives and loves of a group of young Parisians. A collaboration between Honore and musician Alex Beaupain, the film features Beaupain's songs sung by actors Louis Garrel, Ludivine Sagnier, Chiara Mastroianni, Clothide Hesme, and Gregoire Leprince-Ringuet.
The idea for the project emerged back in October. On the heels of his new film "Dans Paris," Honore approached Beaupain about building a screenplay around some of Beaupain's songs. Despite some friction that the two acknowledged during a press conference Friday, Honore enlisted his longtime friend to adapt some of the tunes. Beaupain also wrote new music for the movie.
The dynamics of a three-way relationship open the three-part story, which features playful sexuality among the cast in various combinations over the course of the film. The idea was to explore characters who are unable to express their feelings, Honore explained during Friday's press conference, noting that the songs were the opportunity to do so. For the French filmmaker, the project was equally liberating.
"I have never dealt with love in my films," noted Honore. "As in life, its sometimes difficult to be in love, so these songs allowed us to achieve a certain kind of lyricism and deal with emotions." Picking up the thought later, Honore added that he sees his own films changing. "I think more and more in my work I am beginning to admit that I am making films for audiences." He explained that early on he avoided any considerations about how people might receive his films. "Now, I am trying to share emotions — the audience is the main issue. These are films that I want to share and to have the film here in Cannes is a jewel."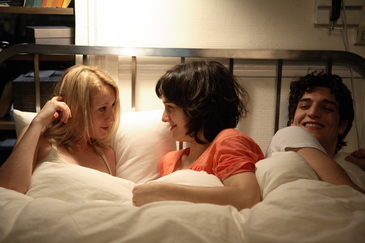 For some journalists at Friday's session, the film evoked the tradition of the Nouvelle Vague, or French New Wave of filmmaking from the 50s and 60s. Honore said that he was not a child of the movement, but he sees a connection with the spirit of independence he and his collaborators felt.
"I think [this film] has a kind of link with the New Wave because we are in a similar situation today," Honore said, criticizing the rigid process of mainstream filmmaking here in his own country.
"There is a return to an academic cinema as there was in the 1950s. People are talking about the difficulty of making artistic films." Continuing the thought, he added that the way to get around such hurdles can be by making films quickly with people he is close to or has worked with before.
"This idea of getting together ideas and resources is a lesson of the New Wave, you can do this without discarding artistic demands." [Eugene Hernandez]
THE PARTY CIRCUIT: Market Madness
While Cannes opened with a "Blueberry" bash on Wednesday night just outside Cannes, the massive Marche du Film (featuring 10,000 films buyers and sellers from around the world and some 1,500 screenings of films) officially kicked off on Thursday night with a beach party at the Majestic Hotel. Even though most buyers and sellers have been doing deals since Monday at the world's largest film market, the annual outdoor party offered a chance for four solid hours of face-to-face networking amidst a bountiful spread of food and drinks at stations spread throughtout the sandy Mediterranean beach and adjoining dock.
Overheard at the party was a conversation between two attendees that sums up the Cannes Market well:
"I was talking to someone today and I asked him what sort of product they we're looking for," one marketgoer told the other. "And he said, 'I don't look for product, I watch movies."
The two suited men had a hearty laugh at the comment and the other reacted, "Then what's he doing here? He's in the wrong place."
Meanwhile, on a hill above Cannes, an even larger crowd of festival attendees filled the sprawling grounds of a local villa that has been reworked as an additional outpost of M1nt, dubbed the world's first shareholders members' club (with branches in London and Hong Kong). The club launched its Cannes run with Thursday night's bash that included Basement Jaxx on the DJ decks and partiers ponying up top dollar for full bottles of alcohol. Guests were shuttled to the spot in London Black Cabs, branded with logos for the week.
Revelers mingled alongside the pool and others danced from an elevated platform overlooking the large lawn. Spotted in the crowd included male supermodel Markus Schenkenberg as well as a number of other celebs who were spotted and rumoured to attend including: Cameron Diaz (supposedly wearing a wig), Gerrard Butler, Lily Cole, Brittany Murphy, and Danny Masterson. Jessica Simpson was on her way, but didn't make it in the end (according to an insider). She is apparently coming later in the week along with Daniel Craig, Kurt Russell and Caprice.
Oh, and Ivana Trump is having a party at the hotspot next week! [Eugene Hernandez]
PAVILION PROFILE: German Films Score at Home and Abroad
Germany scored well this year with Florian Henckel von Donnersmarck's "The Lives of Others" (Das Leben der Anderen), which took the Academy Award for best foreign-language film. This year, the Germans are continuing strong with their extensive Cannes line up spearheaded by Fatih Akin's drama "The Edge of Heaven" (Auf der anderen Seite). The film centers on a son's quest to find the daughter of his father's Turkish lover, who suddenly dies while living in Istanbul where her rebellious nature lands her in prison. The country also has films in Cannes' various other sidebars including Un Certain Regard ("And Along Come Tourists," "You the Living"), Cinefondation ("Halbe Stunden"), Directors' Fortnight ("Counterparts") and Critics' Week ("The Mosquito Problem and Other Stories").
"This year has a much better line up," commented German Films Managing Director Christian Dorsch Thursday afternoon on the seaside deck at the German Pavilion. "[Our purpose] is to take care of films here within the official selection." Like most Pavilions, the Germans set up their beachhead to promote local work, though the various regions within Germany also try to lure production to their particular localities within the country. "Of course there is some competition with each other," said Dorsch.
The various film organizations within Germany jointly finance the German Pavilion, which primarily serves as a place for meetings and interviews with press. The venue also is a social outlet with wine served every evening. But promoting the film biz and encouraging foreign producers to set up joint productions with their Teutonic counterparts remains a priority. High profile visitors including prominent German directors and the country's Minister of Culture will also attract exposure in addition to German Films' main reception taking place at a villa in the hills overlooking Cannes.
In addition to parties, German Films subsidizes Market screenings of their country's line up, which will hopefully yield a positive return down the road. Market share for local films has grown to 25% last year, according to Dorsch, which is the highest it's been in the post-war era. Still, there's some ways to go. France's market share for its films is in the high 30s, the highest in Western Europe. Still, the Germans have room to celebrate. Said Dorsch, "There is strong attention in Germany and abroad [for German films], and we want to keep the fire burning." [Brian Brooks]
The latest from the 2007 Festival de Cannes is available anytime in indieWIRE's special section.
Sign Up: Stay on top of the latest breaking film and TV news! Sign up for our Email Newsletters here.