[EDITOR'S NOTE: indieWIRE's monthly production report looks at independent films in various stages of production. If you'd like to tell us about a film in production for future columns, please contact us.]
In August's edition of indieWIRE's production column, Jason Guerrasio profiles five new films in various stages of production. This month's group includes James Rasin's "Beautiful Darling," Fernando Meirelles' "Blindness," William H. Macy's "Keep Coming Back," Richard Ledes' "On The Hook," and Joe Leonard and Jace McLean's "Sons of Liberty."
"Beautiful Darling"
Starring in Andy Warhol films like "Flesh," and "Women in Revolt," along with being immortalized in songs like The Velvet Underground's "Candy Says" and Lou Reed's "Walk on the Wild Side," Candy Darling became an icon in the New York underground scene of the '60s and '70s. Now her life is the subject of a documentary directed by James Rasin.
Using archival photos, interviews from the likes of Warhol and Tennessee Williams (who cast her in his play "Small Craft Warnings"), along with contemporary ones from John Waters, Michael J. Pollard, Peter Beard, Julie Newmar, Taylor Mead, Fran Lebowitz and even people from Candy's childhood back in Massapequa–when she was known as James Slattery–Rasin not only explores the life of this trendsetting transgender but remembers a forgotten time in New York City.
Rasin says the first time he knew of Candy Darling was as a kid listening to "Walk on the Wild Side," and since then has always been fascinated by Candy and the underground scene. Then last year Jeremiah Newton, the executor of Darling's estate, brought Rasin to see a one woman play he wrote about Darling. Discussions followed about a Darling documentary. "It's a story of self-invention and in some ways she's a piece of artwork herself," Rasin says. "She's the epitome of post-modern."
Currently, Rasin is finishing filming interviews and is looking for a narrator. Producers are Newton and Gill Holland ("Sweet Land"), executive producing are Paul Morrissey and Michael J. Newman, D.P. is Martina Radwan (who's shooting on HD) and the editor is Zachary Stuart-Pontier.
"Blindness"
Fernando Meirelles ("City of God," "The Constant Gardener") has begun filming his latest film, based on Nobel Prize-winner Jose Saramago's novel. Starring an A-list ensemble that includes Julianne Moore, Mark Ruffalo and Danny Glover, it will be shot in Brazil, Canada and Uruguay.
In the story, a city is struck with an epidemic of sudden blindness that spares almost no one. As the town spirals into disorder, a doctor's wife (played by Moore) is one of the few who still has the ability to see and guides her husband (Ruffalo) and seven strangers to safety.
Reports claim that Saramago had been approached by many filmmakers to adapt his novel over the years but agreed to have Meirelles make it after a meeting with the film's screenwriter Don McKellar (who also stars in the film). With most of the reported $25 million budget coming from Japanese funders, the film has actors from all over the globe, including Gael Garcia Bernal (Mexico), Yusuke Iseya (Japan) and Alice Braga (Brazil). Meirelles and the producers were unavailable for comment, but producer Niv Fichman told Canadian newspaper The Globe and Mail in June the reason behind Meirelles's international cast. "The university of the cast, representing people from all walks of life, was Fernando's idea," Fichman said. "He was inspired by [Saramago's] great masterwork to create a microcosm of the world. He wanted it cast in a way to represent all of humanity."
Produced by Fichman's Toronto company Rhombus Media, Sonoko Sakai of Japan's Bee Vine Pictures and Andrea Barata Ribeiro of Brazil's 02 Films, the film will be distributed in the U.S. by Focus Features. Filming will wrap in October with a release slated for spring 2008. Executive producers are Simon Channing-Williams and Gail Egan.
"Keep Coming Back"
William H. Macy prepares for his feature film directorial debut, which will begin shooting early next year and stars Salma Hayek, Steve Buscemi, Mos Def and Victor Rasuk. Written by Will Aldis, the story follows a teenage boy named Taylor with a rare heart condition who befriends an ex-junkie (Hayek).
The interest to direct came to Macy two years ago while he was looking for new challenges outside of acting. After trying his hand at screenwriting with partner Steven Schachter in the upcoming film "The Deal" (which Schachter also directs), Macy got Aldis's script through his agent. "I didn't even know what role they wanted me to play," Macy recalls (he will be playing a doctor), "but I saw it so clearly that I asked if I could be considered to direct it and much to my surprise a month later they called me up and said, 'You want to direct it?'"
Since then producers Dan Keston, Rachel Rothman and Tucker Tooley have secured financing and due to Hayek's pregnancy have moved filming to January 15 in either the Carolinas or New Orleans. Macy says one of the aspects he's most excited about are the scenes where CGI will be used to show Satan (played by Buscemi) tormenting Taylor. "It's quite a high wire act in terms of storytelling," Macy says. "It's a small film yet it has great expectations."
And with a moderate budget (under $10 million) and a top-flight cast, Macy is confident the film has a place in the always-shifting indie marketplace. "I'm not into doing a little independent film that everybody's pleased someone made but no one wants to go see," he says. "I'm swinging for the bleachers here, I feel this story is big and the humor is genuine and it's beautiful."
Macy is currently auditioning actors for the Taylor role along with hiring key crew. ContentFilm will handle the film's international sales.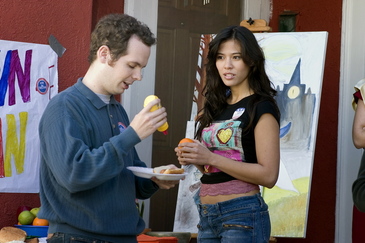 "On The Hook"
In his second feature, Richard Ledes ("Hole In One") adapts French screenwriter Alain-Didier Weill's suspense thriller with Frank Langella and Elliott Gould as the film's stars.
Langella plays Jimmy Stevens, a Senior VP of an international energy corporation who hires a private investigator (Gould) to follow him after going public with his company's corrupt practices. "It's basically figuring out why that's going on," says Ledes who sat down with indieWIRE on the set after filming a scene with his two stars in a Lower Manhattan restaurant. "The audience will immediately be aware of something that the detective doesn't know about Jimmy, it's kind of that relationship between these two men which is the driving force of the story."
Ledes, who lived for ten years in France before coming to the States, was back in Paris a few years ago after making "Hole In One" when he read Weill's script, which by that time had been published as a novella in France. He got the rights and started rewriting the film for a New York City setting.
The director says one of the biggest lessons he's learned from this film came from working with Gould and Langella (who along with filming "On The Hook" is still on Broadway doing "Frost/Nixon" and is in pre-production on the film adaptation directed by Ron Howard), who have different styles but both tirelessly prepared in pre-production. "I like to compare them to two boxers that have extremely different styles," Ledes says. "Elliot's approach is kind of intuitive while Frank is very meticulous and in a way that kind of reflects why they are good for their particular characters."
Produced by Belladonna Productions' Linda Moran and Rene Bastian ("Transamerica"), shooting will wrap at the end of the month. The D.P. is Stephen Kazmierski ("Dedication"), who's shooting on Super 35 mm, and the editor is Madeleine Gavin ("Mean Creek").
"Sons of Liberty"
Three friends living in L.A. search to find purpose in their lives in this comedic drama co-directed by Joe Leonard and Jace McLean.
Friends since their days going to school in New York, where McLean starred in Leonard's films at NYU, the two became roomies when they moved out to L.A. and after making a few short films, McLean decided to take the leap into features by penning a script for them to co-direct. After a year of passing drafts back and forth, Leonard, McLean and their third roommate, producer Jared Parsons, started production last January for around $50,000, shooting in their apartment and areas of L.A on a VariCam.
In the film, roommates Tristan (Peter Kinney), Linus (Benjamin Seay) and Brogan (McLean) try to hold onto the last strand of youth they have, but quickly learn it's time to become adults. Tristan is a painter, who through doing a portrait of Paul Revere, and sleeping with the client, realizes his own political aspirations. Linus falls in love with their neighbor who is in fact the wife of a solider fighting in Afghanistan, and learns a lot from the husband when he returns home. While Brogan struggles with his acting career and continues to delay his marriage to his longtime girlfriend. "The film's really about realizing when it's time to grow up," McLean says. "The pressures today are different from past generations, maybe we have fewer pressures. My parents' mindset was to get married and have kids, today people aren't getting married, they go out and do all this great stuff, but when is it time to start thinking about the rest of your life and stop being a kid?"
Currently in post, the D.P. is Christopher Chambers and the editor is Gabriel Reed. The film is being produced through Blatantly Subtle Productions.
[For more information, please visit their website.]
Sign Up: Stay on top of the latest breaking film and TV news! Sign up for our Email Newsletters here.