Hungarian director Csaba Bollok took home the Reykjavik International Film Festival's "Discovery of the Year" award over the weekend, capping the eleven-day event in Iceland's capital. Though the festival is somewhat overshadowed Stateside by the New York Film Festival, which takes place concurrently, its northern counterpart has continued to attract an impressive list of guests, including this year Finnish director Aki Kaurismaki, who received the festival's Creative Excellency Award from the President of Iceland as well as other special guests, including American filmmakers Larry Fessenden and Oscar-nominated doc director James Longley.
"I imagined doing a sequel to 'Wendigo,' so I started thinking snow and I imagined Alaska…," said Fessenden about his latest film, "Last Winter," which screened at RIFF. It came clear we couldn't film there though, and my producer turned me on to Iceland. There were also some financial attractions to filming here." "Winter," currently in theatrical release in the U.S. via IFC First Take, focuses on an advance team in the Alaskan Arctic working for a petroleum company. After one member of the group dies under mysterious circumstances, a fear slowly grips the team as spirits haunting the tundra creep closer.
Fessenden's project is just one in a country currently experiencing an upswing in production of both homegrown and foreign production. The government has increased its production tax rebates to 14% (12% previously) according to Icelandic Film Centre director Laufey Gudjonsdottir, while direct funding has been set at $10 million through 2010. The official support underlies a country of film fans. Iceland's official entry for foreign-language Oscar consideration, "Jar City," by Baltasar Kormakur (which IFC will release in the United States) lured fully one-third of Iceland's 300,000 people to theaters during its domestic run. In addition to a host of domestic awards, the Toronto '07 feature also won the Crystal Globe award at the Karlovy Vary International Film Festival this summer. RIFF itself also experienced an onslaught of local support, with 20,000 people showing up for screenings (that's 7% of the country's population).
The seat capacity is nearly 90%, which was a lot more then 2006," commented RIFF director Hronn Marinosdottir to indieWIRE. "I am the founder of the festival which started four years ago. [That] first year, we screened 16 films of Icelandic filmmakers living abroad. [Now] a few hundred foreign visitors and most likely half of Reykjavik's citizens go to the theaters."
RIFF opener "Sigur Ros-Heima" (world premiere) brought out the crowds on the festival's opening night. The doc, directed by Dean Deblois, revolves around moody Icelandic band Sigur Ros' "unexpected" two-week tour around Iceland and its gig in the remote town of Olafsvik, which marked the end of a 13-month tour the band made in support of its third album, Takk. Over 1000 people came out for the opening night party, according to one fest organizer, in addition to the band itself.
Easily selling out his Tuesday night screening of "Grandhotel," Czech director David Ondricek joked with the audience, even taking a swipe at Iceland's reputation as an expensive destination. When asked by an audience member how much it cost to stay at the hotel, which forms the backdrop for his film about an amateur meteorologist who fantasizes about flying away from the hotel and thus his drab life, Ondricek responded merrily, "it's expensive for us, but for you it's cheap…" (Czech film fans can see "Grandhotel" and others at BAM in New York November 14 – 18). Ondricek, who received a "Spotlight" at this year's Reykjavik, said his next project will be very different then "Grandhotel." "My next film will take place in the '50s, a very dark period for Czechs."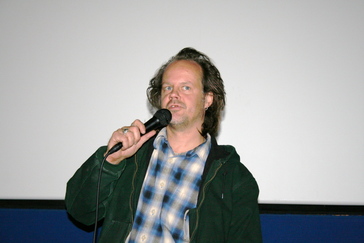 Like other festivals that take place in locales visitors find appealing, RIFF must compete with its own country in drawing foreign guests into theaters and panels. But, Reykjavik organizers have embraced their country's impressive physical environment, setting up day tours outside the capital for guests, including one to Pingvellir, the site of the world's first parliament (established in 930) and the site of the Atlantic rift. Guests on the trip, including German actress Hanna Schygulla, who traveled to the festival to receive a Lifetime Achievement Award as well as filmmakers Ondricek and Serbian director Srdjan Golubovic ("The Trap") listened to a guide talk about how the rift, which runs right through Iceland, is separating the North American plate from the Eurasian plate. "Buy property and wait a little while… it will grow," he joked.
Schygulla was clearly the grande dame of the tour. The actress who appeared in many R.W. Fassbinder films traveled with her pianist Stephan Kanyar for a concert in addition to support RIFF's look at some of her work, including roles in the late Fassbinder's "The Marriage of Maria Braun," "Effie Briest," "Veronica Voss," "The Bitter Tears of Petra von Kant" and more.
In addition to the win for "Iska's Journey," Danish debut feature "The Art of Crying" by Peter Schonau Fog took both the festival's FIPRESCI prize as well as the Church of Iceland award. Anton Corbijn feature on the life of Joy Division lead singer, Ian Curtis, "Control," meanwhile took the festival's audience nod. And Belgian director Jawad Rhalib's doc "El Ejido, the Law of Profit" about immigrants in southern Spain won the Amnesty International award.
Sign Up: Stay on top of the latest breaking film and TV news! Sign up for our Email Newsletters here.