There's no question that documentaries have dominated the first weekend of the Sundance Film Festival; critically and business-wise, docs seem to be stirring the most talk. "No fiction films have sold yet?" one leading independent film producer emailed indieWIRE this morning, "That is crazy." While later, the head of a leading distribution outlet — chatting with iW — noted that documentaries and international narrative films have been the best of Sundance so far, while American dramatic features are lagging behind. Insiders are watching to see if the tide turns for narrative features in the dramatic competition and Spectrum sections of Sundance. Early reviews of films such as Neil Abramson's "American Son" and Jonathan Levine's "The Wackness", as well as good buzz for films such as Lance Hammer's "Ballast", indicate there may be hope for American narrative features at the festival.
In another Park City dispatch looking at three buzz documentaries today, indieWIRE weighs in from their world premiere screenings this weekend, including: Nanette Burstein's "American Teen," Tia Lessin and Carl Deal's "Trouble The Water," and Patrick Creadon's "I.O.U.S.A.".
Teen Life Up Close
Love trauma, bullying, spin the bottle, cat fighting, sexual experimentation, alienation, alcohol use, parental stress, insecurity and the pressure to get into college… These issues and more form the backdrop to Nanette Burstein's spectacularly received "American Teen," which had its world premiere Saturday afternoon in the Sundance documentary competition. Over the course of their senior year in a conservative mostly white small town in Indiana, the film intimately captures the lives and tribulations of four different teenagers. The film stirred immediate interest among buyers and a deal is expected, but it remains on the market as of dinner time Sunday evening in Park City, according to an informed insider.
Hannah Bailey is an artistic, smart misfit whose liberal politics and personal style fly in the face of her mostly traditional conservative town. Colin Clemens is the star of his the basketball team, who is not only basking in the glory that this sports-obsessed town bestows on him as a talented athlete – he's also playing so he can receive a scholarship to college. Jake Tusing is considered the school's nerd. Though charming and witty in one-on-one situations, he's painfully shy and self-deprecating to the point of pain in group situations. And there's Megan Krizmanich, the popular girl everyone loves to hate. She's the daughter of a prominent surgeon, the student council vice president as well as gifted, pretty and popular.
Presented in a style reminiscent of MTV's once wildly popular "Laguna Beach" series, the film may ruffle some feathers of those who strictly prefer to verite style documentaries. When one teen calls a friend, for instance, the camera is there to capture the other answering the phone. Nevertheless, the pace, warmth, and fascination with the film's charismatic subjects won over the Sundance audience Saturday, when the director and the teens were greeted with wild applause and howls from the crowd.
"I hope it comes through in the film how special they are…" said a beaming Burstein after the applause quieted down. Asked by an audience member how she was able to receive such intimate access to their personal lives, she admitted to a bit of tumult with her subjects.
"I wasn't going away… I picked people I really liked and I bonded with them. I'm sure I was really annoying sometimes." She also confessed to being drawn into the emotional drama at times. After Hannah Bailey broke up with her long-time boyfriend and suffered a personal breakdown, Burstein provided an emotional crutch for the teen. "There's give and take. You can't just see things happen to people and not get involved with their lives."
"I think it's a great way to look back on our senior year," said one of the teens. "People are so much deeper thea they first appear to be." Added Hannah, "It was really us…" and Megan admitted flatly, "I really was a bitch!"
A Personal Look at Life After Katrina
Tia Lessin and Carl Deal's "Trouble the Water" had its world premiere earlier today in Park City, UT. As the credits rolled, the audience jumped to its feet, giving the film a rapturous applause, one of the warmest witnessed so far. The film gives a personal account of Hurricane Katrina via New Orleans filmmaker and musician Kimberly Rivers and her husband.
"There are peoople still in the waters," said Rivers after the screening. "I hope [the film] lets America know what is still happening. It's a reality check… And we need to do something different."
Lessin and Deal, who were part of the producing team for Michael Moore's "Fahrenheit 9/11," said that when making the film, they had approached the National Guard for footage, but were rejected and told, "'Fahrenheit 9/11' ruined it for all of you." They also asked the Navy for footage, but received the response, "we don't support films without distribution."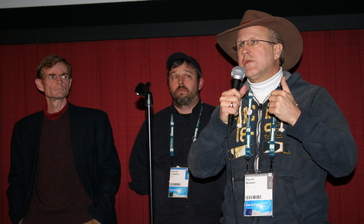 Facing Tough Financial Times
Federal fiscal policy, trade imbalances and politicians mortgaging the lives of future generations may not sound like a Saturday night at the movies with a tub of popcorn, but "Wordplay" director Patrick Creadon's Sundance documentary competition film "I.O.U.S.A." is crucial viewing for anyone who claims to care about America. Presented from a non-partisan viewpoint, the film deftly describes the country's looming fiscal brink. Mounting federal debt, combined with a huge trade imbalance and a decade of cheap credit that gave gluttonous consumers a material high. But, the bill to pay for the party is coming due.
Economics can easily cause an immediate glaze in the eyes of many, but Creadon's film creatively and even humorously breaks down the intricacies and details of a government whose economic policies are based on political expediency.
"We used to have the conflict between guns and butter," said David Walker, the Comptroller General of the United States, whose job is to oversee the Government Accountability Office (GAO) – also one of the personalities to appear in the film. Continuing at a post screening conversation Saturday, Walker added, "Now, our mantra is guns, butter and tax cuts. The next president better take this seriously, or I fear that we'll be in a much worse situation then a recession." Walker described the worst case scenario for the United States if nothing is done — complete bankruptcy and a massively reduced position for the U.S. in the world, though he seemed optimistic the pubic will eventually tire of political inaction before any complete demise.
Still, Creadon, Walker and others who took part in the film, including financier Warren Buffett hope the film will spur awareness and action to deal with the crisis head on. "We're sitting on the biggest adjustable rate mortgage in the world," concluded Creadon.
INTERVIEW | Peter Galison, co-director of "Secrecy"
"I know there's lots of cynicism about festivals, but I am looking forward to those ten days like a combination of the eight days of Hanukah and the twelve of Christmas," said "Secrecy" director Peter Galison (who made the film with Rob Moss) to indieWIRE, in a recent interview. Their film, screening in the documentary competition program, takes on the world of hidden national security policy and analyses the implications of this secrecy, both for government and individuals. Galison was quite optimistic about the Sundance experience. "I'm even looking forward to the chaos of deal-making, distribution, and industry side of things," he said. "Look, after four years lost in the making of the film, worrying about shortening a shot by a beat, improving a transition, introducing a theme, filling out a character–what a trip to see our film on a big screen with people who love movies and want to talk, argue, and party about them."
INTERVIEW | Noam Murro, director of "Smart People"
"This picture was challenging, if only because the characters are not necessarily people whom you immediately love," "Smart People" director Noam Murro told indieWIRE, in a recent interview. His first feature, premiering at a Sundace, is a dark comedy starring Sarah Jessica Parker and Dennis Quaid. "The issue, for me, was always how to keep the film simple," he said. "Not because we had limited shoot time, but because I wanted to get close to the characters, and I want the audience to have a chance to do that, too. I guess it's a delicate dance between comedy and drama, and then stylizing that, to a certain extent."
INTERVIEW | Geoff Haley, director of "The Last Word"
"'The Last Word' is a film about people desperate to make a connection in the most bizarre of ways.," the film's director, Geoff Haley, told indieWIRE, a recent interview. The film, screening in dramatic competition, is a dark romantic comedy set in Los Angeles, it follows Evan (Wes Bentley), a writer who makes a living writing other people's suicide notes. "Success as a filmmaker is as varied as there are filmmakers themselves," Haley said. "In my eyes, having the ability to make a personal statement with a film is my ultimate goal. If that statement is heard by a large number of people, that's icing on the cake."
indieWIRE's coverage of the 2008 Sundance Film Festival is available in iW's special Park City section.
Sign Up: Stay on top of the latest breaking film and TV news! Sign up for our Email Newsletters here.