[EDITOR'S NOTE: indieWIRE's monthly production report looks at independent films in various stages of production. If you'd like to tell us about a film in production for future columns, please contact us.]
In January's edition of indieWIRE's production column, Jason Guerrasio profiles five new films in various stages of production. This month's group includes Jerry A. Henry's "Economy Superstar," Mark Lipkin's "Frozen Butterflies," Aaron Greer's "Fruit of the Tree," Peter LaVilla's "Oak Hill," and Anton Jarvis' "Patsy."
"Economy Superstar"
After years shooting reality TV, Jerry A. Henry decided to begin work on his first documentary after meeting 24-year-old Milwaukeean Tim Hansen. Henry follows Hansen as he attempts his lofty ventures — everything from making a movie, creating a comic strip, even collecting beat up Toyota Camrys — but never following through on any of them.
Two years in the making, Henry first met Hansen while scouting for a show in Milwaukee and saw him at a car show stenciling cars and started a conversation. "Literally that night I called him and said, 'I want to come out to Milwaukee and hang out with you for a week,'" Henry says. "That's pretty much when I realized I had a film. I just had no idea that the person I would be following would end up to be such a dynamic character."
Once a week every month for two years Henry abandoned his job in reality TV and flew out to Milwaukee to film Hansen's "reality," and stayed at his house to save money. At the time Hansen was filming his own documentary on Subaru enthusiast Miles Fox. But working on the doc for seven years has blurred the lines between doc subject and filmmaker and things spiral out of control when Henry follows Hansen, Fox and Hansen's supposed girlfriend to New Orleans on a road trip which leads to a huge falling out. "One of the main things that comes out of the film is this notion of procrastination and how it's inherent in all of us and why people do it," Henry says.
The film, which Henry compares to "American Movie" and "Napoleon Dynamite," recently was in IFP Market's Documentary Rough Cut Lab this past year and Henry plans to shop the film around to TV networks and submit to festivals within the next few months.
Shot on DV, the film was shot, edited and produced by Henry and produced by Andrea J. Chia.
[For more information, please visit www.economysuperstarmovie.com]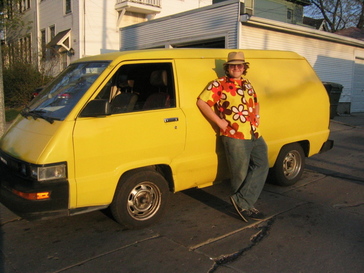 "Frozen Butterflies"
Aussie writer-director Mark Lipkin's latest film is an interlaced two-part story about different people from different environments who struggle to fill an empty void in their lives.
Currently in post, Lipkin shot the film on HD in and around Melbourne in the winter for 18 days. One story follows a Russian Jewish immigrant named Evgeny (Joseph Sherman) who hopes to bring his mentally ill sister to live with him and create a new life for themselves. While in the other story, Maja (Marguerite Tierney) copes with the neglect and disconnect she gets from her family by abusing drugs.
Beginning to shape the script in 2006, Lipkin reveals via e-mail from Melbourne that the inspiration to make the film came from a mixture of things. Being a Russian Jew himself, he knew first hand how difficult it was to adapt to the culture and wanted to explore that, while knowing people who were struggling due to their destructive lifestyles with drugs sparked the second story.
"Developing the Maja story was quite a challenge as most of the dialogue and additional scenes were adapted based on the outcome of workshops and character development," Lipkin says. "We shot the Maja story first in about 11 days and shot the Evgeny one in eight days."
Another challenge was casting the two leads. Though Lipkin had interest from professional actors, he decided to go with lesser known talents. "[Tierney] had the ambition and passion for the role and we decided to take a risk," he says. "For the Evgeny role it took seven months to cast. I finally met Sherman after a friend of mine put me onto this Russian-Jew guy who was into theatre. After seeing his performance I knew I had found Evgeny."
Though many films in Australia attempt to get financial backing from the government, Lipkin says he didn't want any restrictions on his film and hoped the Jewish community would be willing to come on with money. When that didn't happen he had to take out a loan and put up the film's 41,000 AUD ($37,000) budget on his own. But Lipkin says this was the only way to get the film he wanted made. "I want the audience to see a part of society in Melbourne, Australia that has never really had a platform to stand on," he says.
Currently in post, the film was shot by Benjamin Hidalgo De La Berrara, edited by Chris Mitskins and produced by Lipkin.
[For more information, please visit www.frozenbutterflies.com]
"Fruit of the Tree"
Chronicling the life of James Cameron, who survived being lynched on a summer night in Indiana in 1930 (a photo taken of the lynching is considered the most famous of such an incident), producer Fran Kaplan and director Aaron Greer ("Gettin' Grown") have been searching for financing for two years to get this film about one of the unsung heroes of the civil rights movement to the big screen.
Based in Milwaukee, WI, Kaplan has been close to the Cameron family since meeting James 15 years ago at America's Black Holocaust Museum (which he founded) in Milwaukee. She was taken by how open he was to talk about the lynching and the rest of his life, which included a five year prison sentence, and felt his story had to be told on a larger scale. "When most people go through a traumatic event they don't want to talk about it," Kaplan says. "James Cameron took this in the opposite direction. He wanted everybody to know about [the lynching]. He used his personal story to teach people about the black holocaust in America. This story isn't so much a bio pic as it is a story about mutual reconciliation and racial healing because that's what Cameron's life was about."
Though the script was accepted into the Tribeca All Access program last year, the project has struggled to get the film community on either coast behind it. Kaplan started with searching for a screenwriter. "We called the Organization of Black Screenwriters in Los Angles but everybody was either too busy or said they didn't want to spend their next two years depressed." Kaplan instead wrote a few scenes and sent them to Aaron Greer who liked what he read and told her to continue. With Kaplan writing the script and Greer directing, the final step is finding someone to play Cameron (who passed away in 2006 at the age of 92). "We do have agents of A-list talent reading the script," she says.
Much to the start of production depends on if they can get name talent involved, but Kaplan is moving forward by recently having a reading with local actors and hopes to begin shooting in Milwaukee later this year. Producers are Anthony Ferraro and Brad Pruitt.
[For more information, please visit www.fruitofthetree.info]
"Oak Hill"
Set in a homeless shelter in New Jersey, three troubled women find themselves living on skid row after falling from the heights of the entertainment industry.
Written and directed by Peter LaVilla, Sally Kirkland plays an aging actress battling alcoholism, Rosmary Gore is a burnt our stand up comic and Jeannie Evans is an exotic dancer.
"The film is very appropriate with what's been going on recently with all these celebrities checking themselves into rehab," LaVilla says. "So I don't know if I'm ahead of the trend or behind." But what really motivated LaVilla to tell this story was the memories he took from time spent in homeless shelters while as a reporter for the Jersey Journal newspaper decades ago. "[At the shelters] I would run into former opera singers, actors, even magicians," LaVilla recalls. "But then you had milk men and newspaper delivery men, clerks, they come from all walks of life. But [in making the movie] I wasn't looking for the sympathy angle. I was writing a story about three women who have these issues and how they deal with them and with each other."
Though LaVilla prides himself on making intimate, no-budget films set around the tri-state area, he knew he'd need a name actor to pull off the lead role of Elizabeth, the actress battling an alcohol addiction. With the help of Gore, who starred in LaVilla's previous film "Oil & Water," he was able to get Golden Globe winner Sally Kirkland to read the script. "Rosemary was on the cover of a magazine and inside there was a story on Sally so Rosemary contacted the editor and got the name of Sally's PR people. They gave me her number and I called her and sent her the script and within three days she got back to me saying she wanted to do it."
The former mayor of Guttenberg, NJ, LaVilla was able to get one of its wealthy residents, Ralph Milo, to put up the film's budget and shot the film there, Union City (where they shot at the PERC Shelter Home), North Bergen and Bayonne.
Recently wrapping on principal photography, the film was shot on DV by Brian Timmons who has also begun editing. Producers are Kirkland and LaVilla.
"Patsy"
Wanting to get a bunch of his acting friends together to make a film, filmmaker Anton Jarvis ("I Am Tandem," "Swedish Apple Pie") wrote up a dark comedy, got everyone down to Palm Beach, FL and in 12 days last June created a film he calls "a little home movie."
Jarvis says the process to make "Patsy" — which follows Lenny (Brett Golov), a suicidal schizophrenic who owns a clothing store filled with colorful characters, but when Patsy (Christine Lakin) comes into the store the lines between reality and illusion become blurred — evolved very organically as they were able to capitalize on situations which made the lead up to filming develop quickly. First, Jarvis learned that Brett Golov had friends in the Palm Beach area who were financially well off and could help with housing the actors who came down from L.A. and New York along with helping to finance some of the film. Then due to filming scheduled during hurricane season, the Palm Beach Film Commission was very welcoming to the production. "Let's just say Mother Nature gained herself the most worthy credit," Jarvis jokes.
Jarvis, who was a painter in New York and then an aspiring actor in LA before turning to directing, had been thinking of making a film about schizophrenia for a while, as a good friend of his had succumbed to the illness. But he says "Patsy" is also funny and was a collaborative process that he can best describe by comparing it to an old trade. "This was kind of like a painting and everyone started slapping on layers of color," Jarvis says. "I just did everything I could to capture everything as the layers were applied before the paint dried."
Shot last June on HD by Jarvis, he's currently editing and hopes to send it to festivals by the spring. Film is produced by Jarvis and Golov.
[For more information, please visit www.patsyfilm.com]
Sign Up: Stay on top of the latest breaking film and TV news! Sign up for our Email Newsletters here.