When South by Southwest film festival producer Matt Dentler introduced "Nights and Weekends" on Sunday night with the observation that some people have started referring to the festival as "South by South Swanberg," he was only half-joking. As the makeshift figurehead of a movement loosely held together by the term "mumblecore," Joe Swanberg — the idea, not the man — was born here, where his rambling, virtually plotless accounts of white young people hanging out strike familiar notes year after year. "Nights and Weekends" is technically his first collaborative directorial effort — he shares the credit with "Hannah Takes the Stairs" star Greta Gerwig — but they're also the lead actors in a claustrophobic set-up that puts them on camera almost all the time, talking about nothing until something comes up, and you get the sense that there's less direction going on than simply flow.
Consistent with Swanberg's exploration of communication through sexuality, "Nights and Weekends" contains plenty of signature moments where the two filmmakers awkwardly rip off clothes and engage in conflicted bedroom antics. Fortunately, the uncomfortable explicitness informs the situation. Swanberg plays James and Gerwig is Mattie, lovers whose relationship comes under pressure as a result of geographical duress. When James travels from New York to visit Mattie in Chicago, the tears start flowing (Gerwig, also appearing in two other SXSW entries, puts viewers under a spell).
While the dramatic arc is easy to perceive, the first half of "Nights and Weekends" feels murky and indistinct, as though the directors needed to fill the time in between flashes of good ideas. The second half also suffers from elongated passages, but it manages to evoke a compellingly weird aura of mystery. A power shift takes place, allegiances are called into question and frustrations bubble to the surface, but there's never a coherent explanation or final wrap before curtain call. The ambiguity has a haunting quality, but I would hesitate to read into it as some kind of grand statement on the nature of breakups. That "Nights and Weekends" equally enthralls and confounds is a product of its specificity.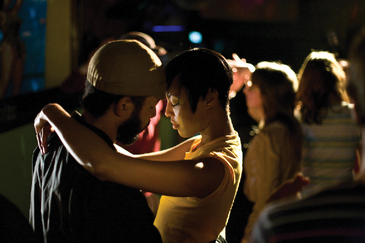 As a counterpoint, the warmly poetic festival entry "Medicine for Melancholy" examines the aftermath of a breakup and finds some semblance of hope. At a packed screening earlier this week, one of the audience members asked during the Q & A session whether director Barry Jenkins' first film could be deemed mumblecore. In this case, the label would seem like condensation. A fiercely intellectual story about two San Francisco residents hanging out the day after a one night stand, "Meloncholy" is too streamlined, or coherent, to justify the title.
Jenkins' leads, Wyatt Cenac (a stand-up comic performing during SXSW) and Tracey Heggins, carry the movie with the nuances of parting glances and silly retorts. As they wander around town, Cenac's character makes increasingly successful attempts to impress the disgruntled girl, eager to get over memories of his last girlfriend. Although it appears that their long-term future is unsustainable, the fleeting moments they share on the streets of San Francisco (boldly shot with nearly all the color drained out of the picture) coalesce into a natural portrait of human interaction. Cenac has some fascinating monologues about the city's dwindling African American population, but the movie never adopts a didactic tone. Yes, these are two young black characters with opposing views on social integration, but "Medicine" isn't a movie about race issues any more than "Manhattan" is about Jewish nebbishes.
Outside of the romantic arena but still bound to mumblecore expectations, Mary Bronstein's "Yeast" is one of the most original titles at the festival, although it's not nearly as esoteric as buzz might have you believe. Bronstein stars as a disgruntled New Yorker whose grungy roommate (Amy Judd) driver her crazy. After an early sequence where she hangs out with her frenetic pot-smoking friend (Gerwig again), Bronstein's character reaches a breaking point. In the bizarre finale, she finally has to confront her uptight mentality. However, it's never clear if she learns her lesson, because "Yeast" is entirely populated by unlikable people. That's to its credit: It's a cautionary fable about the inescapable discomfort produced by immaturity and directionless angst.
The dark humor of "Yeast" comes from a notable lack of hope; the finest SXSW alternative is "Woodpecker," a fake documentary about the hunt for a rare bird. Alex Karpovsky directs with a combination of soft wit and affection for Southern cadences. I'm usually resistant to the form of fake documentaries trying to tell a straight story (separate as they are from the incessant silliness of mockumentaries), but "Woodpecker" works thanks to a combination of its great protagonist and a believable situation. When word gets out that the Ivory Billed Woodpecker was spotted in the forests of Arkansas, a dedicated wild man named Johnny (Jon E. Hyrns) throws his idiosyncratic life into the task of finding the bird. Although he's a strange, unsettlingly driven man, as we spend time in Johnny's company, he morphs into an object of sympathy, to the point where you're rooting for him to succeed in his cuckoo task.
The latest coverage of SXSW is available in indieWIRE's special section.
Sign Up: Stay on top of the latest breaking film and TV news! Sign up for our Email Newsletters here.