In the fourth installment of short interviews spotlighting emerging filmmakers in the current series New Directors/New Films, indieWIRE received remarks from "Slingshot Hip Hop" director Jackie Reem Salloum about her film which focuses on the universality of hip hop as well as Celina Sciamma's film on teenage girls, "Water Lilies." Both films are screening in ND/NF, co-hosted by the Film Society of Lincoln Center and the Museum of Modern Art through April 6 in New York.
"Slingshot Hip Hop"
While America's image abroad has been battered of late, its music remains a unifying force in global culture. New York filmmaker Jackie Reem Salloum's first feature documentary on Palestinian rap, is an exuberant mix of live-action and animation. Beginning in Lyd, Israel, where Tamer Nafar heard Tupac Shakur and, influenced by Shakur's protest lyrics and fierce rhythms, formed DAM, the first Palestinian hip hop group, the filmmaker travels to West Bank communities and to Gaza to record what, in spite of poverty and military checkpoints, DAM hath wrought. That includes PR (Palestinian Rapperz), whose members hope someday to meet fellow rappers outside the confinements of Gaza; and the female rapper Abeer and the group Arapeyat, who are redefining gender roles in their societies. "Slingshot Hip Hop" is a rousing testament to the power of music and the aspirations of youth. (Description provided by the Film Society of Lincoln Center).
Responses by Jackie Reem Salloum, director of "Sligshot Hip Hop"
What initially attracted you to filmmaking?
I made a music video using a Palestinian hip hop song as an art project for grad school. When I screened it in a show the response was incredible. People barely paid attention to my other work and focused almost entirely on the screen. I also realized how easy it is to disseminate a video project compared to the other art I was doing. I posted it on the Internet and it was seen by more people than would ever make it to an art gallery in my lifetime. That's when I decided to try to make a full length film. And I'm definitely proud to have made a film that tells these rappers' amazing story, but I still find it difficult to call myself a filmmaker.
What was the inspiration for "Slingshot Hip Hop?"
As a Palestinian I find it hard to find hope in the face of so much daily destruction in the West Bank and Gaza and it often feels unstoppable. But when I first heard Palestinian hip hop, I felt inspired. I immediately knew that I wanted to make a film about this exciting movement because this was a powerful form of creative resistance with the potential to reach people throughout the world. Young Palestinians rarely get the opportunity to speak for themselves in the international media and this film aims to change that.
Please elaborate a bit on your approach to making the film…
I didn't start as a filmmaker looking for a project. The subject of this film drew me to be a filmmaker. Once I realized how compelling this story is, I committed myself to trying to tell it. Not having a film background, I didn't have the technical proficiency of most people, but at the same time that didn't constrain me into making a film in a traditional way. Luckily I didn't make any mistakes that couldn't be dealt with later, but I made plenty of mistakes. Some of those turned out to be the best part of "Slingshot Hip Hop."
What were some of the biggest challenges you faced in making and completing the film?
For starters, just getting into Israel as a Palestinian-American is a serious challenge. Some of my colleagues have been turned away at the airport and, with no explanation, been forbidden by the Israeli government from returning for years. And this is the risk I ran every time I entered Israel. When I wanted to film in Gaza, which is essentially a giant open-air prison, or the West Bank, I'd have to get through checkpoints and then I'm filming in a militarized zone. Sometimes we would be stuck inside the house because of an invasion or the electricity in Gaza would be shut off randomly for many hours so if my batteries weren't charged no shooting was happening.
Then there's also the challenge of the film being made with essentially no budget. But because I loved and believed in the artists in the film it kept me going through the really tough times. The latest challenge has been overcoming the maze of technical and legal issues that can be somewhat daunting for a first time filmmaker.
What are your goals for the New Directors/New Films?
My vision for "Slingshot Hip Hop" has always been to have the emcees at as many screenings as possible. It's important to have them speak for themselves, connect with people all over the world and perform live. We were lucky to have some of them out for the Sundance premiere but unfortunately could only get one of them out for ND/NF. It will still be special though because many of us who worked on the film are based in New York so it's going to be great to watch it amongst good friends and the people who have supported us over the four years of production.
"Water Lilies"
Emphatically imagined from a female perspective, "Water Lilies" delves into the mysterious world of teenage girls. Marie (Pauline Acquart) is a lanky teenager content to hang out with Anne (Louise Blanchere), an awkward chubbette and her devoted slave, until blonde dazzler Floriane (Adele Haenel) captures Marie's interest and lures her into a murkier pool of desire and disenchantment. Celine Sciamma's precisely rendered first feature is devoid of adults and by design, boys appear only in relation to the female trio and the backdrop of synchronized swimming that is their daily summer activity. "Water Lilies" captures the dynamics of the girls' shifting relationships and brilliantly navigates a psychological terrain rarely if ever captured on film with this degree of honesty. While most cinematic examinations of teenage life are full of aimless conversation, this one plays like a thinking person's action film. A Koch Lorber Films release. (Description provided by the Film Society of Lincoln Center).
Responses by Celina Sciamma, director of "Water Lilies"
What initially attracted you to filmmaking?
Since childhood I've been into storytelling. I enjoy films as much as TV series, comic books and literature. As a teenager I became a film-addict. Mostly because I was the lonely hide in the dark kind of girl. What attracts me the most about filmmaking is that it contains everything: it's sequential like comic books, narrative like novels, about dramaturgy like theater, it's visual like painting and you get to work the sound and the music…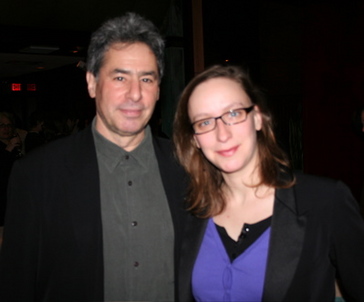 What was the inspiration for "Water Lilies?"
Intimate material meets cheezy teen movies. I wanted to play with the codes of the teen movie genres, beginning with archetypes that everyone feels comfortable with (the sporty beautiful blonde, the boyish shy girl and her chubby friend) to blow them away and take them on a deep and subtle journey. I'm a child of the '80s, a teenager of the '90s, so everything that (sometimes unwillingly) influences me comes from here.
Please elaborate a bit on your approach to making the film…
I wanted to make a movie about girls, inside girls, from their point of view. Because I felt that it was a story that hadn't been told a lot yet. Cinema has been celebrating women for a century now but mostly men filmmakers have. Most films around teenagehood just tend to emphasize the fantasy surrounding young girls and their mysteries. I wanted to make a movie that gives intimate answers about what happens in a girl's mind and body. I wanted it to be true, crude and honest. That's why I chose to get rid of boys and adults in the storyline. To stick to the girl's side. That's why I chose to work with very young newcomers for the cast.
What were some of the biggest challenges you faced in making and completing the film?
Not having made any film — not even a short — before directing "Waterl Lilies." I had to convince everyone including myself that I could do it. That was the biggest challenge. But sometimes it can be comfortable not to be expected… Also shooting in a swimming pool can really be hell. I was always affraid that a projector would fell into the water and kill the whole synchronised swimming team!
What are your goals for the New Directors/New Films?
To meet the American audience. I've been travelling a lot with the film and this is the trip I've been expecting the most. Also meeting people from the industry. The US release will be happening short after so I'm planning on working hard to promote the film.
Sign Up: Stay on top of the latest breaking film and TV news! Sign up for our Email Newsletters here.