This was a relatively quiet week for film in New York, as the city prepared for the Tribeca Film Festival. Cameron Bailey gave a little 'hello' from the Toronto, where he is the new co-director of that city's renowned festival, while fellow TIFF programmer Thom Powers used his weekly "Stranger Than Fiction" series to highlight the problems of sexual exploitation in New York. And South Korean filmmaker Kim Ki-Duk brought even more prostitutes to MoMA's screens with the start of his full retrospective.
Talkin' TIFF with Cameron Bailey
The Toronto International Film Festival held a discussion Monday evening at NYU for industry and students, to introduce new co-director Cameron Bailey to the New York film community, led by TIFF documentary programmer Thom Powers. Bailey, a critic and broadcaster, had previously programmed many of the international sections at Toronto (starting the Planet Africa section), with a specific focus on the films of South Asia, Africa and the Philippines. Bailey and Powers took the opportunity to discuss TIFF, the preeminent film festival in North America and, together with Cannes, Venice, Berlin and Sundance, one of the major festivals in the world.
"Since it's my first year, one of the first things I wanted to do was get out there and meet as many people as possible," said Bailey after the discussion. "I really want to let people in the filmmaking community know that we're accessible, that we want to be as transparent an institution as possible."
Bailey's predecessor, Noah Cowan, stepped down as co-director last year in order to become the artistic director of Toronto's new headquarters (and year-round institution) Bell Lightbox, slated to open in 2010.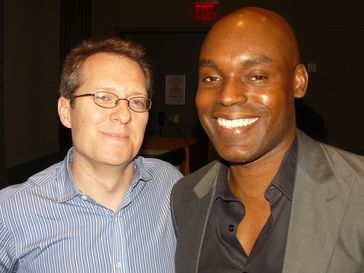 "New Yorkers had a lot of experience with Noah," said Powers, "because he'd lived for some time in New York. I wanted them to get to know Cameron in the same way; it helps to demystify the process of the festival. We're a public festival, and we want to be open to the public." The 33rd annual Toronto International Film Festival runs from September 4 – 13.
Spotlighting New York's Human Trafficking
On Tuesday night at the IFC Center, Powers' weekly documentary program "Stranger Than Fiction" continued with David Schisgall and Nina Alvarez's harrowing portrait of teenage prostitution in New York, "Very Young Girls". Focusing on the efforts of social service group GEMS (a non-profit started by ex prostitute Rachel Lloyd to provide counseling and shelter to sexually exploited girls), the film shows a terrifying pattern, wherein countless young girls (with an average age of 12) are abducted and essentially brainwashed by pimps.
"If you took these situations and put them in another country, or another ethnicity, you would understand that this was human trafficking," said Lloyd at the Q&A following the film, "but in our society, you look at girls as being bad girls."
In between the girls' stories, the film shows some truly nauseating home video shot by two real-life pimps (who had hoped to develop it into a reality TV series) of their own abusive brain-washing techniques. In one scene Lloyd decries the Oscar win of the song "It's Hard Out Here for a Pimp," while another scene depicts an ineffectual "Johns School" sensitivity training in Brooklyn, the only penalty given to the men busted for sleeping with these girls.
"It's incredible. At Hunt's Point I've seen cops go up and drag a girl out of the car, and tell the guy he should go home," said Alvarez. "They don't actually arrest the guys, just the girls."
"It's just hypocrisy," said Lloyd. "Why can't we address the fact that children can legally be arrested for something that in any other situation would be considered statutory rape?" Lloyd encouraged viewers to pressure their state senators into passing the Exploited Children's Protection Act, which passed the state Assembly but has stalled in the Senate; more information can be found at the GEMS website at http://www.gems-girls.org
Chatting up the elusive Kim
MoMA kicked off their retrospective of South Korean filmmaker Kim Ki-Duk (the first full retrospective of the maverick's work in North America) with the U.S. premiere of his latest film "Soom" (Breath), Wednesday night for which Kim made a rare public appearance (and even rarer Q&A).
"I know only a few people like my films," said a visibly overwhelmed Kim before the screening. "I know that. I think there are only so many who are really crazy about my films, and that there are more people who hate them." Kim's films are polarizing for numerous reasons. Quiet and elliptical, full of surreal observations of broken relationships and odd rituals that have sudden, unexpected bursts of violence, they do not feel like the films of any other director. While Kim has angered feminists with his portrayals of women and gender relations (there are a LOT of prostitutes in his films), all of his characters are so removed from reality it's hard to see his work as cultural critique. They feel like the work of an authentic outsider, who is making up the rules of narrative filmmaking as he goes along.
"A lot of critics talk a lot about my background, and where I came from," said Kim, and it makes sense; Kim's films feel authentically outsider, as well they might. Self-educated in film, and with no university background, Kim had been a factory worker in Korea before leaving for France, at the age of 32, to spend some time as a street artist. Upon returning to South Korea, he began to write screenplays, and made his first film, "Crocodile" in 1996. Since then, he has made an extremely impressive 14 films in 12 years; he's known in the U.S. primarily for the films "Sping, Summer, Fall, Winter…and Spring" (2003), and "3-Iron" (2004).
For those on the pro-Kim side, "Soom" is a treasure, the story of a depressed woman who makes inexplicable visits to cheer up a mute prisoner on death-row she has seen on the news. The film is full of Kim's trademark surreal repetitions and sudden violations of the story's strange logic. "Somehow being happy together is ultimately what this film is about, I think," said Kim. "I like to talk about damage or wounds, and my filmmaking is mostly concerned with people trying to get over these wounds. That's really it."
The retrospective runs through May 8, featuring all 14 of Kim's films, including many never previously shown in the United States.
Weekend event to check out in between those Tribeca screenings/parties
Making me blindingly disappointed I will be out of town this weekend: On Saturday at 1:05 PM at the IFC Center, the incomparable Sissy Spacek will appear in person at a screening of Terence Malick's 1973 debut film "Badlands." This was Spacek's breakthrough role as the blank-faced girlfriend of Martin Sheen's sociopathic serial killer; Malick's delicate, lovely presentation of their story was one of the highlights of 1970s cinema, and his unbearably beautiful images deserve to be seen on the big screen.
Sign Up: Stay on top of the latest breaking film and TV news! Sign up for our Email Newsletters here.