This week in New York, throngs of admirers flocked to Lincoln Center, tuxedo-clad patrons shelled out hundreds of dollars for good seats, and trumpeters proceeded ceremonially down the aisle at Avery Fisher Hall to celebrate one fundamental fact: Meryl Streep is rad. With considerably less heraldry, Lincoln Center also confirmed that the history of Romanian Cinema is, likewise, rad. Mid-April reminds Upper West Siders of two things: taxes, and tax-deductible ways to spend refunds.
Enter the Film Society of Lincoln Center, with its annual Gala Tribute, an all-star parade that has celebrated a different living legend every year since it began in 1972, with Charlie Chaplin.
It's all about Streep!
This year, Lincoln Center brought out the big guns with Meryl Streep, the most Oscar nominated person in history and a huge public draw (the event sold out faster than any previous gala). Before the impressive roster of presenters could begin, event organizer Wendy Keys took the stage to bid an emotional farewell — this was the 30th and final tribute she has directed, ever since starting with Bob Hope in 1978.
"When I retired from the New York Film Festival, I said goodbye on this stage," said Keys, whose imminent retirement persuaded longtime hold-out Streep to participate. "I went right back to work at the office the next day as if nothing had ever happened. But tonight really is goodbye." Keys took an emotional moment to remember some of the past recipients of the tribute, including Federico Fellini, Robert Altman and Bette Davis.
When it came to saluting Streep, most of the attendees seemed a little intimidated. Can you blame them? Within five years of making her debut in 1977's "Julia", Streep had won two Academy Awards (and three nominations) and was known as the preeminent actress of her generation, able to use her innate gravitas and talent with accents to bring a sheen of greatness to even the lightest of films. Driving the point home with a huge selection of clip reels (the upcoming "Mama Mia" looks just as awful as you might suspect), the organizers shot their load early by showing the climactic scene from "Sophie's Choice" in the first montage.
Robert Redford got to follow up that heavy moment, informing the audience that "Actually, when you get to know her, you come to realize that part of her is really out to lunch."
Other attendees tried their best to humanize the actress; Stanley Tucci said, "I discovered she's as bad at cooking a meal as I am."
"Thank you for teaching me how to knit," said Amy Adams, "You still need to show me how to cast off."
"She's really just a normal person," said Uma Thurman. "Just like you and me. Only much, much better."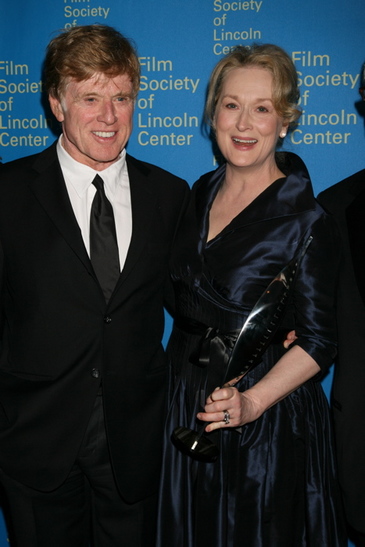 Robert De Niro didn't seem a bit intimidated, but I think he had Bruce Vilanch with him; he had enough zingers to fill a show in the Catskills. "I was really hoping they'd show "Marvin's Room" or "Falling in Love," because I'm pretty sure most of you still haven't seen them. Meryl and I will be selling DVDs in the lobby afterwards." Nailed it!
Streep, for her part, seemed extremely down-to-earth, and even a little stoned, dancing out onto the stage with her customary content smile. "I was really dreading this, for so many reasons," she said happily. "The dress. The speech. Seeing my relatives with the stars… I'm trying very, very hard to actually be here tonight, because it's so easy to not be, to just be Meryl Streep. Oof."
Streep finished off by telling a wonderfully random story off the cuff ("OK, can I tell you something? This is so weird"), about how she first produced on-demand tears for her drama class during her freshman year at Vassar. While other students were imagining the deaths of their relatives, boyfriends and dogs, Meryl came up with a rather different image. As she tells it:
"I got up and I imagined that I was really, really old — like 60 — and I was the most…well, sure… celebrated actress of my time. And I was addressing an entire theater, and it was filled to the rafters with people I had admired since childhood, distinguished colleagues, and people I had worked with, and fans — sophisticated smart fans — and I said to them how grateful I was that they had all supported me all these years with their love, and I knew that the time had come for me to move on, to step away from performing…and I started to feel hot, and my voice started to break…and I said "No matter how much this work and life has meant to me, I want you to know it could not have been more wonderful", and I looked at my drama class friends in the front row, who sat there staring at me, like, "huh?". But I had tears streeeeeeaming…"
Streep concluded the story, and the evening, by saying "But I'm not crying tonight, because I'm not retiring."
Thank God.
Riding the Romanian wave
The money brought in by the gala tribute, of course, allows the Film Society to continue its less star-studded but often more interesting selections, such as the program which opened on Wednesday night at the Walter Reade theater, "Shining Through a Long, Dark Night: Romanian Cinema, Then and Now", with a screening of Lucian Pintille's 1965 New Wave-influenced "Sunday at Six".
"Myself and many others have been impressed by the recent output of some really astonishing films from Romania," says Film Society program director Richard Pena. "I wanted to present a series to present a series of films that I consider the forerunners of the current trends, put them alongside contemporary films, to show that what is happening now didn't come out of nowhere."
Pena has been following Romanian cinema for many years; in 1985 he programmed a Romanian film series at the Art Institute in Chicago, focusing particularly on time periods in the mid 60s and late '70s-early '80s when a brief opening up of Romanian society allowed for more creative expression.
"In the '60s, every country was effected by the French New Wave, and what was happening in Italy," says Pena. "In Romania, in particular, you saw a certain type of cynicism, a feeling that has continued in the current films. It's a kind of instinctual mistrust of the system… A feeling that no government could help, almost an anarchic impulse. It's not just the current system, that's corrupt, it's any system."
"It's great to see all the attention Romania has been getting lately," says Pena, "But so many critics talking about the films talk like Romanian cinema had been invented last year. Being something of a film historian, it's pleasing for me for people to realize they're part of a tradition."
The series runs through April 27.
Sign Up: Stay on top of the latest breaking film and TV news! Sign up for our Email Newsletters here.