While attendees sat inside the Cannes Film Festival's Debussy theater on Wednesday watching the morning press screening of Fernando Meirelles' harrowing "Blindness," nearby on the Croisette dozens of costumed pandas danced with Jack Black to hype the animated festival entry, "Kung Fu Panda." Like the abandoned characters depicted in the horrific world of "Blindness," the French locals wearing the 100 lb. bear costumes yesterday had to be carefully escorted from the Carlton Beach pier because they were unable to see anything. Such was the scene during the first twenty-four hours of the 2008 Cannes Film Festival, an event comprised of serious films for cinephiles and PR stunts aimed at movie industry insiders and thousands of attending journalists.
The recent earthquake that has killed more than 50,000 in China, the aftermath of the tragic typhoon in Burma, and the upcoming U.S. presidential election all stirred serious talk in the early hours here. And a seemingly light-hearted Thursday press confrence for "Panda" began with actress Angelina Jolie being questioned about balancing her acting career with her work for the United Nations. "My daily life is not this," noted Jolie, who also acknowledged being pregnant with twins. "My daily life is being at home with my kids, and there is very little division between that and understanding what is happening in the world, because understanding what is happening in the world makes me a better person and a better parent and it is my focus." She added that her recent efforts traveling to Burma on humanitarian missions has kept her closely focused on the still unfolding crisis there.
Meanwhile, at a press conference yesterday, jury president Sean Penn spoke out about a number of issues, while Fernando Mereilles' "Blindness" stirred talk about current events as other attendees buzzed about a provocative new competition documentary from Israel.
Judge and Jury: Penn and Politics
Cannes jury president Sean Penn dominated Wednesday's press conference intended to introduce the nine member group to the media. Most journalist questions were addressed to "Mr. Sean," who at first relucantly, then candidly elaborated his views on an array of politics.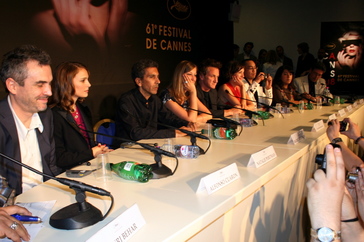 Asked at one point about U.S. President George W. Bush, Penn bristled at the use of the term "politics" to describe the Bush administration's actions in recent years. "Politics are there to represent the quality of life for people, ideally," adding, "Film is about art and art is about love. When something operates without a brain and without a heart, they kill hundreds of thousands of people around the world."
Penn and fellow juror Natalie Portman were asked for their views on the U.S. presidential election and while neither endorsed a particular candidate, Sean Penn offered some views on what he said is the "most important election, certainly in my lifetime, and maybe ever." Asked about Barack Obama, Penn expressed enthusiasm for the "excitement and hope that Barack Obama is inspiring," and at the same time criticized aspects of the Senator's own voting record. Continuing, he added, "I hope that he will understand, if he is the nominee, the dangerous disillusionment that will happen if he does not become a greater man than he has ever been."
In Cannes leading the jury, Penn prevailed on festival leadership to let him present a special out-of-competition screening of a film that he feels quite strongly about, namely Alison Thompson's documentary "The Third Wave" from last year's Tribeca Film Festival. The film follows the efforts of everyday citizens inspired to travel to Sri Lanka in the wake of the 2004 tsunami.
"The state of the world being what it is…" Penn began, when asked about "The Third Wave," "The unlikliehood that the problems will be solved by politicians made this film poignant to me." Praising the film and imploring journalists to give it attention, Penn called it, "The closest thing that I had ever seen on film to give any kind of answer to what the purpose of life is — at least for anyone who has two good legs and a dollar in their pocket."
Talk of international issues and elections inevitably intersected with how Penn and his fellow jurors would navigate the personal politics of judging films by friends and colleagues or watching work from regions impacted by tragedy.
Whoever the jury chooses to receive the Palme d'Or, Penn concluded, "We are going to feel very confident that the filmmaker of that film was very aware of the times within which he (or she) lives."
Visible and Invisible: "Blindness"
Relating a quote that movies don't predict but rather reflect culture, "Blindness" star Julianne Moore was asked about the parallels between this new film and recent events. "There is something in the Zeitgeist…there is a tremendous amount of tragedy right now, physical tragedy and the man made kind of tragedy. I think we are reflecting what we are feeling in our own culture."
But, is "Blindness" a pointed commentary about the aftermath of Hurricane Katrina in the United States, wondered one Cannes journalist on Wednesday. "Lots of events come to mind, unfortunately," noted the film's writer and co-star Don McKellar, explaining that the text was meant to be more allegorical. "In a lot of ways, we wanted it to be a free wielding metaphor that applies to any kind of official neglect."
Weighing in insightfully, actor Danny Glover cited Ralph Ellison's "The Invisible Man" and the work of W.E.B. DuBois, writers who spoke of people who were "invisible in this society itself." "When you look at Katrina," Glover explained, "It's not what the government did or did not do, it's that they were invisible. We were blind to (that)." And citing recent situations in Somalia or Darfur, he added, "This story deals with somethign we have to confront…our own inability to see others and to see what is happening around us."
Exploring Dreams and Excavating Memories: "Waltz With Bashir"
A unique animated documentary from Israel — Ari Folman's "Waltz With Bashir" — screened Wednesday to the press on the first afternoon of the festival, the same screening time held last year by eventual Palme d'Or winner "4 Months, 3 Weeks and 2 Days, though the screening and press conferences paled in comparison to the packed attendance for "Blindness" and "Kung Fu Panda."
"(There was) no other way to make this film, other than animated," noted Ari Folman at a press conference today (Thursday). Based on Folman's own story, the Cannes competition doc follows the filmmaker's exploration of his lost memories from the Lebanon War of the mid-1980s.
"It's about dreams and it's about hallucinations, it's about the sub-conscious," noted Folman, during the Q & A. "The best thing is to draw them. As a filmmaker you will always have the complete freedom to do anything you can imagine. Anything you can dream about can be drawn."
"The basic statement of the film and the understanding of the film is prosaic: wars are usless, completely useless, any war," offered Folman, elaborating, "There are a lot of anti-war movies, but in the eyes of a teenager, the anti-war films miss their goal completely, sometimes you just don't get it right."
"Because it is animated, I hope that a sixteen year old boy watching 'Waltz With Bashir' in Israel will say, 'I don't want to take any part in this war again.'"
But, Folman also emphasized the personal nature of the independent project. "In a way," he noted, "I think that the film is not a political film, it just deals with the personal stories of the Israeli soldiers."
Saying he is optimistic about the future, Folman reiterated, "You have to be optimistic if you do this kind of film. I believe it is all about leadership, but we don't have the right kind of leadership in both parties to make the right kind of change…but it will happen."
In the meantime, Folman and his producers are pondering a way to get the film into the Arab world and are hoping for a sale to a company in the U.A.E. and fantasizing about screening the film at the Dubai International Film Festival. "This could be amazing. I hope it will happen."
Get the latest from the 2008 Cannes Film Festival in indieWIRE's special section.
Sign Up: Stay on top of the latest breaking film and TV news! Sign up for our Email Newsletters here.