The headlines of the Seattle Post-Intelligencer screamed, "It's full speed ahead" for their local fest, the 34th Seattle International Film Festival.
Yes, during its very first week over 155 titles were being served up with the opening night offering being actor-turned-helmer Stuart Townsend's "Battle in Seattle," a politico indie that restages the World Trade Organization riots of 1999. Over 3,000 natives attended the screening to see if their own experiences meshed with the celluloid version.
As might be expected, there were hoots and hollers and yeas as politicos, cops, foreign dignitaries, and protesters barged across the screen. As the chaos grew, windows broke, and Bill Clinton was set to arrive. Bill as a baddie?
Whatever you might finally think of "Battle"–and there were arguments at the urinals afterwards–this thriller will inspire any leftie cells you might possess to stand up and cheer.
It helped that "Battle" stars–Charlize Theron, "Lost"'s Michelle Rodriguez, Andre Benjamin, and Martin Henderson–showed up for a Q and A with Townsend. Additionally, Volterra Restaurant gave out 3,000 glass jars of a superb gourmet treat called Fennel Salt that goes for $18.00 a bop. It's amazingly worth it.
"This was a perfect fit," SIFF Artistic Director Carl Spence noted. "Definitely there was electricity in the air. There was a lot of anticipation of what this film was going to be about."
There was also some anticipation about what a newer, trimmer SIFF was going to be like, with fewer full-length offerings than in recent decades.
"There are still over 400 films here," Spence noted. "We trimmed the line up of features. So there are about 40 less feature films this year, but since we're doing a mini-festival of shorts one weekend, that increased the numbers.
"It means we can give more attention to the films that we have," he explained. "It does make it a little bit easier because it's less films and filmmakers to manage and to take care of. Also, for the audiences and the critics, it's 40 less films that they have to worry about."
But what about less indie film distributors? The state of Tartan Films, which is facing financial trouble, was especially on many folks' lips.
"[This state of affairs] means that less films will be released in the traditional way," Spence responded. "It raises the importance of how festivals can provide an audience and a venue for filmmakers to develop their careers, to be recognized."
And with SIFF's rather new film complex, Spence added, "We're also expanding what we're doing year round to also react to that. We now have a full-fledged state-of-the-art theater that we're showing films every day of the year in so that we can bring back these films [from our festival] and also celebrate the rich cinematic heritage from around the world with retrospectives and classic films. So we are looking at getting more into the exhibition side on a year-round basis. We can actually extend the life of a film outside of the festival circuit."
TLA Releasing's powerhouse, the consistently buoyant Jennifer Arndt-John, wasn't exactly depressed over celluloid's state of affairs. Will all these corporate bye-byes aid TLA?
"I'm optimistic about that, not that we like to see other people suffer and go down, but it certainly changes the scope of the marketplace for us . . . .We are here by the way representing the Jung Brothers' "Epitaph" and "Boystown," which will be releasing theatrically in August."
"Epitaph", a Japanese morgue-based horror film lacking in much horror, will get a DVD release in the fall. As for the not unenjoyable "Boystown" from Spain's Juan Flahn, it is chockfull of a silly queer sensibility, sort of like an early Almodovar funfest but with a little less true wit. Its villain is a gay real estate agent who kills off old ladies to be able to resell their apartments to homosexuals with looks and muscles. Imagine Trump in Speedos.
But back to Arndt-John, who admitted another reason for being at SIFF: "TLA is always actively pursuing and looking for content, and there are multiple premieres here that we're going to be keeping our eyes on to see if there's something suitable. You never know what new talent is emerging."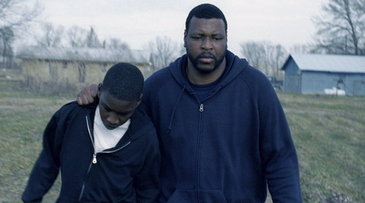 Nearby, Lance Hammer was sitting about, still in disbelief that his brilliant "Ballast" was as much a hit in Seattle as it was at Sundance: "I can't look at my film with any objectivity . . . . What you should know is that I cut it myself, I wrote it myself, and it took years to cut it. So I was just in my living room, and it's a very lonely thing to do by yourself for two years. And I have a lot of self-doubt, and I'm a pretty self-deprecating person as well, so I thought I had done something that was poor. Yet it was something that I had accomplished, what I had set out to accomplish. But in the end, I didn't know it was going to make the mark. So I submitted it coldly to Sundance and Berlin, and I was honestly very surprised when it was accepted. And the critical response, it's confusing to me. I don't know. I can't look at my film objectively, but it's something that I'm going to have to accept, I guess. People tend to like it."
Linas Phillips, however, seems to be getting some mixed reviews to his documentary on the Seattle homeless, "Great Speeches from a Dying World." Phillips said, "The Stranger, the weekly paper, wrote something bad about it which I was upset about. Yeah, like in their blurb of all the films, which is weird because they gave me a genius award before that that they give every year to someone. I got it in filmmaking this past year from the very same person [who panned me in the blurb]. It's kind of stupid. I think it's a very strong film, and I think they should support these local guys who don't have any other way to counter those [bad reviews] with advertising."

Carolyn Colon of Alpha Cine Seattle, a motion picture and digital film laboratory, probably would have agreed that everyone should be nice to anyone making a film in Seattle, especially since "there's not enough features yet [here] to sustain a crew that only does features. So you have to do commercials [to survive]." She was here to support one of her client's efforts, Alex Gibney's "Gonzo: The Life and Work of Dr. Hunter S. Thompson."
As for the films, well, Sir Ben Kingsley was in four of them and he was being honored for his career at SIFF. At the ceremonies he noted, "Peter Brook is a genius. We were rehearsing 'A Midsummer's Night Dream' when he said, 'You cannot create from a center of unhappiness.' I therefore dedicate my performance [in Elegy] to my wife, for without her, I would not know happiness."
Those watching Isabel Coixet's "Elegy" might then need to spend some time with Dame Kingsley. This beautifully acted adaptation of Philip Roth's novella, 'The Dying Animal,' tells of a May/December romance between a young, firm student (Penelope Cruz) and an aging acclaimed professor (Kingsley). Your final affection for this literary treat of sorts is how well you accept the finale, which is touching, and intellectually potent, yet possibly one depressant too many. Yet Dennis Hopper, as a philandering poet, might actually garner some year-end award nominations for his raucous efforts.
C. Jay Cox's "Kiss the Bride" is a gay remake of "My Best Friend's Wedding", and if you didn't realize that immediately, the script brings it up every five minutes. This is another one of those poorly-acted, TV sitcoms that only gets into film fests because it has two guys kissing. That Tori Spelling stars is enough of a review by itself.
Jeremy Podeswa's "Fugitive Pieces" is a well-meaning adaptation of a novel by Anne Michaels. A Jewish Polish youth, after watching his family killed by the Nazis, winds up befriended by a Greek archaeologist who spirits the lad to Greece and then to Canada where he grows up into a highly pensive adult (Stephen Dillane). Distractingly jumping back and forth in time, the film falters badly in modern times, yet its tale is still a moving one.
A feel-good highlight of the fest, though, is Denny Tedesco's tuneful "The Wrecking Crew." This sing-along, joyful doc unearths a group of musicians who actually played all the music on the LPS by the Byrds, Cher, Nancy and Frank Sinatra, the Beach Boys, the Monkees, and Captain and Tennille. A must to see and listen to.
Other films of note are Daniel Junge's "They Killed Sister Dorothy," a stirring doc on how landowners paid to have an activist nun slaughtered in Brazil; Johnny Symons' "Ask Not," a thorough look at the military's homophobic policies; Catherine Chalmers' stunning "Safari," a short on earth's tiny creatures–truly one of the more beautiful eight minutes you'll ever view; Signe Baumane's riotous 4-minute feminist cartoon on female sexuality, "Teat Beat of Sex"; and Spencer Susser's 14-minute inventively wry look at Australian teens stuck in a town of zombies. This is definitely feature material.
As for Bruce LaBruce's "Otto; or, up with Dead People," its metaphorical examination of the plight of queer zombies in Germany is readymade for former LaBruce fans. Get ready for copulation with a hole in the stomach and such memorable quotes as "The dead look so dead when they're dead," "It isn't easy being undead," and "I was a zombie with an identity crisis."
[The 34th Seattle International Film Festival continues through June 15th.]
Sign Up: Stay on top of the latest breaking film and TV news! Sign up for our Email Newsletters here.