[EDITOR'S NOTE: IFC First Take opens "In Search of a Midnight Kiss" in limited release Friday, August 1.] The saga of Alex Holdridge that culminated with his third feature, "In Search of a Midnight Kiss," follows a whimsical plot similar to the charming comedy resulting from it. Holdridge's own story involves upbeat expectations, crushing disappointment, unexpected personal revelations and, finally, an optimistic eye toward the future. The movie came about somewhere in the middle of that journey, but the rough trajectory of its downtrodden protagonist corresponds to the entire arc of Holdridge's uneasy experience. Randomly living in California after a botched screenwriting gig left him stranded there, Holdridge found solace in the prospects of a new production with no grandiose expectations. "It was literally born from the ashes of a project that had not succeeded," he says in a phone interview.
Such a redemptive description certainly fits the cinematic outcome: A screwball comedy of sorts, shot in high contrast black-and-white throughout downtown Los Angeles, "In Search of a Midnight Kiss" follows lonely anti-hero Wilson (Scoot McNairy) during a few aimless hours leading up to New Year's. On a prolonged blind date with the mysterious Vivian (Sara Simmonds), a churlish young woman he meets on Craigslist, Wilson rants about his generally disparaging existence, gradually working through his woes. Encountering a variety of oddball situations while staving off the pressures of their equally troublesome social lives, Wilson and Vivian embark on a poetic exploration of Los Angeles' hidden architectural secrets, wandering through abandoned theaters and marveling at the forgotten regions of the city. "It's a really gorgeous city with so much potential," says Holdridge. "On the one hand, it's a glimpse of the past, but there's a whole financial distract, still completely intact. There's no respect for history here. It's just wall papered over."
For its combination of swooning photographic appreciation for the urban landscape and breezy dialogue, "Midnight Kiss" takes obvious inspiration from Woody Allen's "Manhattan." However, where Allen presents a metropolitan fantasy of New York intellectuals talking big and doing little without meeting the repercussions of their indolence, "Midnight Kiss" has a grittier style that suggests something closer to neorealism. Wilson's emotional hang-ups are remedied by his recognition of a world beyond his bitter outlook. The performances are hardly more refined than the cast of an early Cassavettes movie, but Holdridge's sharply devised, genuinely heartfelt script suggests the filmmaker could hold his own writing studio comedies. Unsurprisingly, that nearly became the case long before "Midnight Kiss" existed.
Holdridge's career immediately took off after he premiered his first feature, "Wrong Numbers," at the South by Southwest Film Festival in 2001. A riotous comedy about unruly teens trying to buy beer for a party on their last night of high school, "Wrong Numbers" caught the attention of the larger film industry. "I was walking from a hotel in Austin back to my apartment [after the premiere] and every studio had called," Holdridge recalls. "They were on top of trying to get the Hollywood version. It's a powerful studio concept and the right people were in the room." But, as Holdridge would soon learn, the concept was quite possibly a little too powerful, even for him.
In short order, Holdridge went to Los Angeles and pitched a studio version of "Wrong Numbers" to Sony Pictures, where he was hired to write a script on spec. Disenchanted with a half-hearted assignment and no guarantee that the movie would reach fruition, he returned to Austin with plans to shoot another low budget feature. Meanwhile, he screened "Wrong Numbers" at the Alamo Drafthouse, where it sold out for three weeks straight until Holdridge realized "it was sort of illegal for me to be showing it, so I stopped." After his sophomore outing, "Sexless," premiered at SXSW in 2003, Holdridge headed back to Los Angeles and continued developed the new script for "Wrong Numbers."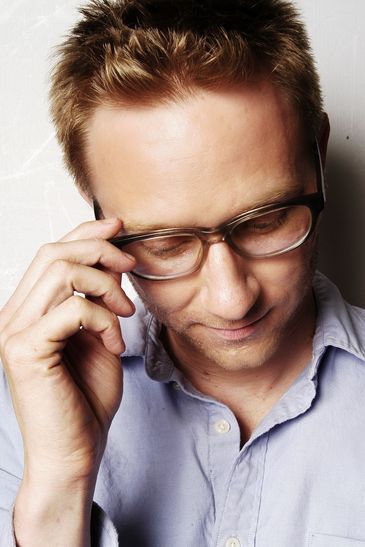 Life became stressful. Holdridge wrecked his car, broke up with his girlfriend and someone stole his laptop. But he diligently stayed the course, finishing the script over the next year. Then, one day, he read about a project being developed at Sony Pictures called "Superbad," about a couple of teenagers trying to buy beer for a party in the twilight moments of their high school years. It sounded uncannily familiar.
That was the last straw. As far as he could tell, "Wrong Number" had been co-opted by Judd Apatow and company.
"It was devastating," Holdridge recalls, hesitant to accuse any particular individual of ripping him off. "Their script was different. Our script was fucking awesome, but you can't copyright a concept." Holdridge suspects the executives at Sony may have suggested his idea to more established Hollywood comedic forces, but he places some of the blame in his own lap. "I have some responsibility because I went and made another movie," he says. "I don't want to complain. What if we just had the same idea?"
Either way, the result couldn't have yielded a better outcome. Holdridge emerged from a deep funk with the only remedy he had — making another movie. Shortly after the "Superbad" news, his longtime friend and cinematographer Robert Murphy called him up, and production on "Midnight Kiss" immediately began. "I was conceiving of a Los Angeles movie," Holdridge recalls. "I said, 'Fuck it. Let's do it on the streets, like we did before, without having to answer to anybody.'"
Fortunately, his heated drive didn't yield a sloppy result. "Midnight Kiss" has a refined look, even if the lo-fi aesthetic occasionally peeks out of the seams. You'll find no delirious shaky-cam photography or shoddy mic work here, which gives "Midnight Kiss" its primary asset: Accessibility. Universally amusing and utterly believable, the movie plays well to general audiences. As a result, it has steadily become a smash indie hit in the United Kingdom, where Vertigo Films released it earlier this year. Opening on twenty-eight screens in the U.K., "Midnight Kiss" went on to gross close to half a million dollars in roughly a month. Now, Vertigo plans to keep the movie in theaters until the end of October, and some places have started showing it on a double bill with "Wrong Numbers." (At least one theater billed the earlier film as "the original 'Superbad.'")
Building on his newfound momentum, Holdridge has several projects in flux. He's attached to direct an adaptation of Jonathan Ames' comic novel "Wake Up Sir," in addition to a narrative version of the documentary "Frank and Cindy" and an original script called "Hate in Paris." Holdridge describes the latter movie, for which he recently scouted locations in France, as a combination of noir and comedy. "It's kinda like 'Midnight Kiss' on the streets of Paris, in the vein of 'The Third Man,'" he says.
In the meantime, he's still living in Los Angeles. "I'm loaded now, so I don't give a fuck," he says, before quickly adding that, yes, he was kidding.
Sign Up: Stay on top of the latest breaking film and TV news! Sign up for our Email Newsletters here.