With his first slate of programming as co-director of the Toronto International Film Festival announced this morning, Cameron Bailey can take a quick breather before the 33rd edition of the festival begins two weeks from Thursday. "Now that we actually have the selection done and out there in public its just a huge, huge feeling of gratification," Bailey said in an interview with indieWIRE this afternoon. A longtime international programmer for the festival, Bailey was appointed co-director last December when his predecessor Noah Cowan was named Artistic Director of Bell Lightbox, the multi-million dollar festival center now under construction in downtown Toronto. Bailey talked with indieWIRE about his new position, the festival's programming, and what it might suggest about overall trends in the industry.
indieWIRE: So this is your first year as co-director. Could you put this experience into words? Has it been more or less what you expected?
Cameron Bailey: Well, I'd been programming at TIFF for many years and knew the process of selection and programming pretty well but what I didn't really know was the scope of what's involved with Co-Director and just having my hands on almost every aspect of the organization. It's been really exciting, though it's certainly exhausting at times. It's hard work.
iW: Last year the festival eased up any emphasis on the "premiere status" of the films. Judging from the press releases, it appears that might have changed this year. Could you speak to that?
CB: Many people in the industry, and the press certainly are always curious about the premiere status. For us, its not the most important thing about the films. But one of the things I'm proudest of is we have 64 countries represented this year, which is up significantly from last year when we had 55. So for me that's a really important stat.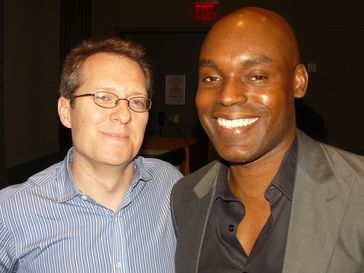 iW: Is that a record for TIFF?
CB: I'd don't know if its a record. Its certainly the highest that I can remember. It's a huge number. I don't even know if I can rhyme off 64 countries.
iW: So also regarding last year, there was a clear political focus with films like "Rendition," "Redacted," "Battle for Haditha," etc… There is certainly evidence of this again with films like "Waltz With Bazhir,""Blood Trail," "The Lucky Ones"… But it's definitely less overarching, especially if you look at the telling Real to Reel section… Do you feel that this year's festival has an overall theme or specific focus, at least in some sense?
CB: With 312 films showing its impossible to name one theme. I think its interesting to note though that in the American cinema, particularly within the last few years, you've seen filmmakers who take on the Iraq war with the kind of freshness that would with anything that is brand new and is such a huge event and so cataclysmic. Now what we are seeing is that filmmakers are dealing with that conflict in a different way. Take Kathryn Bigelow, for instance, with "The Hurt Locker." This a movie that's set in Iraq but it is not about the Iraq War as a kind of shocking political event. It's about the Iraq War as a dramatic circumstance. So what she does is she uses a bomb disposal squad for the inherent suspense and tension that she finds with that as a dramatist. It's not so much a political film or a film about how we should feel about the Iraq War. It's more about these characters she sets in that context.
It's the same way with "The Lucky Ones." This is a movie about coming home, not about fighting a war. It's about how soldiers try to reintergrate into the country that they left behind and how they've returned such changed people. I'm finding they are dealing a bit more with the second or third stages of this war, rather than the first stage and it's initial shock.
In addition to that, there are themes are beginning to overtake the interest of certainly American filmmakers in the Iraq War. I think the environment is the big one this year with films like "Food, Inc.," "At The Edge of the World," "Upstream Battle." These are some of the documentaries that Thom Powers has programmed and not out of any design on his part. He just found that some of the strongest docs this year were dealing with the environment.
iW: In previous years you worked as an International programmer, which I assume carried over to some degree into your work as Co-Director this year. I was wondering if you could tell me a bit about trends in TIFF 08's World Cinema programming and how you feel this might reflect some specific regional trends?
CB: One of the things that was identified very early on by Diana Sanchez who programs Latin-America for us is that this is a really strong year for Argentina. We saw this at Cannes. I think there were six films from Argentina in the various sections, which is a huge number for a fairly small country when it comes to World Cinema. We see that again in our selection as well. In addition to some of the films that were in Cannes like the Pablo Trapero film "Lion's Den," we also have new ones like Daniel Burman's "Empty Nest." Burman is a filmmaker that I think has developed a big international audience, both among fans of Latin American cinema and also because he's telling stories that are from the Jewish community in Buenos Aries. "Empty Nest" has a little bit of the feel of a Woody Allen story but very much set within a Latin American context and it ends in this beautiful, beautiful finale in Israel. So, again you've got Latin American films that are maybe not giving what you'd expect from a Latin American story.
iW: Bringing it to Canada, I noticed that there is a fairly significant drop in Canadian features (29 this year vs. 41 last year) and shorts (38 vs. 54). Was that intentional or simply a reflection of the work that was submitted?
CB: I think the numbers go up and down a little bit every year. There wasn't any intention or design behind the shift in the numbers. It's just where it shook out. Ultimately, we are certainly getting as many submissions from Canadian filmmakers as ever. But our programmers are a pretty rigorous bunch and they really just show the films that they are most passionate about and they think will work best with our audiences.
iW: I also noticed that the Discovery section doubled this year, with 26 titles up from 13. There's also a considerable American presence, with 7 films up from 2, and a very eclectic mix of regions, with 18 countries being represented overall. What was the reasoning for the increase in slots, and what are you general thoughts on what emerging filmmakers are up to?
CB: Well this one is by design. Discovery was one of the sections I wanted to work on this year and I'm really proud of how it's turned out. I wanted Discovery to be the place that people go to discover new talent at our festival where we show what we consider to be some of the most exciting new voices in cinema from all over the world. To do that I took off some of the restrictions we had on the program in the past in terms of the premiere status and distribution status. We had quite a number of limitations on what was eligible for our Discovery section in the past. That's changed and as a result I think this is really just a great showcase for new talent in the movies. You've got everybody from Derick Martini's film "Lymelife" with Alec Baldwin and Kieran and Rory Culkin to much smaller films. We've got Steve McQueen's "Hunger," which of course won the Camera d'Or this year [at Cannes]. We've got a great small films from New Zealand, from Asia, from all over the world. And I think if you have to choose, and you're interested in new talent, you could have a great time just watching the Discovery films.
iW: On a more industry-related note… I am curious about how you feel about the changing nature of acquisitions these days, and how do you think that might affect the Industry Centre or industry activities at TIFF?
CB: Well obviously there has been huge change in the distribution of independent films, particularly in the U.S. this year and I think obviously that will have an impact on our festival in a way. But what's great is there are still some films to draw buyers. I mean, people are still bringing new films that are not acquired to Toronto.
There's "Me and Orson Welles," the new Richard Linklater film that I think definitely is going to be one of the hottest films. And not just because its Richard Linklater… There is this guy named Zac Efron in it as well which people seem to know and then its got this terrific performance by this guy Christian McKay who plays Orson Welles in 1937 as he's mounting a production of "Julius Caesar." So this is a big title obviously and to have films like that premiering with us is really important.
Then there are lots of others as well. There's the new John Crowley film "Is There Anybody There?." There's "The Wrestler," the Darren Aronofsky film, is coming in without distribution. It's got this terrific performance from Mickey Rourke who I believe will be among the year-end prize winners when it comes to acting. So there's a whole range of them.
There's some great films from the UK this year as well. "Easy Virtue," the new Stephan Elliott film, "Genova," the new Michael Winterbottom, "Good," the Vicente Amorim film with Viggo Mortensen. So, you know, a really strong slate.
iW: Lastly, I was wondering about the new screenings at the AMC and events at Yonge-Dundas Square and how it seems like there is a bit of a migration south with the festival's geography this year? Are you guys priming attendees for the move to the Lightbox?
CB: There's a couple of things that are happening. One is, of course, Bell Lightbox is under construction. [TIFF Director and CEO] Piers Handling and I were just down there this morning. By late 2009, early 2010 we will be in the building which is great. We want to get our audience and everyone who comes to town for the festival to get used to the idea of more of it happening downtown, closer to Bell Lightbox.
The other aspect there is that we wanted to do more for the audience. The audience is what sets us apart from a lot of other festivals. Unlike Cannes or Venice, or even Sundance to a degree, we really are a public festival and we are in a big city. So we wanted to use that city and Yonge-Dundas Square is a great opportunity to do that.
In addition to being on ten screens at the AMC complex that has newly opened at Yonge-Dundas Square, we are also in the square itself with a lot of live performances, music… We have LeBron James down there doing a basketball demonstration with some local kids, in conjuction with a documentary about him that we are screening… There's Shaolin kung fu going on down there… Youssou Ndour is playing a live concert… There's free screenings of movies about movies like "That's Entertainment!," "Visions of Light," "Edgecodes.com" about editing.. Just to really give the entire city the chance to plug into the festival and a lot of it's free.
Get the latest coverage of the Toronto International Film Festival anytime in indieWIRE's special section.
Sign Up: Stay on top of the latest breaking film and TV news! Sign up for our Email Newsletters here.