Kimberly Reed's "Prodigal Sons," a documentary about estranged siblings struggling with their own identity and coming to grips with their past, was hailed by Telluride Film Festival organizers as one of the discoveries of this year's festival as the weekend event came to a close on Labor Day. Audiences responded to the film, filling its screenings and forcing organizers to add a number of additional showings of the movie. The filmmakers beamed all weekend that their festival debut exceeded even their greatest expectations.
Despite some spotty grumbling about the lack of big name films, attendees — many of whom travel to the event year after year never knowing until they arrive what will be screened — embraced a number of titles from the fest's feature roster of about just forty films. Evidence of the most popular Telluride movies comes from the titles added to fill the many TBA slots left open to meet the demand. Mike Leigh's "Happy Go Lucky," a portrait of a chipper North Londoner that debuted earlier this year at the Berlin festival, was a hit with attendees. Miramax will release it in October. Also stirring considerable buzz was the surprise screening of Danny Boyle's "Slumdog Millionaire," from Fox Searchlight. The film follows a young boy who rises to national attention by appearing on India's version of "Who Wants to Be A Millionaire."
"Prodigal Sons," one of the first films to screen at the festival on Friday afternoon, quickly drew a large line for its world premiere showing at the intimate Backlot theater here in Telluride. Tech problems at the venue kept the filmmakers on edge, however. A few minutes into the film, just as filmmaker Kim Reed revealed onscreen how she transitioned from male to female, a projection problem brought the screening to a halt. The audience, including numerous family and friends, waited patiently for 20 minutes and Reed took the stake with producer and cinematrographer John Keitel to answer a few questions about her life and family.
The personal doc looks at Reed, a former star high school quarterback, and her adopted brother. Traveling back to Montana for a school reunion, Reed captures the experience of reconnecting with old friends who last saw her as a young man. While home, she also re-encounters her estranged brother, a troubled man who soon discovers that he is a grandson of Orson Welles and Rita Hayworth.
"One of the hardest things about a film is how do you know when to end it, and when you are dealing with a personal documentary about your own family it really makes that question very difficult," Reed told indieWIRE this weekend, when asked about how she structured this snapshot of her life. "How do you ever know where to draw the line?" She explained that she simply focused on one cycle of experiences encountered by her and her family. "I just wanted to show what [her brother] Marc's challenges were, what he was tying to work with, and our family response to it."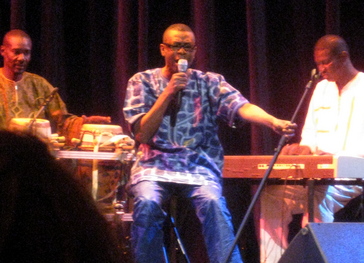 Other docs also stirred audiences in Telluride. Elizabeth Chai Vasarhelyi's "Youssou Ndour: I Bring What I Love" had audiences dancing. At the end of showings of the film, a look at Ndour's making of his controversial "Egypt" album, the screen rose to reveal Ndour live on stage for a brief concert. "Pirate of the Sea," Ron Colby's look at the founder of Greenpeace Canada also had its fans this week, stirring buzz for the story of the activist.
"This year, in my opinion, we have a number of docs that have theatrical potential and power and are centered on real stars, [even though] they may not be movie stars," offered Telluride festival director Tom Luddy, speaking to journalists as the fest got underway on Friday.
A dearth of American entries at the festival this year provided an opportunity for international films to florish. Philipe Claudel's "I've Loved You So Long" starring Kristen Scott Thomas and Elsa Zylberstein, seemed to garner near univeral praise, based on informal conversations with festival attendees this weekend. The French drama about a ex-convict and her sister, debuted at the Berlinale. Also quite popular was another French entry, Francois Dupeyron's "With A Little Help From Myself," was buzzed about considerably during fest conversations. The French African story looks at a women battling family struggles. Steve McQueen's "Hunger" (from Cannes) and fest honoree Jan Troell's "Everlasting
Ole Christian Madsen's "Flame and Citron" from Denmark, festival honoree Jan Troell's "Everlasting Moments" from Sweden, and Lance Daly's "Kisses" from Ireland were also cited frequently during information conversations this weekend.
Of course, classics rounded out the roster in Telluride, audiences treated to Max Ophul's "Lola Montes," Josef von Sternberg's "The Last Command," and even a selection of comedia silent short films were among the older work re-discovered at the festival this year.
CURRENT TELLURIDE '08 COVERAGE: Lineup & Interview | Dearth of American Films | Doom & Gloom v. Optimism & Ingenuity | Telluride iPOP (2005 – present)
Sign Up: Stay on top of the latest breaking film and TV news! Sign up for our Email Newsletters here.