"We stopped seeking validation and just went out and made the movie," filmmaker Barry Jenkins explained last week in Toronto, sitting down to chat a bit about his first feature "Medicine For Melancholy." A Toronto International Film Festival Discovery section title, the acclaimed fest circuit film, acquired over the summer by IFC Films, is launching IFP's Independent Film Week on Monday in Manhattan after winning the audience award at the San Francisco International Film Festival and hitting a number of other fests. A low-budget indie feature set in San Francisco, the film follows two people during the 24 hours after they meet and hook up. It's about, in Jenkins' words, "the naivete of the morning after. Trying to forge an emotional connection from a physical act."
"The movie kind of spun out of my first functional, interracial relationship," Jenkins elaborated, reflecting on the movie on a day last week when he spent hours talking to the press. As the young folks at the center of his story — Micah (Wyatt Cenac) and Jo (Tracey Heggins) — get to know each other better the morning after, they ponder Bay Area gentrification, talk class politics, and butt heads over race in a way that feels quite timely. In short, they expose and judge each others identities in ways evolve naturally.
"It's really about economics, it's about status, class," Barry Jenkins added, elaborating his own "post-race" point of view. "I think the movie is really about getting to that point." He spent three weeks writing the script for a film that was inspired, in part, by Claire Denis' 2002 film, "Friday Night" (Vendredi Soir). But, "I am not Claire Denis!" he cautioned. "It could be set in Chicago or New York," he added, but in setting it in San Francisco, he uses the film as a way to explore the city and two of its residents at a particular moment.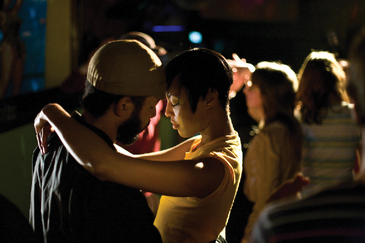 "I would love for other filmmakers to be inspired by our film," Jenkins said, reflecting on the fact that "Medicine for Melancholy" would kick-off the IFP events this week. He was inspired by the work of the so-called Mumblecore filmmakers, namely Chris Wells and Joe Swanberg and their 2006 film, "LOL." After befriending Wells at the Telluride Film Festival, where Jenkins is still an annual staffer, Jenkins admitted that he was rather floored when Wells told him that he and Swanberg had gone and made a low-budget feature.
"I went to film school, I thought I was a decent filmmaker, I just couldn't make films — nobody would give me the money or the time or the access," elaborated Jenkins, an '03 graduate of Florida State. Fed up with with trying to find the cash to make his own films, Jenkins decided to take the D.I.Y. approach pursued by Wells and Swanberg. Which essentially lead him to the festival home base for the so-called Mumblecore set, Austin's SXSW Film Festival. IFC came knocking after catching up with the film this Spring, tipped by filmmaker (and IFC staffer) Chris Wells.
Now repped by CAA and recently named to Filmmaker Magazine's 25 New Faces in Independent Film, like other emerging filmmakers Jenkins is hoping to work with a larger palette in the future. "I don't think there is a single filmmaker that I've met on the circuit who doesn't want access to better tools," Jenkins added, "All we could afford to do was two people walking and talking."
indieWIRE's coverage of IFP's 208 Independent Film Week will continue throughout the week in our special New York section.
Sign Up: Stay on top of the latest breaking film and TV news! Sign up for our Email Newsletters here.