On Sunday night, hours after winning the top prize at Venice, Darren Aronofsky's "The Wrestler" premiered for North American audiences here in Toronto, riding a wave of positive buzz and critical approbation. But standing in front of a revved up crowd at the majestic, cavernous Elgin Theater, director Aronofsky wisely tried to tamp down the hype, jokingly calling the film "crap"; more seriously, he told the crowd, "This is a gentle, small film."
indieWIRE reported on the Fox Searchlight deal for the film earlier today. Get the latest here at iW.
Indeed, "The Wrestler" is neither the revelatory masterpiece some have claimed, nor is it, of course, crap. Rather, it is a tender, compelling portrait of a man on his last legs, played memorably by an aging Mickey Rourke. Employing repeat handheld following shots, Aronofsky subtly and skillfully imagines the life and times of Randy "The Ram" Robinson (Rourke), a wrestler 20 years past his prime, living in a trailer park who still performs body blows in small arenas for a few bucks at a time. While the backstage antics of the professional wrestlers planning for their bouts are as funny as they are revealing, Aronofsky credibly stages the fights, which are both amusing and grotesquely violent.
"The Wrestler," at its best, focuses on Randy's desperate attempts to take control of his life, and how the magic allure of Guns 'N' Roses tragically pulls him back into the ring. The film falters, however, in attempting to round out Randy's character with a rushed drama involving a long estranged daughter (Evan Rachel Wood) and a brief romance, handled somewhat better, with a stripper-cum-mom (played by Marisa Tomei). We've seen much of this before — once renegade, now over-the-hill protagonist tries to reconcile with his past and present (there's one effective, direct nod to "Raging Bull"). But in its evocative depressed New Jersey milieu and Rourke's sad tour-de-force performance as a man literally bloodied and beaten down, "The Wrestler" is a strong and intimate work that should go far.
PREVIOUS TORONTO CRITICS NOTEBOOKS:
Intimate Moments with Denis, Kore-eda and Kim; and Linklater Channels "Orson Welles" | Veteran Filmmakers Stand Out With "Last Stop", Newcomers Deliver "Power" and "Deadgirl"
Another hyped film, justifiable to a point, Lance Daly's "Kisses" premiered in Locarno, won the Best Irish Feature award at Galway, nabbed a Telluride slot, and now screens in Toronto with heavyweights Focus International and CAA repping sales and the young Irish director being tipped as a major one-to-watch. So what's all the fuss about?
Reminiscent of those teen adventure movies of the '90s, except this one involves child abuse, homelessness, prostitution and other sundry social ills, "Kisses" follows two preteens (fantastic discoveries Kelly O'Neill and Shane Curry) as they escape from their violent homes in a poverty-stricken suburban wasteland and go wild in the big city. It's like "Ferris Bueller's Day Off" meets "Kids." With its mix of magical and dark tones, "Once" comparisons may also be inevitable, but "Kisses" is really nothing like it. Daly is not interested in lo-fi reality, for one. He stylishly plays with the film's color saturation, starting out in bleak black and white and increasingly bringing up the color as the kids set out for and experience the thrills and evils of Dublin.
He's also more intrigued by those ineffable cinematic moments of wonder–I could swear there's a reference to Jean Vigo's "L'Atalante"–with fun- or tension-filled vignettes forming the backbone of the film. At a short 76 minutes, it could very well be a calling card for something much bigger. Press notes suggest a big-budget Irish racecar drama called "Suckin' Diesel" is in the works: Let's hope Daly doesn't leave his more modest roots altogether.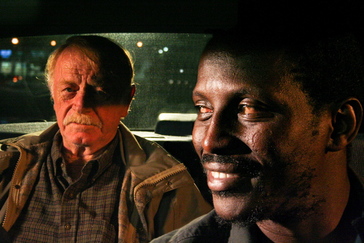 We needn't have the same worry for Ramin Bahrani — though his latest triumph "Goodbye Solo" (which won a FIPRESCI prize in Venice) does show an evolution in the filmmaker's style. In fact, if Bahrani was heretofore known as an American indie director, "Goodbye Solo" should launch him into the ranks of international auteur.
With an obvious nod to Abbas Kiarostami's "Taste of Cherry," "Goodbye Solo" begins in medias res in the taxicab of Soulymanne, a.k.a. Solo (Souleymane Sy Savane), a Senegalese taxi driver in Winston Salem, NC, carrying his passenger, a sour-faced old man named William (veteran character actor Red West). We quickly learn that William wants to eventually make a trip to the cliff-site landmark, Blowing Rock, presumably, to step off the precipice and end his life.
It's never exactly explained why Solo goes so deeply out of his way to try to rescue the crotchety William, in one of a few overstretched plot machinations, but no matter: the always provisional relationship, never sentimentalized, between the charismatic African immigrant and his suicidal passenger forms the basis of an elegantly related tale about life's comings and goings. It's not "The Odd Couple," but such moments provide some much-needed levity.
Like his auspicious debut "Man Push Cart" and much praised follow-up "Chop Shop," Bahrani does for his hometown what he so precisely evoked about New York City, revealing the nooks and crannies of the rundown former tobacco capital and its multicultural under-class. But Bahrani's style here is more astute and artful, and in this more mature approach, it also lacks the loose, neo-realist freshness of those earlier films. If it risks being too controlled, Solo's affectionate character breaks the austerity, giving the film a warm humanness. The character is so relentlessly upbeat, he refers to William as "Big Dog" even after the old man shuts him off with lines such as "Stay the fuck out of my life."
One of the better films to ponder death, "Goodbye Solo" joins a number of movies about loss–it's been an epic year for stories about families wracked by the death of/missing of a loved one ("Three Monkeys," "Vinyan, "Changeling," "Treeless Mountain," "Still Walking," "Christmas Tale," etc, etc.).
Belgian director Fien Troch's "Unspoken" is another one–a mystifying art film about a handsome French couple, unraveling four years after their young daughter has disappeared. Tough going, the film nearly manages to sustain its 97-minute running time, thanks to close-ups of astonishing big-eyed French actress Emmanuelle Devos and a titillating filmmaking style: Imagine lots of blurry long-lens cinematography and elliptically edited sections. If the narrative becomes increasingly obscure, more about channeling some dreamy state of suffering, that's fine by this viewer, as long as Devos stays in frame. In one dizzyingly beautiful cinematic moment, her character is asked whether she has kids. She responds with a no, and suddenly, Fien goes slo-mo, panning from Devos' eyes, barely registering the pain, to her husband's across from her, as "Be My Baby" ironically sings on the soundtrack.
As with "Unspoken," the family in Michael Winterbottom's "Genova" manages a shockingly similar level of denial. Can't these folks just deal with their problems, instead of sublimating them into weird or reckless behavior?
The British director, who has gone from Pakistan to Guantanamo to 18th Century England and back, decides to tone down the politics and focus on the problems of a single family in "Genova," regrettably his least accomplished work in a decade. While the film clings to the heartstrings and plucks them willy nilly, there's not enough substance underlying this story of a father (Colin Firth) and his two daughters trying to cope during a year abroad in Genova, Italy.
What begins as another tale of a missing loved one, Turkish art-film director Yesim Ustaoglu's "Pandora's Box" thankfully takes a completely different tact. When their elderly mother disappears from her village, her three adult children living in the city set out to find her. If the first act's sibling bickering, car breakdown and well-composed shots of the characters against the rural landscape suggest another lyrical existential drama, the rest of the movie is grounded very much in the urban dysfunction of their everyday lives.
Here's a big spoiler: Mom's not dead, it turns out, she's just suffering from Alzheimer's and her complicating presence in their lives provides the film its biggest jolts, pleasures and surprises. Probably too long, but always for a justifiable reason, "Pandora's Box" offers proof of the Turkish director's strengths since establishing herself with 1999's "Journey to the Sun." The film's ending, though a longtime coming, is a quiet stunner. As several filmmakers appear to acknowledge this year: Sometimes you just have to let those loved ones go up the mountain.
Get the latest from the Toronto International Film Festival in indieWIRE's special section.
Sign Up: Stay on top of the latest breaking film and TV news! Sign up for our Email Newsletters here.