As awards season continues to shift and take shape, films are in and films are out…indieWIRE offers its latest back and forth. Editor-in-chief Eugene Hernandez and assistant editor Peter Knegt chatted yesterday via instant message about the looming Gotham Award nominations, speculation about the hot performances, and buzz about the foreign language film race.
The Gothams
Eugene Hernandez: So, let's dig into the IFP's Gotham Awards, which traditionally kick-off awards season. The nominations will be out on Monday morning [and the awards will be presented on December 2nd]. I was just thinking that at least a couple of the "big winners" at the Gothams have a tradition of making a mark on the Oscars: "Juno" last year, "Half Nelson" the year before, "Capote" and "Junebug" in other years. So what are the films to watch for this year?
Peter Knegt: Last year their best film nods were "Into The Wild," "Great World of Sound," "I'm Not There", "Margot at the Wedding" and "The Namesake." That was a really eclectic mix, so I'm not sure where they'll go this year. Or what they've seen.
EH: I will be surprised (and frankly disappointed) if "Frozen River" isn't well represented. And I think "The Visitor" deserves some love.
PK: I was definitely thinking of both those films. Their breakthrough director award has Courtney Hunt's name all over it.
In indieWIRE's previous awards season back and forth, we talked about the opening moments of awards race. Topics for the first installment included a look at what we'd learned from the film festivals, and speculation about some of the season's frontrunners and dark horse contenders.
EH: Let's brainstorm a few other indies that could use a Gotham's boost: "Wendy and Lucy"? "Che"? "Elegy"?
PK: Maybe "Ballast" or "Momma's Man"? Obviously these aren't going to play into more mainstream races, but they seem like good possibilities here.
EH: Oh, of course!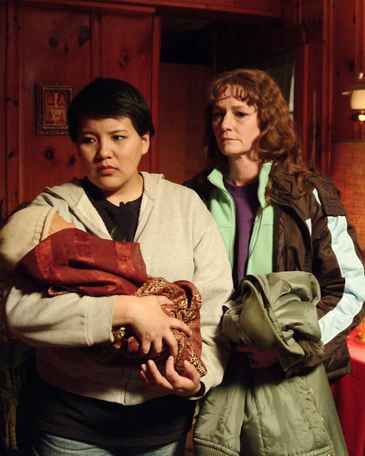 PK: "Ballast" in particular could probably benefit from a Gotham nod, given its still expanding and not getting the audiences it deserves.
As for films that might play into traditional awards races, definitely "Wendy and Lucy". And Kelly Reichardt being NYC based makes that idea a definite possibility. If I had to go out on a limb and predict the best film nods, I'd say "Momma's Man", "Wendy & Lucy", "The Wrestler", "The Visitor" and "Frozen River."
EH: I'm going to predict that "Ballast" takes one of those spots.
PK: Quite possible. And I think Lance Hammer will be Courtney Hunt's biggest competition for breakthrough director.
What about breakthrough performance? Ellen Page won that last year.
EH: Hmmm. I'll go with Misty Upham from "Frozen River" getting a deserving nod.
PK: Its hard though, isn't it? Nothing jumps out like it did last year.
Rosemarie DeWitt for "Rachel Getting Married"? Michael J. Smith in "Ballast?
The Acting Awards and Season Shifting
EH: It is hard, when you look at the broader field of performances right now, they seem to be centered around either big names in bigger movies (Streep, Penn, Pitt), or relatively big names in a bit smaller movies (Del Toro, Williams, Jenkins, Leo).
PK: Definitely most. I think Sally Hawkins is the only true newcomer that is a contender in the lead categories. The supporting categories are a bit more open in this regard… I mean, Taraji P. Henson, Michael Shannon, Elsa Zylberstein, Rosemarie DeWitt…
EH: So switching gears, is there any way to get a sense of which performances are gaining traction in the past couple weeks? "Milk" is clearly starting to stoke some buzz.
PK: Things are finally trickling out a bit in terms of a lot of the unknown entities. "Frost/Nixon"'s reviews from the London Film Festival seem to have pretty much squashed its chances, save maybe Frank Langella but even that I doubt.
In Toronto the Canadian distributor held a screening of "Milk" and some friends of mine attended. The response, from them at least, was overwhelmingly positive.
EH: What's the word on Penn's performance? The piece in the New York Times yesterday seems quite up on it.
PK: It certainly was. And my Canadian spies were as well. I'm paraphrasing them when I say that it looks like Gus doesn't roll over, but doesn't get needlessly esoteric and does the script justice. And that Penn is fantastic.
EH: Well, we are just ten days away from "Milk's" big premiere in San Francisco, so we will clearly know a lot more about its chances then, I expect it to emerge as a strong contender.
PK: As do I.
EH: So among other notable contenders… "The Reader" is in for Oscar season, but "The Road," and now "The Soloist" may be out? It looks like Paramount moved the film to March. That's surprising.
PK: That's not exactly a vote of confidence for "The Soloist." I'm guessing they felt Oscar nods weren't going to happen, and they could probably make more money if they released it in March, without awards pressure. I've never felt like that film was going to figure in anyway.
And apparently "The Road" just wasn't going to be finished. So at least they are being reasonable, unlike what's happening with "The Reader," which could really be a shame. I mean, maybe I'll be wrong, but it really looks like this drama won't do the film any good.
EH: The idea of rushing such an anticipated film into awards season this year just feels like such a bad idea, especially if the blog reports about the film not being anywhere near completion, are accurate. Scott Rudin walking off the movie is obviously the worst thing that could happen in terms of its prospects and buzz.
PK: According to this, the film isn't even half-edited, and they haven't even found someone to score it yet. It really paints Weinstein in a horrible light. I mean, he's jeopardizing – significantly – the quality of this project for what? It would probably stand a better chance next year's race anyway. Especially if it ended up making the film that much better.
Rushing rarely works. Weinstein screwed that up two years ago with "Factory Girl." I'm honestly a bit surprised by this whole mess.
EH: Yeah, but it sure has been a compelling drama to follow in the trades and on the blogs.
PK: Oh, for sure.
The Foreign language film race
EH: So, aside from all this, we are turning to the foreign language race this week. Anthony offered a great perspective on all of it earlier this week, and the official list is due out from the Academy at any minute today. Sony Pictures Classics and IFC will clearly figure quite strongly in the final list of nominees, but it feels rather open right now when trying to determine a final 5 – 7 films.
EDITORS NOTE: The full list of 67 foreign language Oscar submissions was released on Friday afternoon.
PK: You know, I have to agree with Anthony in that this year's foreign race might end up very predictable. Which is not all a bad thing. For the first time, a commitee is going to be able to add films to the shortlist they feel were wrongfully omitted. If this had happened last year, "4 Months, 3 Weeks, 2 Days" and "Persepolis" would not have been so wrongfully snubbed, I'd imagine. So I'm pretty certain "Gomorrah", "The Class" and "Waltz With Bashir" are in.
EH: It will be interesting to see how the new shortlist process affects things, making it — in my mind — even that much more unpredicatble. I have gone in, in past years, feeling like certain films were a shoo-in, only to be shocked when the list came out.
PK: Infuriated is maybe a better word. Maybe I'm being ridiculous to suggest this little rule change is going to make things better. The Academy has never figured out a way to get this category right.
EH: But hey, at least it always provides for the greastest amount of drama on Oscar-nomination morning!!
PK: Yes.. Drama and infuriation are just part of it all. Without it, there would be no need for for oscar bloggers.
EH: And imagine what a boring world that would be!
Sign Up: Stay on top of the latest breaking film and TV news! Sign up for our Email Newsletters here.